Heading north to Denver may not initially seem like a good way to "get away from it all," but thanks to strategic planning with open space areas and conservation easements, a vast expanse of natural areas are available. At Lincoln Mountain Open Space, outdoorsmen and women will find rolling fields of high plains grasslands with rising buttes that give way to the mountains.
From the Monument exit on I-25, head east on Highway 115 for about 5 miles to Highway 83, then angle northeast on Highway 83 for about 5 ½ miles to Jones Road. Head west on Jones Road for about one-half a mile to the trailhead parking area, just after crossing over West Cherry Creek. (Note that Jones Road may be called Best Road on Google Maps.) I visited this area on a beautiful Saturday morning in early May and only encountered a handful of people on the trails.
From the trailhead, hike north about one-quarter of a mile to a trail junction where the trail splits into Lincoln Mountain Trail and Palmer Divide Ranch Trail. Vesper sparrows and western meadowlarks serenade from the surrounding open grasslands. Bear left and start climbing up grassy slopes along a well-maintained trail that switchbacks upward to Lincoln Mountain.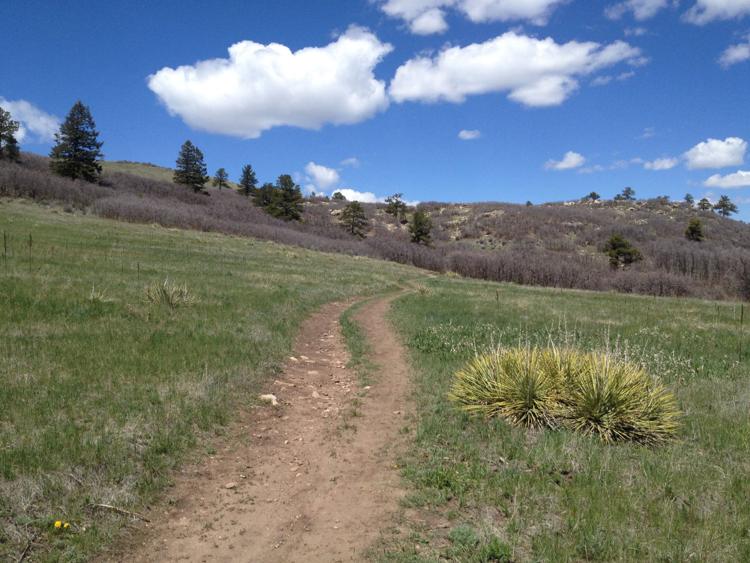 The trail winds through Gambel's Oak shrublands, where spotted towhees sing from high points in the branches and tree swallows perch near nest boxes. After about 1 ½ miles, hikers will reach a plateau on top of the mountain and a loop section. Follow the loop around for about 1.25 miles, enjoying 360-degree views from the 7,400-foot summit area, including the Front Range and Pikes Peak. Once you have finished the loop, head back down the hill to parking area.
For a longer day, hikers may also add the Palmer Divide Ranch Loop Trail, about 4.5 miles with minimal elevation gain. This loop also features the short Willow Tree Spur that takes you to a nice picnic area along West Cherry Creek.
Joe LaFleur has lived in southern Colorado since 2016 and is a hiking enthusiast who hits the trails weekly. Contact Joe with questions or feedback at joelafleur@tds.net. Hiking is great exercise, but can be hazardous. Always be sure to plan well, check the weather, bring a printed map, tell someone where and when you are going, and contact them when you return safely.