For some good leg stretcher hikes that also offer fun for the whole family, check out the local Fox Run and Black Forest regional parks. These parks offer an oasis of ponderosa pine woodland amid crowded urban areas. The trails are a busy network of intertwining loops that include interpretive signage about local plants and animals. Birds you may see include Pygmy Nuthatch and Hairy Woodpecker. For families and groups, there are picnic pavilions and playgrounds to entertain the non-hikers. Both parks are located just north of the Woodmen area.
For Fox Run Park, which used to be a Fox Ranch, enter the main park entrance on Stella Drive. Shortly after the entrance, bear left and go about one-quarter of a mile to an intersection, then continue straight a short distance to the parking area on the right.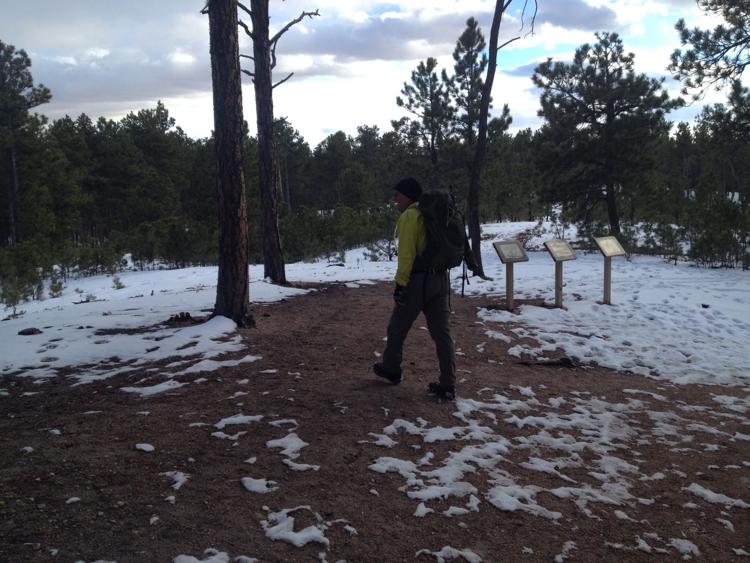 The trail network can be a bit confusing with multiple criss-crossing trails and the uniform pine woodland that lacks unique landmarks. However, the park is bounded by busy roads and the trails have occasional "You Are Here" map signs, so getting lost is not likely. Just south of the parking area, a trail crosses the road. Follow this trail a short distance southwest to a T junction and bear left. Continue south for one-quarter mile to an intersection, turn right and head northward for half a mile to another intersection that is close to where you parked. Continue straight for another half a mile to a T junction and bear right, swinging eastward to another T junction. Turn left and follow trail for three-quarters of a mile as it heads northward then swings east and south to a good landmark: the parking area and restrooms on Rollercoaster Road. From here, follow the trail for half a mile, swinging west, then another half a mile swinging south back to the parking area.
For the Black Forest Park hike, use the parking area on Milam Road just 200 feet north of Shoup Road (not the main entrance). Head northeast on the trail. The best way to do a wide loop is to simply bear right at all trail intersections, and after about three miles you will loop back to the starting point.
Joe LaFleur has lived in southern Colorado since 2016 and is a hiking enthusiast who hits the trails weekly. Contact Joe with questions or feedback at joelafleur@tds.net. Hiking is great exercise but can be hazardous. Always be sure to plan well, check the weather, bring a printed map, tell someone where and when you are going and contact them when you return safely.