Robert Redford, actor, director, producer, environmentalist and founder of the Sundance Film Festival, is known to have once said that "health food may be good for the conscience, but Oreos taste a hell of a lot better." Wise words from a man who has been able to wear multiple show-business hats, succeed in each one and apparently know a thing or two about food along the way.
Redford was a guest at The Club at Flying Horse, booking a sumptuous villa for a two month stay. "He dined here almost every night, ordering the lobster bisque each time," our server at The Steakhouse said. "Often he'd dine in sweats and slippers, book in hand." Redford's agent had placed specific instructions that Mr. Redford would be reading during his meals and would require a reading light.
Steakhouse guests, many astonished to encounter the renowned actor peering at books over his lobster, would pay their respects, quietly leaning in to offer a brief compliment. "For some time his wife was visiting, too," recalled the waiter. "She'd stop onlookers and fans with a quick, 'We're trying to enjoy our meal. Please leave us alone.'" Fame has its downsides.
We were enjoying our meal, reflecting on the niceties of anonymity and that we did share one commonality with the Redfords: If the Steakhouse is good enough for them, it's good enough for us.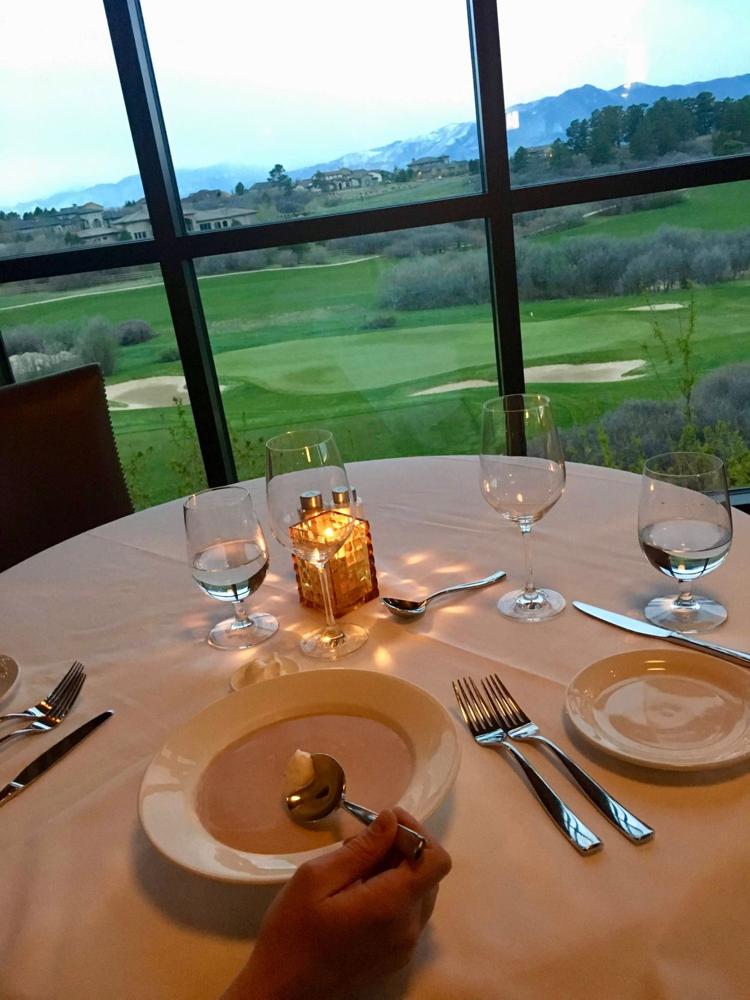 In truth, the Flying Horse Steakhouse needs no association with Hollywood stardom to put it on the map. Locally, there are only so many steakhouses serving USDA Prime grade beef; and this one has its own in-house butcher.
The once fully private Club and its Tom Weiskopf golf course have now been open to the public for some years, yet remain geographically secluded, preserving an air of serene exclusivity. The rolling grounds are idyllic and well-tended, while the views through the Steakhouse's panoramic windows are nothing short of stunning — Pikes Peak standing sentinel as the backdrop of the forthcoming meal.
The bottle list is extensive with a magnitude commensurate with the caliber of the dinner menu. Prime steaks demand prime wines, after all. The Gamay from producers Domaine de La Pirolett of Saint-Amour is one of only ten Crus within the Beaujolais region. Gamay is a highly versatile grape varietal with characteristic fruit aromas, high natural acidity and low tannins that allow it to pair with most anything you'll find gracing the dinner table. This evening it was the Prime New York strip and the Prime fillet medallions in the Oscar style, that topped with lump crab cloaked in béarnaise, flanked by asparagus.
Both cuts were exceptionally prepared. The strip boasted a highly flavorful seared crust, and the exquisitely tender fillet was brilliantly accentuated by the rich Oscar topping. Yet, perhaps outshining it all was that Redford favorite: the lobster bisque. Reminiscent of the best crab shacks found along overgrown banks of Maryland's Chesapeake Bay, yet promoted from crab to lobster and then topped with a Cognac Chantilly, one must take a page from Mr. Redford: skip the dessert menu and order another bowl of the bisque.
For additional food-centric reviews and tips, or to make a comment, email On The Table at OnTheTableReviews@gmail.com, or visit facebook.com/onthetablereviews.