This is one in an occasional series profiling young professionals in the Pikes Peak region.
Claire Swinford can speak the language of the artist because she is one — a valuable skill in her role as director of urban engagement for the Downtown Partnership of Colorado Springs.
"It helps when working with artists — whether it's a 70-foot mural or a 2-ton sculpture — if you can talk that visual language of line, value, shape, texture, color, composition, then they're going to feel at home and they're going to feel like they're in good hands," she says.
The arts aren't the only thing her job encompasses; walking tours, signage, accessibility and more fall under that broad "urban engagement" umbrella. But an understanding of, and appreciation for, the role of the arts is critical to the job. She, for example, oversees Art on the Streets, which sees new public art spring up each year in downtown Colorado Springs.
"It's near and dear to my heart, given that it our oldest and best-known project," Swinford says. "It's been around for 21 years. I feel the weight of that."
Swinford, 31, has been with the Downtown Partnership for about 3½ years. Her original title of urban engagement manager was tweaked to director this year, "due to her taking on greater levels of responsibility," Susan Edmondson, president and CEO of the downtown advocacy group, said in an email. "In particular, she is project managing our gateways initiative, in which nine entrances into downtown will be enhanced with new signage, landscaping, public art, pedestrian improvements, etc. It's a highly complex project with lots of stakeholder engagement, and she's doing a fantastic job."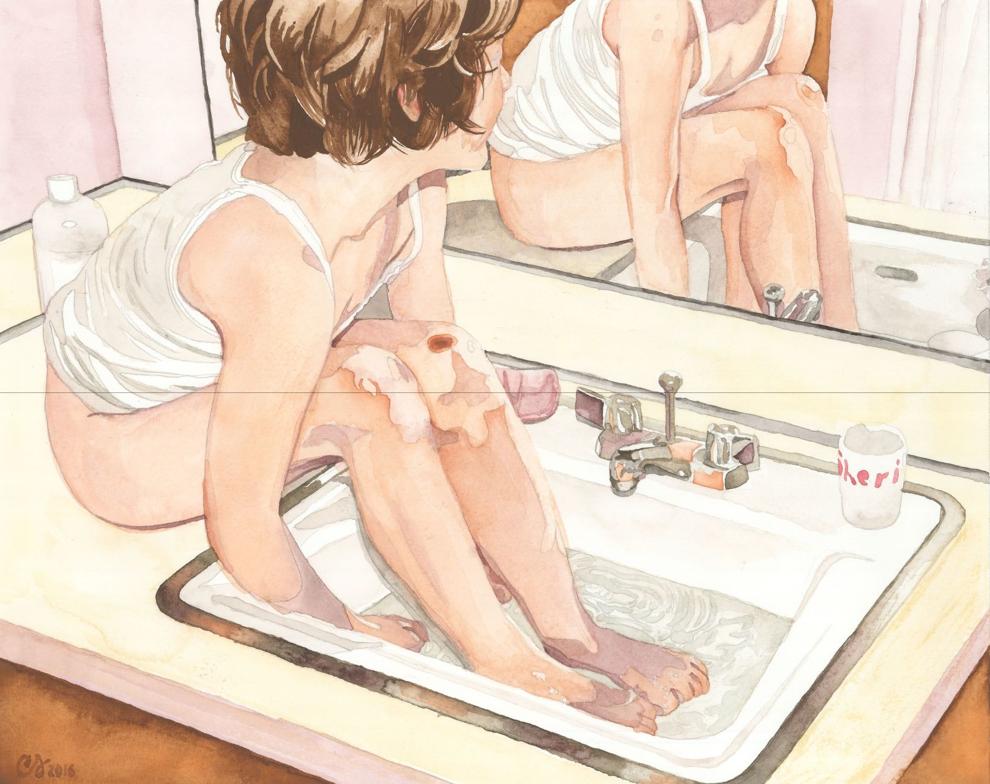 Discovering the art world
Swinford grew up in Seattle but moved to Black Forest with her family when she was 10. It was not a welcome change for her.
"I told my parents, I don't know what this Colorado place is, but I'm getting back to Washington as soon as I can."
And return she did, attending Whitworth University in Spokane, Wash.; she had two majors: journalism and French literature.
Her interest in French literature was sparked by "an amazing high school French teacher" who imparted "such a love of the language and the global cultures that are French-speaking." Her interest in journalism came from a desire to make the world a better place, to shine a spotlight on issues such as human trafficking. "I wanted to take my life in a direction that would allow me to expose issues like that to the public mind."
She was a finalist for a Fulbright grant to continue her studies in Belgium; when she learned she had missed out, "I called my parents, 'hey, is my bedroom still set up in the basement?'"
So she returned to Colorado and got a job as aquatics coordinator at the Tri-Lakes YMCA. Soon after, she was hired for an internship at the Colorado Springs Independent. Covering arts and culture for the Indy, and meeting top-tier artists who were happy to call the Pikes Peak region home, "ultimately convinced me that there was something worth sticking around for in Colorado Springs."
After interning and freelance writing for the Indy, she moved into a full-time role as associate director for the Indy Give! campaign. That introduction to the nonprofit world helped lead to her next job as education and community outreach coordinator for the Colorado Springs Philharmonic. After about a year and a half there, it was on to the Downtown Partnership.
Swinford faced a lot of competition for the job, Edmondson says. "She stood out because she was best able to understand and articulate the essential role that all the arts play in fostering a more vibrant city center. But she wasn't just an arts person. Her love of cycling and gardening and the outdoors, her foodie sensibilities, and even her penchant for vintage fashion make her a walking billboard for all the best things downtown has to offer."
Her own artistic dreams
It was while reporting for the Indy that Swinford's own artistic interests blossomed. One of the first people she interviewed was Brett Andrus, owner of the downtown S.P.Q.R. gallery. Seeing her passion for the arts, Andrus invited her to a class and she has continued her education since.
"She really works her butt off," Andrus says. In addition to gaining a knowledge of the basic skills required of an artist, "she's really developed a voice in the last couple of years in what she wants to say and how she wants to say it."
She paints in oil and gouache. "One series that has resonated with a lot of people is women draped in cloth," she says. "I realized the way models used the cloth is it's a superhero cape, it's a princess outfit, it's all of those things from when they were little. Seeing a grown woman doing this really had an interesting resonance."
Arts isn't her only interest, though. If she's not at the easel, she might be outdoors, either skiing or biking or camping. She's also into charcuterie and home fermentation; she and her husband of three years, Max Ferguson, an actor and singer, make their own cider.
"I call her the next mayor of Colorado Springs," Andrus says. "She's just one of those people who are smarter than most and organized and great to work with, and kind of a great big nerd, and a good leader."
Edmondson praises her for her "incredibly eclectic assortment of skills."
"One day she's leading a walking tour for seniors or children, then donning a tool belt and problem-solving for a complex sculpture installation, then meeting with a bank president regarding sponsorship, then working with landscape architects on enhancements to our public spaces. She has a deeply creative mind, yet she can also rock a complex color-coded project-management spreadsheet better than anyone I know."
With construction of the U.S. Olympic Museum, an influx of housing downtown and other projects, "it is an exciting time to be here," Swinford says. She enjoys having a job that uses both her right and left brain — and a job in which there is no typical day.
"One of the things that I love about the job is that it's definitely not a desk job."
Contact the writer: 476-0255.