The Ptarmigan fire, burning near Silverthorne, continued to grow Tuesday, with no containment reached as firefighters protected nearby neighborhoods.
Currently the blaze is between 85 and 100 acres, said Dillion District Ranger Adam Bianchi during an evening press conference. Firefighters do not have a precise number due to aerial support being downed at 1 p.m.  because of the weather.
As weather conditions changed on Tuesday, fire officials ordered evacuation and pre-evacuation orders that impact 537 homes, said Summit County Sheriff Jamie FitzSimons.
FitzSimons said despite having more success on Tuesday at battling the blaze than the day before, due to the changing weather conditions, officials needed to issue more pre-evacuation orders for County Rd. 2020, east and uphill of County Rd. 2020m, and north of County Road 2021.
"As the storm moved in today the winds (became) erratic  and the fire behavior changed," FitzSimons said. "We didn't want to get caught in a situation where the fire behavior was now threatening that neighborhood."
The blaze enveloped about 60 acres of the White River National Forest as of Tuesday morning, Bianchi said earlier in the day.
Some displaced families will be allowed back into the evacuation area between 8 and 10 a.m. on Wednesday to gather any necessary items. Families must register with the sheriff's office and receive credentials to return to their homes, said FitzSimons.
Although there is hope that  precipitation will assist in firefighting efforts, , it won't contain the fire, said Bianchi.
"The good thing about this precipitation is it's really kept things in check, but it will not put this fire out," he said. "It's gonna be a little bit of a process for us to contain the fire, but it is doing its job for right now."
Bianchi added that officials are optimistic about utilizing all available air resources to combat the blaze Wednesday morning.
The estimated size of the blaze was updated to 17 acres Monday night after crews conducted a flyover, but it grew an estimated 40 acres overnight. The acreage will be updated again after flight mapping is complete, said David Boyd, a public affairs officer for the U.S. Forest Service.
U.S. Forest Service and Summit Fire and EMS, among other agencies, struggled to access the fire because of difficult terrain, including a mixture of dead trees, Boyd said. Crews focused on protecting structures and homes in the area as well as electrical substation.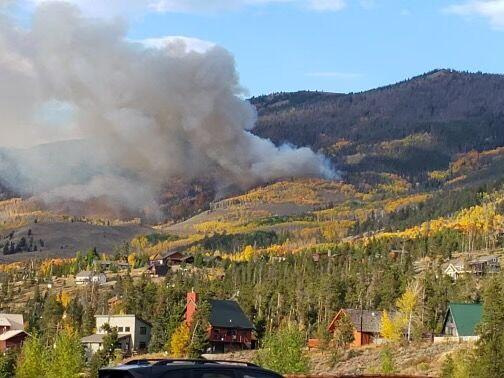 The fire was first reported around 4:30 p.m. Monday. The Summit County Sheriff's Office ordered evacuations and pre-evacuation orders for more than 600 residents in the Hamilton Creek neighborhood, Angler Mountain, South 40 neighborhoods, Fly Line Drive and Bald Eagle Road.
The value of the over 500 homes evacuated and pre-evacuated totals around $400 million, Summit County Sheriff Jamie FitzSimons said in a community meeting.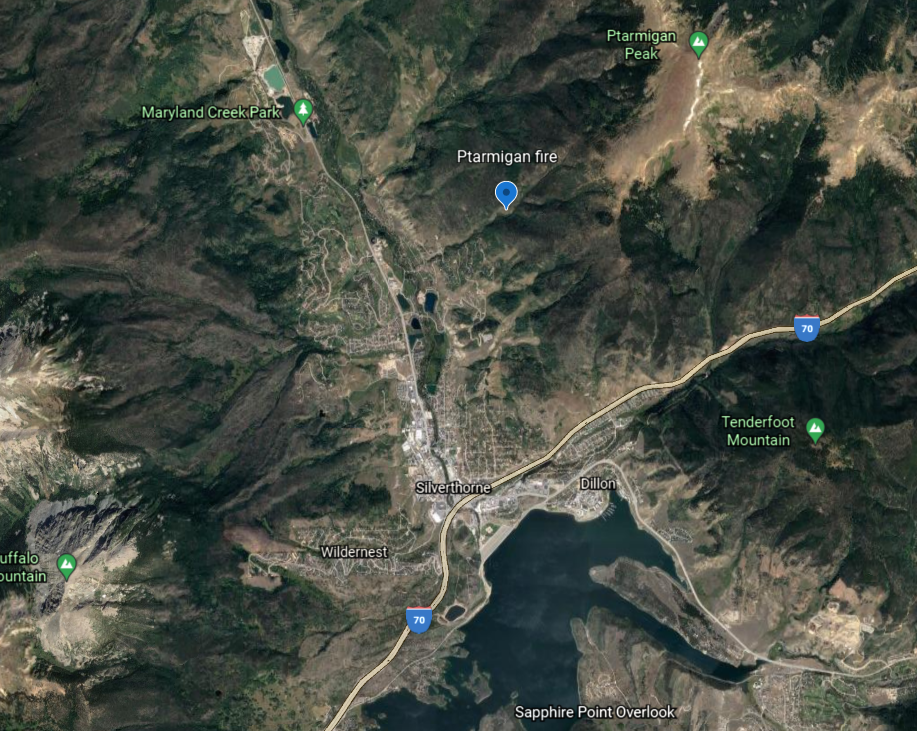 The sheriff's office issued additional pre-evacuation notices at 4 p.m. Tuesday for County Rd. 2020, east and uphill of County Rd. 2020 and north of County Rd. 2021. This includes Daley Ranch, officials said.
The fire was fought Monday by a heavy air tanker, two single-engine air tankers and a heavy helicopter, all guided by an air attack plane. Efforts were focused on "keeping the fire from moving downhill toward structures," the forest service said.
A Chinook helicopter refills with water from North Pond in Silverthorne. An aerial attack during the day is crucial to fire fighting efforts. For this reason, drones are NOT allowed in the area of the Ptarmigan Fire. We are unable to fight the fire when drones are in the air. pic.twitter.com/e4ilsoMx3H

— SCSOPIO (@SummitSheriffCO) September 28, 2021
Low temperatures and relatively high humidity created favorable firefighting conditions.
"Our goal is to keep the fire away from developed areas and hit it hard in the morning," Summit Fire & EMS Chief Travis Davis said at a Monday night fire briefing, according to a Summit County spokesperson.
A Red Cross emergency shelter was opened Monday night at Summit Middle School, 158 School Road in Frisco, officials said, adding the middle school and Silverthorne Elementary School were expected to operate normally Tuesday.
The shelter will follow CDC guidelines regarding the COVID-19 pandemic, employing social-distancing protocols, health screening and masking, Red Cross officials said in a Monday evening press release.
Recreational access to Ptarmigan and Angler mountains has been closed, and the flying of drones is "strictly prohibited" around wildfires because of the potential to interfere with aerial firefighting, Summit County officials said.
Two drones flew over Monday evening. Drones inhibit fighting the fire because all air resources must be grounded if drones are spotted.
A public meeting will be held at the Silverthorne Town Hall Wednesday morning at 11 a.m. and again at 6 p.m. These meetings will continue until officials deem it unnecessary. 
Locals can also call 970-668-9700 for the latest information on the fire.