The latest updates on fires in the Pikes Peak region and elsewhere in Colorado:
---
UPDATE 9:10 p.m. 
The grass fire that started near Cave of the Winds on U.S. 24 around 6:30 p.m. has been contained, according to Manitou Springs officials.
Westbound lanes of U.S. 24 have reopened. 
Grass fire near Cave of the Winds has been contained. pic.twitter.com/u6y4XvVD66

— O'Dell Isaac (@IketheScribe) May 17, 2022
---
UPDATE 8:32 p.m.
The fires near U.S. 287 in Baca County are now 100% contained, Baca County Sheriff's officials announced on Facebook. Crews are still on scene working hot spots.
---
UPDATE 7:42 p.m.
North- and southbound U.S. 287, in Baca County north of Springfield, have reopened to traffic between Colorado 116 and County Road TT, the Colorado Department of Transportation tweeted around 7:35 p.m.
Around 5:30 p.m. the Baca County Sheriff's Office announced on Facebook that "multiple" fires in the area closed portions of U.S. 287.
As of 6:25 p.m., the blazes were 70% contained and no structures had been lost, Baca County Sheriff's officials said. Highway traffic was beginning to be released in groups to travel through the area.
---
UPDATE 6:50 p.m. 
Fire activity has closed westbound U.S. 24 in Manitou Springs, near Cave of the Winds, according to the Colorado Department of Transportation. 
CDOT tweeted the information shortly before 6:50 p.m. 
View from my deck right now.:( Fire up on Ute Pass, by Cave of the Winds. pic.twitter.com/NP07NvRfu4

— BatManitou (@ManitouRyan) May 17, 2022
#US24 westbound: Road closed due to fire activity at US 24B Manitou Springs. https://t.co/3MlNhMyD63

— Colorado Department of Transportation (CDOT) (@ColoradoDOT) May 17, 2022
---
UPDATE 8:30 a.m. MONDAY
A burn ban will go into effect in Colorado Springs starting at noon Monday, the city's fire department said in a news release. The order will be in place until further notice.
Also going into effect at noon Monday is a Stage 2 fire restriction in unincorporated El Paso County.
---
UPDATE 7:31 p.m.
The High Park fire has now grown to 1,499 acres, officials reported on the fire's official Facebook page. The blaze is 27% contained, with 180 personnel currently assigned to fight it.
---
UPDATE 4:20 p.m.
Colorado Springs firefighters quickly extinguished a small grass fire on Interstate 25 near the South Tejon exit. Crews were able to limit the spread to a 10-foot-by-20-foot area.
---
UPDATE 3:27 p.m.
No structures have been lost in the High Park fire, Teller County Sheriff Jason Mikesell said this afternoon.
The evacuation center has been moved from Woodland Park High School to Woodland Park Community Church, 800 Valley View Drive in Woodland Park.
Teller County Sheriff's officials say smoke is visible in the county due to the wind shift at the High Park fire. Residents are asked not to call 911 or dispatch unless you see flames.
---
UPDATE 8:45 a.m. SUNDAY
The High Park fire is at 1,172 acres with 10% containment.
More updates will follow when information is released.
---
UPDATE 3:40 P.M.
The fire at the Colorado Springs Airport has been knocked down, officials with the fire department announced in a tweet sent just after 3:30 p.m.
The fire is about 5 acres officials said. Fire crews will remain on scene to mop up hotspots. The cause of the fire is under investigation. 
Officials said Milton E. Proby Parkway to the airport will reopen in about 20 minutes. 
Update- Grass fire at airport is knocked down. Firefighters will remain on scene mopping up hot spots and patrolling fire. Fire is estimated to be about 5 acres. Unknown what caused fire, under investigation. Milton Proby to the airport will be opened up in the next 20 min pic.twitter.com/BPNiY9eskd

— CSFD PIO (@CSFDPIO) May 14, 2022
UPDATE 2:47 P.M.
A fire has been reported at the Colorado Springs Airport, according to the Colorado Springs Fire Department. CSFD says multiple roads have been closed.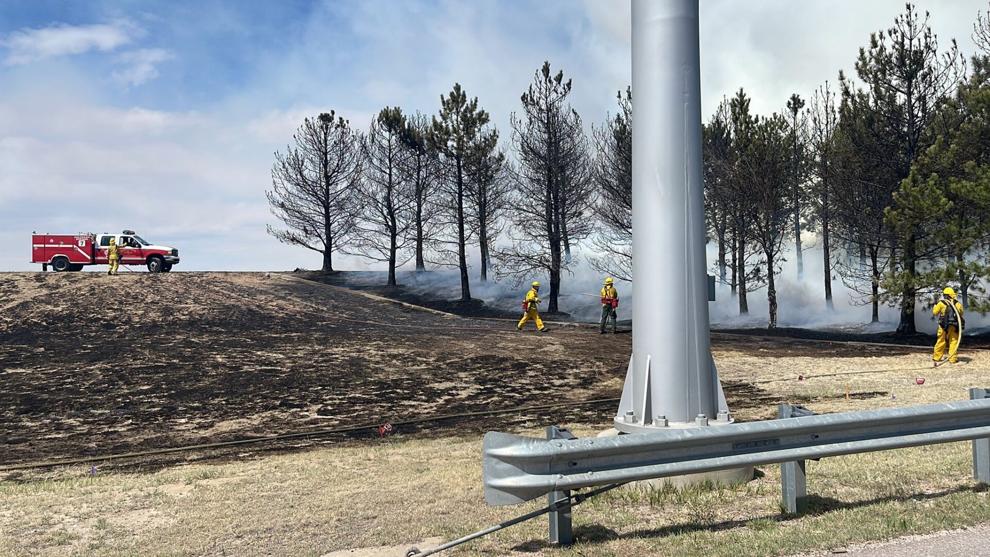 UPDATE 9:30 A.M. SATURDAY
The High Park fire west of Cripple Creek has grown to just over 1,000 acres and is 10% contained, said Renee Bunting, a spokeswoman with the Teller County Sheriff's Office.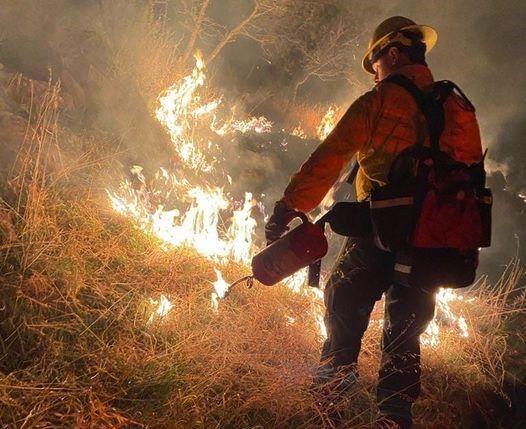 The blaze is currently at 1,001 acres and could continue to grow as Red Flag Conditions continue along with wind gusts as high as 35 mph. Winds are expected to die down around 2 p.m. which will help firefighting efforts, Bunting said. 
Bunting said the blaze was able to grow over 250 acres last night due to a combination of "burnout operations and wind-driven fire." She added nearly a quarter of the growth happened overnight — approximately 70 acres — when the blaze jumped the creek. 
County Road 1, which connects Florissant and Cripple Creek reopened to traffic early Saturday. Road closures are still in effect for areas under mandatory evacuation, according to the sheriff's office. 
Bunting said an estimated 120 homes have been evacuated and even more are under pre-evacuation notice.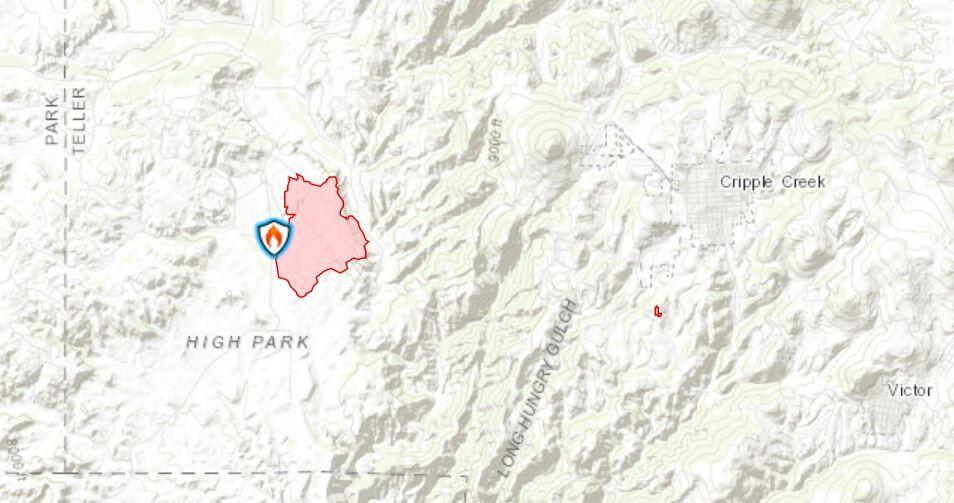 Residents who have been evacuated are now being directed to Woodland Park High School after the Cripple Creek site closed on Friday.
Additional evacuation orders for the High Park wildland fire in Teller County west of Cripple Creek were issued around 6:30 p.m. Friday.
Residents living in the Cripple Creek Ranches and Mount Pisgah areas were asked to leave their homes, according to the Sheriff's Office. An evacuation order was in place for the Lost Burro campground.
Also, pre-evacuation warnings were issued for Cripple Creek Mountain Estates, Rhyolite Mountain Mesa and Lost Canyon.
Livestock can be sheltered at the Teller County Fairgrounds in Cripple Creek.
The next update from officials is expected about 1 p.m. Saturday.
---
Other fire updates Saturday: