Hi! My name is Omo, and I live at Cheyenne Mountain Zoo in Colorado Springs at the Waters Edge: Africa Exhibit.
Not to be boastful, but I am VERY popular and quite the little superstar. Well, I'm not so little anymore: I already weigh around 255 pounds. If you haven't already guessed, I am a baby hippopotamus.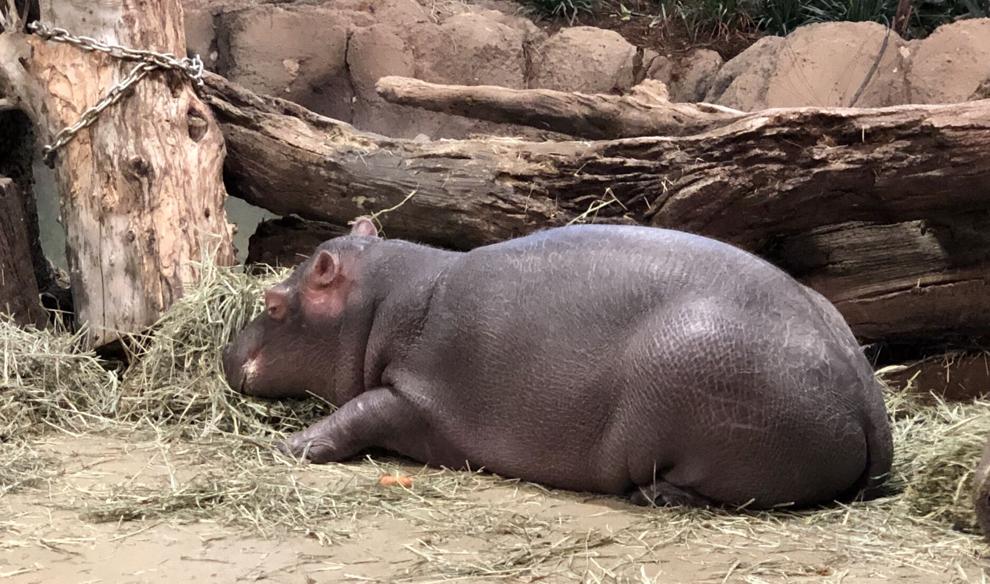 In June 2020, my dad, Biko, came to Cheyenne Mountain Zoo from Denver Zoo. He and my mom, Zambezi, hit it off right away; and a year later on July 20, 2021, I was born. It was quite an exciting event for my keepers and all the staff. They watched as Mom gave birth to me in the shallow part of the outdoor pool in the hippo yard, and we immediately bonded as she made sure I was healthy and safe.
When I was born, my keepers think I weighed around 60 pounds — which is a good size for a newborn hippo. At first, most of the time Mom and I stayed in the water, where she nursed me whenever I was hungry, which was a lot! Little by little I gained my "land legs" and became less wobbly walking around out of the water.
So what does a typical day look like for me? I eat — as I said — a lot! I follow my mom everywhere, and she constantly watches out for me to make sure I don't get into any trouble. I sleep, mostly in the shallow water of our pool; or I climb up on Mom's back or face to take a quick nap. Mom usually pushes me off of her face, I'm not sure why she doesn't like us to be that close.
I've heard my keepers say that Mom is a REALLY good mother, even though I am her first baby. We are always touching each other, but she is very careful to not step on me or lay on top of me. Sometimes she does use me for a pillow. That's OK, I don't mind. I love her and right now we always stay together.
I'm starting to learn a lot of new things. I can go in the deep water of the pool and launch off the bottom to the surface to catch a breath. Hippos can't swim, but we are adept at moving through the water by pushing off the bottom.
The lead keeper at Waters Edge is Philip Waugh. He and my other keepers have noticed that I am starting to be interested in snacking on soft food like oranges, bananas and hay. Yum! One of the keepers brought me a tiny-size watermelon to see what I would do with it. While Mom was eating a big melon, I smelled my little treat, and rolled it around a bit, but I wasn't quite sure what to do with it. Finally Mom grabbed it, and chomped down on it with her BIG teeth. She is so thoughtful that she left a piece for me that I munched away on.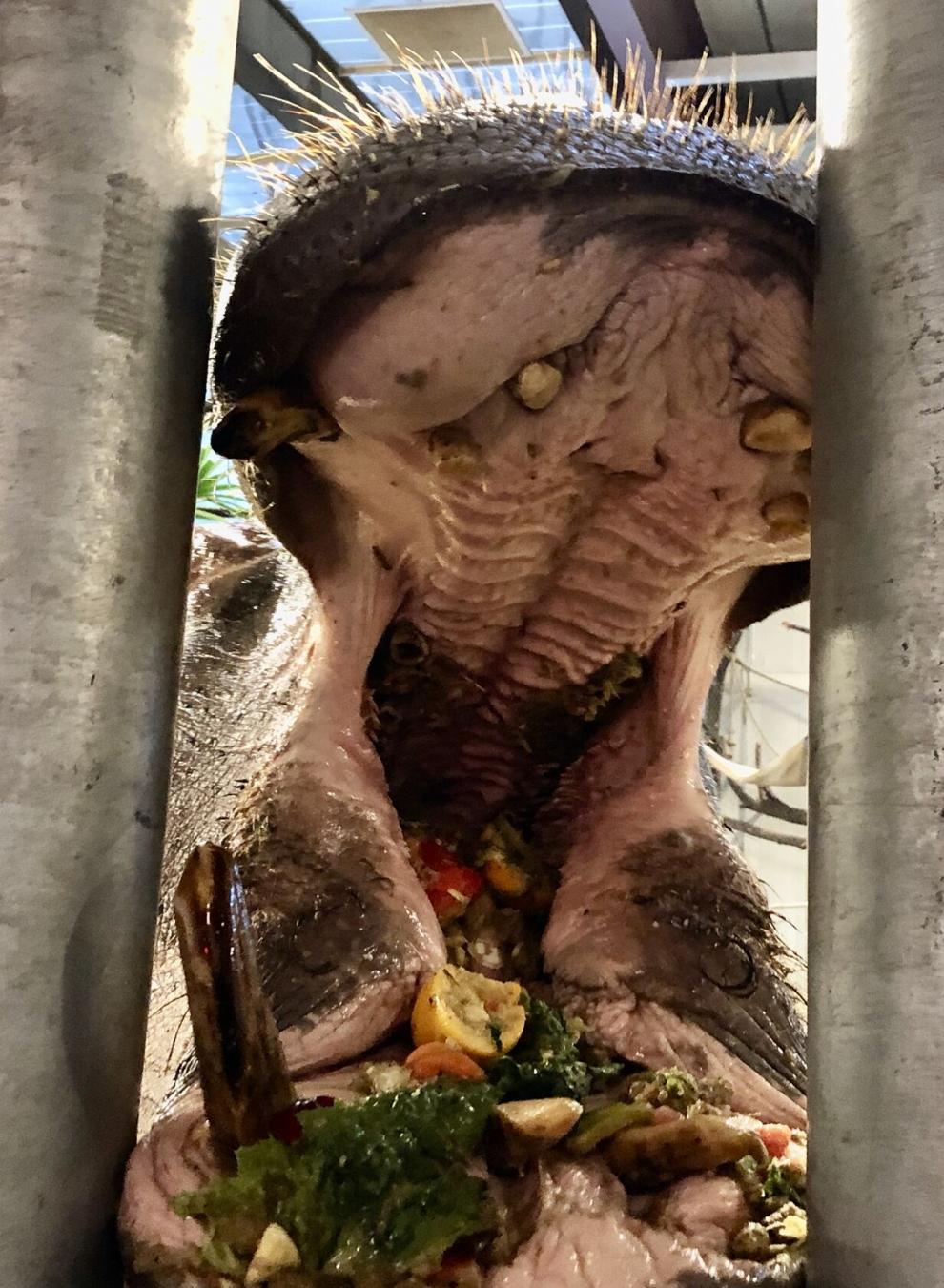 By the time I am a year old, I will probably stop nursing and will eat the same kinds of food that Mom eats — hay, grain, and produce. Also, since I am such a healthy boy, I might weigh up to 1,000 pounds by my first birthday. Good for me! It's hard to weigh me because I'm always close to Mom, and when I stand on the scales in our enclosure, she usually has a foot or two or more on the scales, too. Did I tell you Mom weighs around 3,000 pounds?
Philip says I am starting to get more and more playful and inquisitive as I explore my world here at the Zoo. I like to tease Mom by playing a game I call "bite Mom's tail." It's hilarious, and she just moves away from me — but not very far. I also like to ride on Mom's back. It's SO much fun!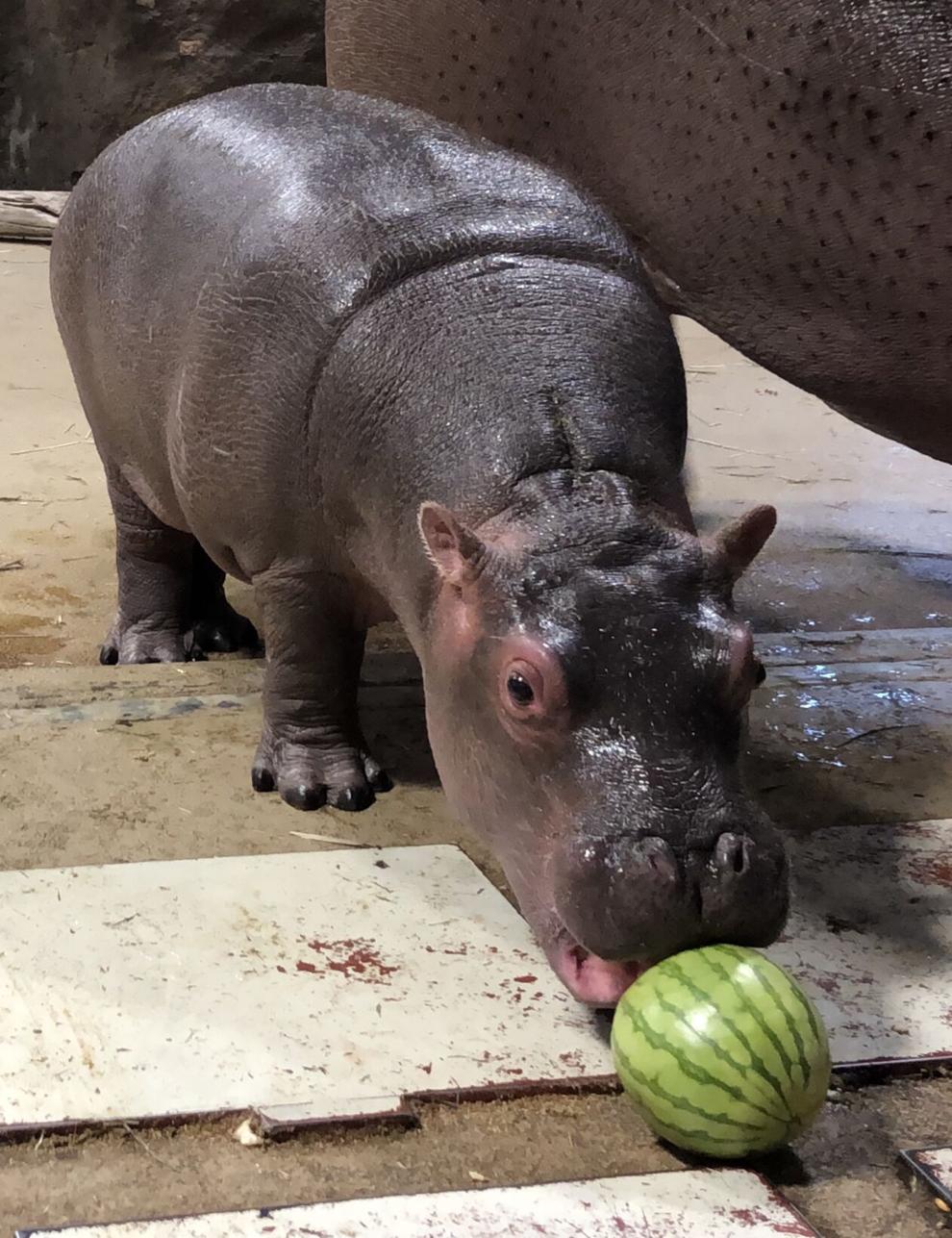 I'm getting really curious about the other animals that live at Waters Edge. I chase the pea fowl away from Mom to protect her. They are so annoying! Mom and I stay in our own enclosure while inside and outside, but I can see my Aunt Kasai, and my dad, Biko, through the barriers. Dad calls to me sometimes, and I know that eventually we will be great friends. I can't wait! I like to watch the wart hogs, and one day I tasted one of them by licking a tusk through the gate. Well, it didn't taste very good.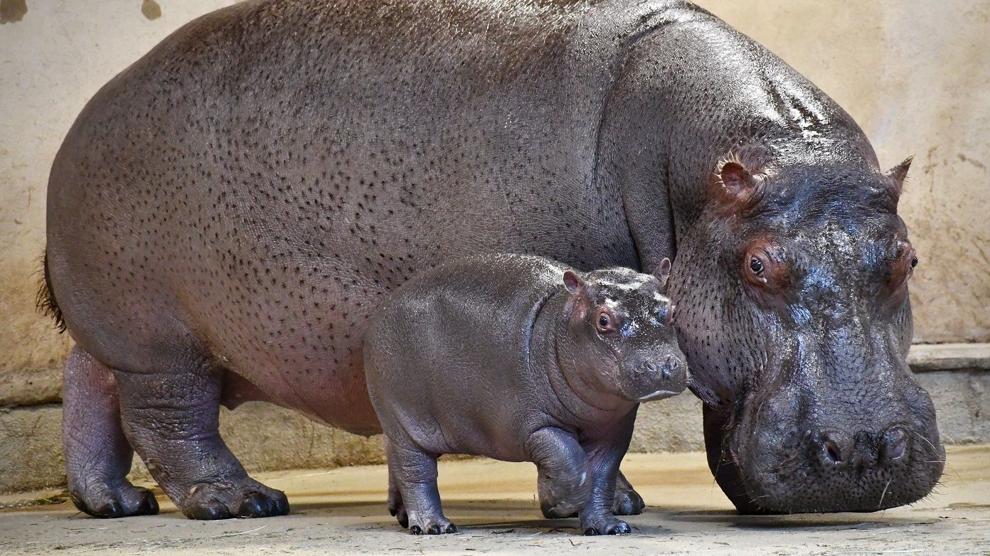 As time goes on I will start playing with toys, and gain more independence. It is likely I will stay with my mom for a few years which is just fine with me. My keepers will teach me to open my mouth so they can check my teeth, and I will become comfortable with them touching me so they can periodically check to make sure I am a healthy boy.
Besides "Superstar," I hear my keepers call me "tater tot" and "potato." They say I am the main act here at the Zoo, because I am just so darn cute. I am a mini-me of my mom. We look just alike with tiny shell-like ears and pencil-size tails.
Come visit me anytime, and watch me as I grow up. In no time I will be as big and strong as my dad!