More than 20 years after the Hayman fire, nature's wheel turns in Pike National Forest: quaking aspens grow, animal tracks span the scorched earth between infrequent pine shade and rock gardens.
And the scenery has opened, revealing, for one, the regal promontory called Thunder Butte.
This is not an adventure for all.
We strongly caution anyone who is not a savvy, well-trained outdoors person, anyone who is not comfortable navigating off-trail. Here we describe the southwest slope approach that has a few things going for it from a route-finding standpoint: a clear line of sight, no treacherous cliffs and a fairly constant north-south trend up to the butte and back to the road.
But if you don't follow the right hill crests, there are plenty of ways to make the trip harder on the up-and-down, boulder-strewn, debris- covered mosaic. The hike took us about three hours. It could've taken much longer.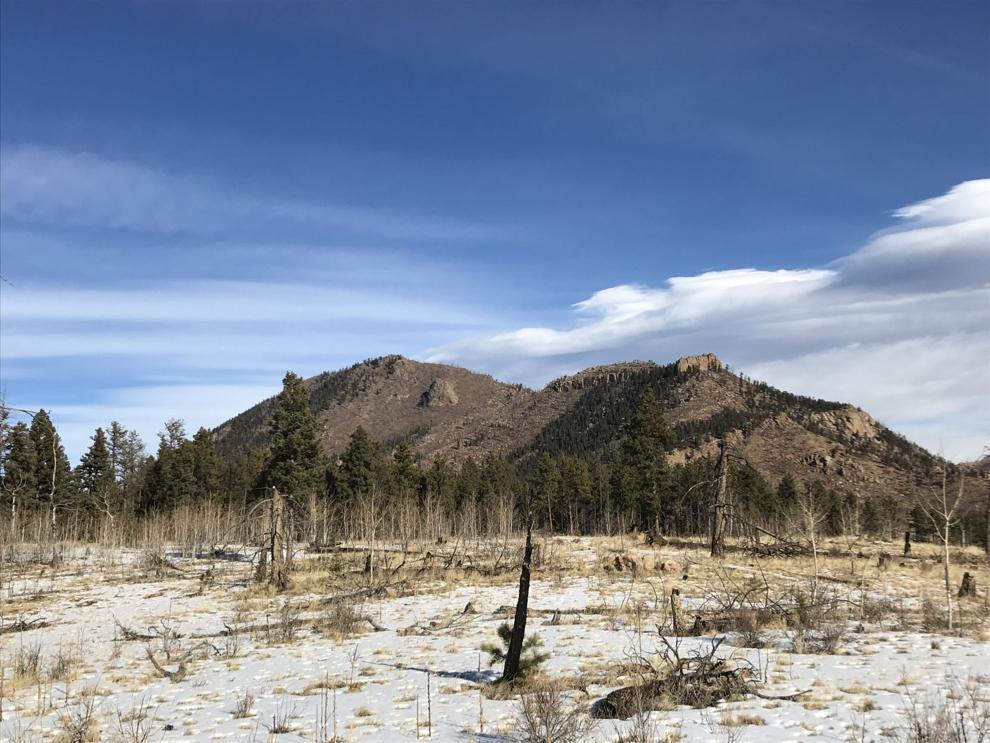 So, stop reading if you don't have plenty of experience. Stop if you don't know what it means to be prepared.
From our parking spot, we walked straight toward Thunder Butte, making our way through interchanging openness and trees. For a while we followed a clear-cut trail. We trended northwest, the 14,000-foot summit of Mount Evans in view, to avoid descending. The ridge then trends north and northeast, to the base of the destination slopes.
To the right of Thunder's tip, we eyed a dome-like outcrop that we stayed to the right of. The ascent was brutally steep, but the soil not too loose. Winding around the rock, we came to a seamless, though still steep, saddle to the summit.
The panorama is a feast: the recognizable rock called Devil's Head, the Denver skyline, the vast Lost Creek Wilderness, the Rampart Range, the Pikes Peak massif, the Sangre de Cristo and Sawatch peaks beyond.
Trip log: 5.26 miles round trip (out and back), 1,651 feet elevation gain, 9,387 feet max
Difficulty: Difficult
Getting there: Taking Colorado 67 north from Woodland Park, go about 16 miles to the left turn for Westcreek Road. Turn right onto Stump Road and follow to right turn for 9-J Road. In about 1½ miles, at the bend of the road, a parking pull-off is marked on the right, an unofficial "trailhead."
FYI: 9-J Road could be gated in winter. Four-wheel drive needed. Hiking only. Campgrounds in vicinity closed. Thunder Butt notorious for storms in summer.
Contact the writer: seth.boster@gazette.com