Gracen Gonzalez is more than just a wrestler at Palmer Ridge.
He's the son of Ruben Gonzalez, the first athlete to participate in four different Winter Olympic games in four different decades. He's also an aspiring aviator and an emerging entrepreneur specializing in 3D printed designs, all while being home schooled.
However, according to him, above all else, Gonzalez is a Christian and a youth worship leader, who uses his sport to spread the gospel. He has written on his head gear "I am not ashamed by the Gospel of Christ."
Part of the reason that's on his head gear is as a reminder to never back down, but also provide an opportunity to talk to someone who notices it, a chance to start a conversation about Christianity. It was a topic of conversation during his time at the Pete and Ina Gomez Invitational at John Mall High School in Walsenburg last month, where he placed fourth and improved his record to 11-6.
"It's just a conversation starter," Gonzalez said. "If someone brings that up, I'm happy to talk to them about it. Ultimately, at the end of the day, the reason why I wrestle is to wrestle, as far as the reason why isn't to evangelize, but while I'm wrestling I have opportunities to evangelize. It started conversations before for me, it's totally worth it and I think it's just another way to possibly open the door into someone's life in that way."
Gonzalez's wrestling background comes from a decade of judo training at the U.S. Olympic & Paralympic Training Center in Colorado Springs. James Baumert, a 170-pound senior, convinced Gonzalez to join the wrestling team in Palmer Ridge. Over the course of three years, the two athletes grew as the team grew.
"The team's totally different now than it was a couple years ago," Gonzalez said. "Freshman year, we probably had eight wrestlers and now we got maybe 40. So it's a totally different dynamic, but it's really cool. The coaching staff is great. I love [head coach Jason Romero]. He's a really great coach, not only technically, but also he's very good at building character while caring about the sport."
Gonzalez placed fourth in the Class 4A Region 4 tournament last season as a 113-pounder. In a normal year, that would've been good enough for a trip to the state tournament, but not during the COVID-shortened season. Only the gold and silver medalist from each weight class made it to states that year.
"It was a pretty solid year," Gonzalez said. "This year I'm looking to go to state and to place relatively high. I'm not quite at the first, second or third level but I can finish Top 8 if I have a good season. So that would be the goal."
Gonzalez started this season at the 120-pound class, but recently moved up to 126, which is a more natural weight for him. One added benefit for the reduced need for cutting weight has been the extra boost of energy he has during the third period, Gonzalez said. Aside from technique, his main strength is endurance and ability to stay poised late in the match while his opponents feel fatigue.
"We win a lot of matches because we're conditioned," Gonzalez said.
At the John Mall tournament, Gonzalez took on Mancos' Levi Martin, who is ranked No. 1 in 2A by On the Mat, in the semifinal round. Gonzalez lost, but went the distance and took that as a positive sign that the conditioning he has started to enjoy is paying off.
"He beat me, but he didn't pin me," Gonzalez said. "That really mentally made me happy because if the first in state can't pin me, then no one's going to pin me. Going forward, if the best in state can't do that, then why should I let anyone else do it?
Gonzalez finds his cardiovascular endurance to be a valuable asset because, as wrestlers start to lose energy late in the match, their technique and mental approach lags. That has become an opportunity for him to strike and get the points or pin needed to win. His first win of the tournament came on a pin with nine seconds remaining in the match.
"We all try to go out and do the same thing, but conditioning allows us to do it more," Gonzalez said.
When Gonzalez isn't wrestling, he's running a new business where he prints designs on a 3D printer and sells them on Etsy, an e-commerce website. He originally got a 3D printer for his love of airsoft guns and remote-control airplanes. Once he realized that he could make anything with a 3D printer, he was off to the races. His prized product is a model of a jet engine.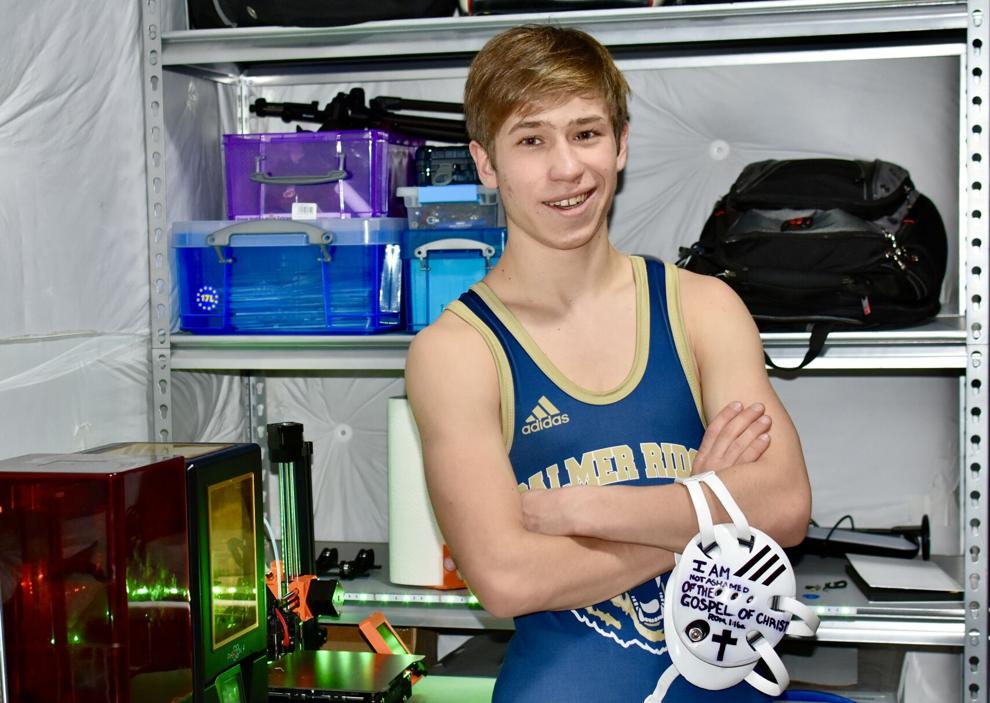 "I want to be an engineer or a pilot," Gonzalez said. "But I'd love to have my own business. My dad runs his own business and it's really neat. I love the challenge of building a business, both the technical side of making that happen as well as I can and the business side. For me, it's pursuing a passion."
Gonzalez got into flying from his father, who earned his pilot license at a young age. He is close to getting his own pilot license — which should happen at about the same time he receives his high school diploma.
"I'm a total airplane nerd now," Gonzalez said.
Although in the midst of his junior year, Gonzalez has narrowed his college wish list to the Air Force Academy or Embry-Riddle Aeronautical University.
"It's 50-50," he said.
Contact the writer: tony.capobianco@gazette.com