On the Table: Vermouths, part two: What and how to drink
"Frankly, my dear, I don't give a damn," is something you will never hear any serious cocktail enthusiast say regarding his or her choice of vermouth.
Much of this particularity stems from a divergence in the post-war market for spirits. Prior to the mid-20th century, elixirs such as vermouth resolutely held to the highest standards of quality. One could even say that vermouth had panache. As the World Wars faded from sight, an eruption of production in nearly all markets focused on quantity, to the detriment of quality. From building materials to food-stuffs, from clothing to vermouth — "Give us more for less!" came the bourgeoning cry.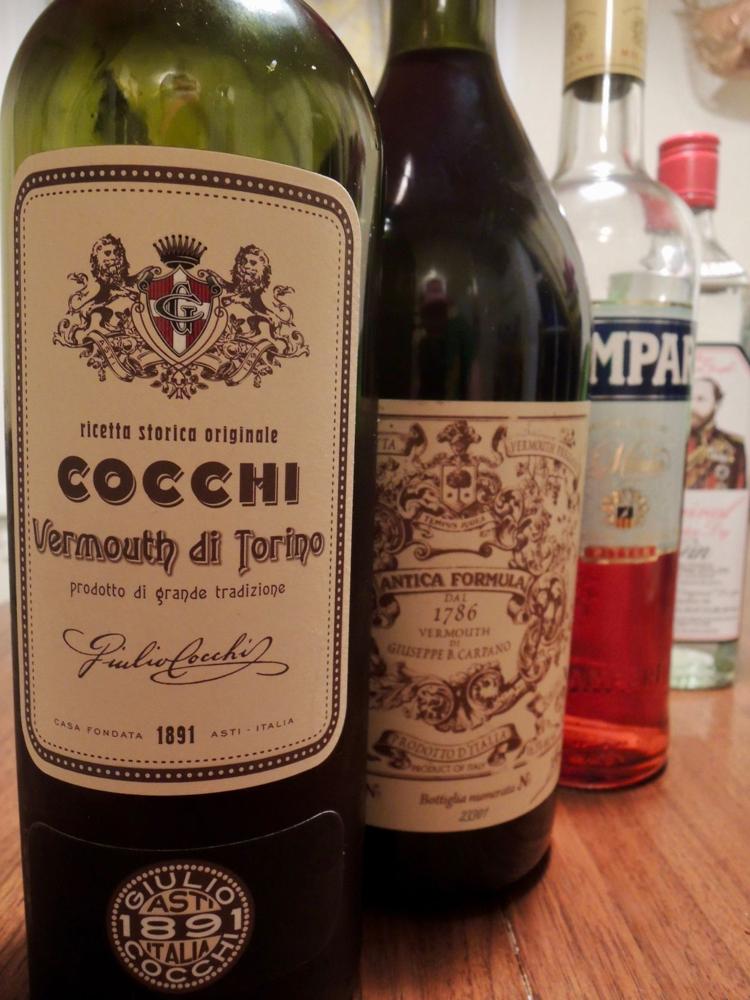 Really, that's just a long way of saying that not all of today's vermouths are made equal. So, what should you be drinking, and how to drink it?
Claiming a 1786 birthday, compliments of Antonio Carpano himself, Antica is said to have remained true to its "original inimitable" form. The compilation of aromatics takes months to prepare and process, lending further reasoning behind its recent international success.
Tasting notes: This vermouth offers the addition of vanilla to the classic aperitif we know. It starts sweeter with notes of caramel and licorice, then a lingering dry bitterness hinting of orange peel drives the finish.
Wherever you find this vermouth, cocktail bar or liquor shop, chances are good that you're in the right place. While an increasing number of buyers, bartenders and patrons are familiar with our other pick, Antica, this Cocchi is less well known — read: often the better buy. This is further compounded by Antica commonly being sold in liter formats, making it harder to consume before it over-oxygenates; meanwhile, Cocchi is available in 750ml bottles. Did you know you're supposed to refrigerate your vermouth?
Tasting notes: A plumb-forward jammy-ness is reminiscent of a drier Barq's root beer or Dr. Pepper, both on the nose and palate. The bitterness quintessential to an Italian amaro kicks in for the finish.
It's what the Rat Pack drank. It's what JFK likely sipped when he summered on the Cape. And while I hear James Dean liked rum, you remain in good company when you mix a Manhattan or Negroni.
You may recall that the Italians imbibed their vermouth with merely a dash or two of bitters; vermouth itself was the drink. Americans, however, in the eyes of Italians (and perhaps the entire world), are "cowboys." So it only seems natural that we'd take the refined vermouth and spike it with bourbon or gin. More is always better. In the words of Kramer, "Giddy up!"
• 2 parts high-proof bourbon
• 1 part sweet vermouth (particularly Antica or Cocchi)
• Dashes of bitters to your discretion (e.g., Angostura)
Stir all ingredients with a heap of ice; strain into a glass; fancy cherry optional
The Negroni (just remember 1-1-1)
• 1 part Campari (or similar amaro)
• 1 part sweet vermouth (particularly Anticaor Cocchi)
Stir all ingredients with a heap of ice; strain into a glass; citrus garnish optional
Footnote: While the Antica presents itself as less sweet than Cocchi while neat, it does a remarkable job of somewhat masking Campari's powerful bite — to the extent that Negronis made with Antica can, and have, turned Campari skeptics into enthusiasts.