Prosecutors dropped plans to file a first-degree murder charge against the stepmother accused of causing an 11-year-old boy's death in March when she and his father forced him to drink large amounts of water.
Tara Sabin, 42, was instead charged with child abuse knowingly or recklessly resulting in the death of Zachary Sabin, plus five other child abuse counts — one for each of the other children in her household. Her husband, Ryan Sabin, 41, was charged with first-degree murder and child abuse in Zachary's death as well as child abuse counts related to the other children, ages 2 to 15.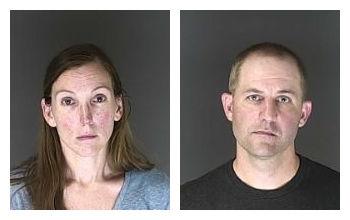 A judge granted a request by Ryan Sabin's attorney for an expedited bond hearing, scheduled for July 13. The attorney, Joshua Tolini, argued that an arrest warrant by the El Paso County Sheriff's Office didn't establish that Ryan Sabin knew his actions were "practically certain" to result in the boy's death, falling short of the legal threshold for first-degree murder.
Both Sabins, who are being held at the El Paso County jail, will return to court June 30 to argue pre-trial motions.
On June 23, Ryan and Tara Sabin sat in orange jail jumpsuits with their hands cuffed behind their backs. They did not address the court.
Zachary Sabin was found dead in a urine-soaked diaper on March 11 in the family's Black Forest home after he was made to drink four 24-ounce bottles of water over a four-hour time period, without eating. An autopsy concluded he died of forced water intoxication.
Tara Sabin told authorities during a three-month investigation that Zachary suffered from a genetic urological issue and needed to stay hydrated.
The arrest affidavit alleges that he was made to keep drinking even after he began vomiting, developed pain in his legs, and became nonverbal and drowsy before he was put to bed. Tara Sabin said she thought the boy was acting out because he didn't want to drink the water.
Authorities also alleged that Ryan Sabin twice kicked Zachary while ordering him to get off the floor as he lay sickened.
The coroner found blood on his left eyebrow and forehead, according to the report. The 11-year-old also had bruises on his head, arms, shin and buttocks.
To prove that Ryan Sabin committed murder, prosecutors must show that he knew, "if I continue to give him water, he's going to die and I'm going to do it anyways," his attorney Tolini told the court.
Fourth Judicial District Judge Michael McHenry agreed that an expedited bond hearing was necessary because, while the risks of dehydration are well known in the Rocky Mountain west, the dangers of water intoxication are not.
Prosecutor Anne Frances said she disagreed with Tolini's characterization of why the boy was made to drink water and said she would be prepared to defend the charge at further proceedings.
Contact the writer: lance.benzel@gazette.com