Stan Searle sketched a portrait of himself 63 years ago. There he is on horseback over rugged terrain, reins in hand, clouds building behind him, eyes on the horizon.
"It's perfect," observes his son, Charlie.
Stan Searle was 22 then. No longer a boy and not yet a man, the family farm behind him and the road ahead uncertain. But the portrait spoke to what he wanted. The portrait was a prophecy.
Here he is now, 85 and still full of vigor. Decked out in cowboy hat and cowboy boots and not bothering with the sling. Orders were to keep it strapped up since a hay baling incident resulted in a torn rotator cuff. (In recent years, he suffered another injury slipping on ice while stalking a coyote.)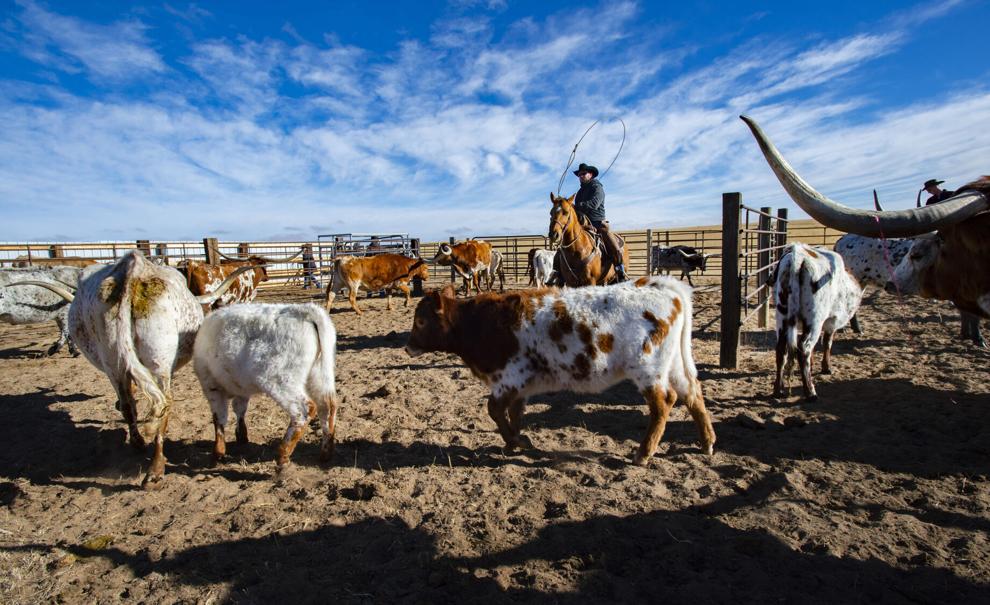 "I got tired of that sling," Searle says. "So I put it away."
He never gets tired of the view here on the plains east of Colorado Springs. This morning, he won't be riding out with the boys to round up the Texas longhorns that have brought him statewide fame. But he's got the wide-open view of Silverado Ranch, these 2,500 rolling acres where his iconic herd spends winter, 100-plus strong.
Searle loves the view. "Which kind of runs counter to our idea of cutting it up," he says in a resigned hush.
The idea is separating 320 acres for 64 homes. Two are sold and three are under construction. The feeling, Searle explains, is that development is coming, and better for him to set a template rather than someone else with no regard for the old country.
"I have mixed feelings," says Gary Lake, the longtime partner and ranch manager who has looked over the herd here for four decades. "I'd like to see the land empty. But we're fortunate in that we're able to live in both worlds: make enough money by dividing up some of the land so we can afford to keep some rangeland and keep doing the cattle business that we love."
Searle has existed in these two worlds for the better part of the 2000s, selling some land to help fund his passion. The cattle are a business, "but frankly, it's more a lifestyle choice than an economic choice," Searle says.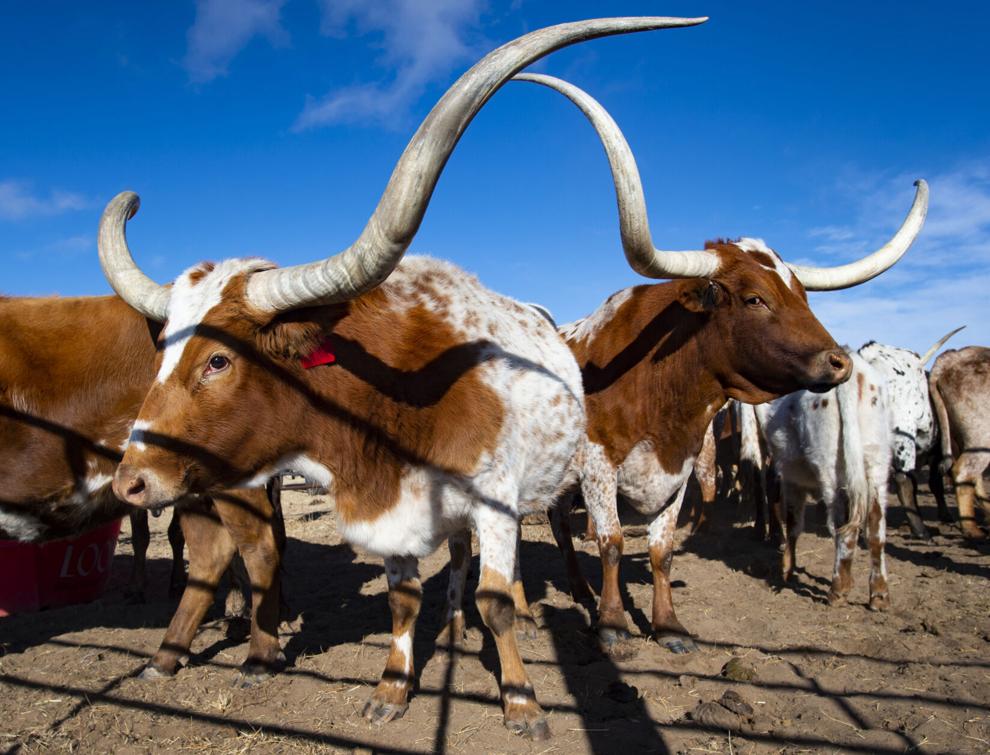 Previously, he subdivided his home Monument ranch, cashing in while also preserving summer pasture for the longhorns. The intent was to keep them roaming there, as is the intent here at Silverado — to forever keep them strong for the century-old event they have come to represent.
They are mascots of sorts for Denver's National Western Stock Show, happening this month. Weighing more than 1,000 pounds with horns stretching 6 feet across, the colorful cows are the main attractions of the show's annual parade down 17th Street (though the parade was canceled this year). Over the years, they've been seen marching down Colorado Springs' Tejon Street, too.
That's been Searle leading on horseback.
"When tens of thousands of city dwellers see these big-horned cattle that they've only seen in movies, it's a reminder that their hamburger doesn't start in the back room at Kroger's," Searle says. "It's a reminder there's still people saddling horses and herding cattle."
He's proud to be one of them, raising lean, grass-fed beef. And he's proud to show off the curious breed that afforded him his cowboy dreams.
Seeking balance
The 22-year-old in that portrait was on his way to a prosperous, acclaimed career. But it would not be in ranching.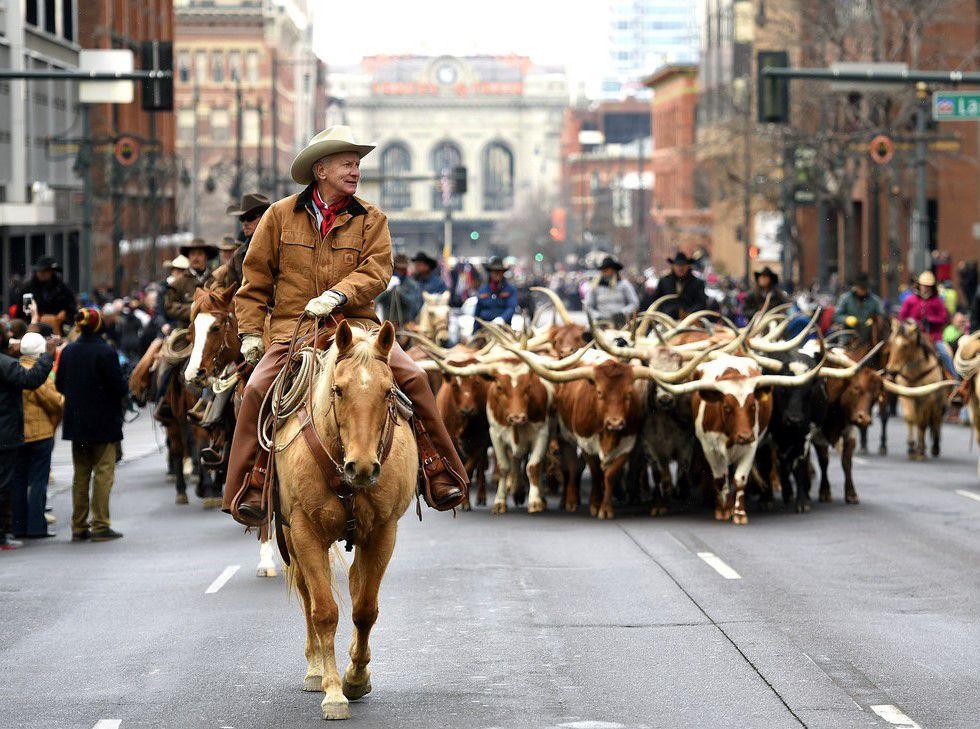 Being a cowboy was no way to make a living, Searle knew. He had learned his lesson growing up on the farm near Yakima, Wash.
"We didn't have electricity, no pavement around and no bicycle," he says. "And yet, I felt sorry for the kids in town who had bikes and pavement."
And yet, he wasn't about to be poor himself out of high school. He went on to the University of Washington to study engineering, only to find a niche instead in advertising. That's where the drawing skills came from, back when graphics came by hand, not computer.
Later, in the 1960s, came a decorated career in cable television and publishing. Searle launched the TV industry's first trade magazine and acquired cable systems at a time Ted Turner and John Malone were rising to make their fortunes.
"I don't think he was ever quite ruthless enough to make it as big as some of those people," Charlie Searle says. "He knew that would suck his own life out of him. Get to that level, there's no way to have any life balance."
Balance was what his dad sought.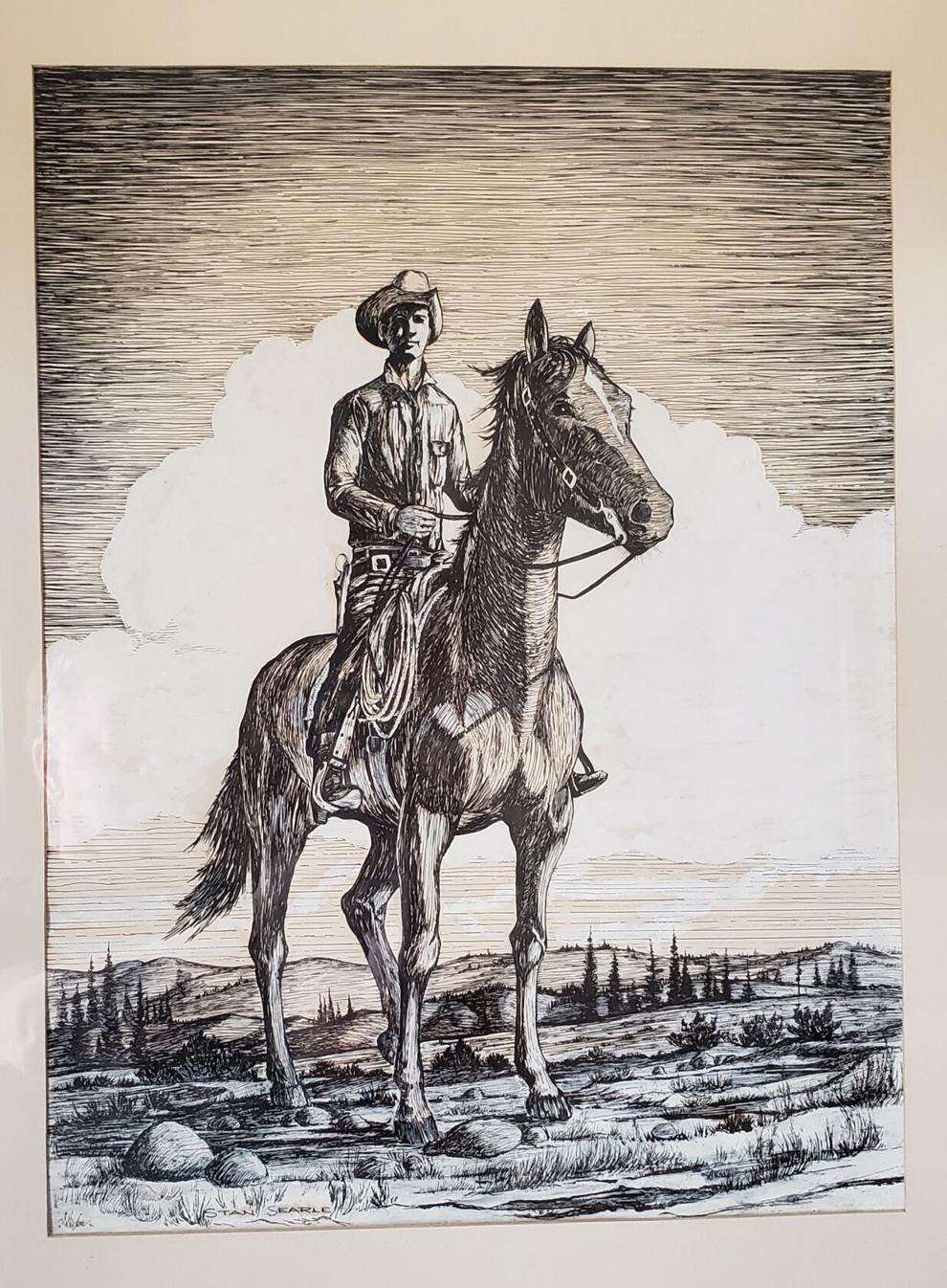 Searle raised the family on 60 acres in Evergreen, home to some horses. But he could only be around them for so long, commuting to Denver as he was while also traveling the country on business. "It was sort of a double life," he says.
How to expand one side of that life? The crops and cows of his formative years were out of the question; the horses were time-consuming enough. Searle turned his gaze to longhorns.
Longhorn destiny
Longhorns didn't need him around all the time, he learned. He learned they were self-sufficient and hearty, carrying the traits that made their ancestors survivors in the wild Americas. They came from Spain in the early 1500s, migrating through Mexico and on to what is now Texas. They were initially shipped to the New World by Christopher Columbus.
The more he read, the more Searle came to think of the longhorn as making the American cowboy. He read J. Frank Dobie, who romantically wrote of the species: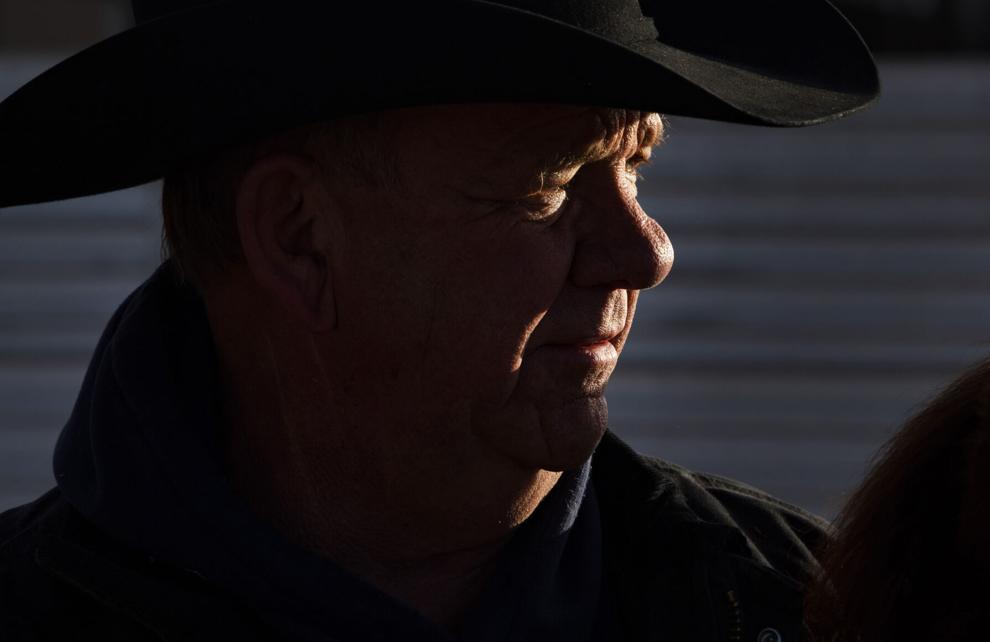 [H]is name is destined for remembrance as long as the memory of man travels back to those pristine times when waters ran clear, when free grass waved a carpet over the face of the earth, and America's Man on Horseback — not a helmeted soldier, but a booted cowboy — rode over the rim with all the abandon, energy, insolence, pride, carelessness and confidence epitomizing the booming West.
Searle read of Charles Goodnight, the pioneer who drove longhorns through the untamed Frontier. The Goodnight-Loving Trail ran east of Colorado Springs to the stockyards farther north. Wouldn't it be something, Searle thought, to drive cattle in that very vicinity?
"He spent most of his life making enough money so he could go spend it on cows," Lake, the ranch partner, says.
Searle's fanaticism took off with his first four head in 1974. He went on to create The Texas Longhorn Journal and co-found the International Texas Longhorn Association. He watched his herd grow all the while.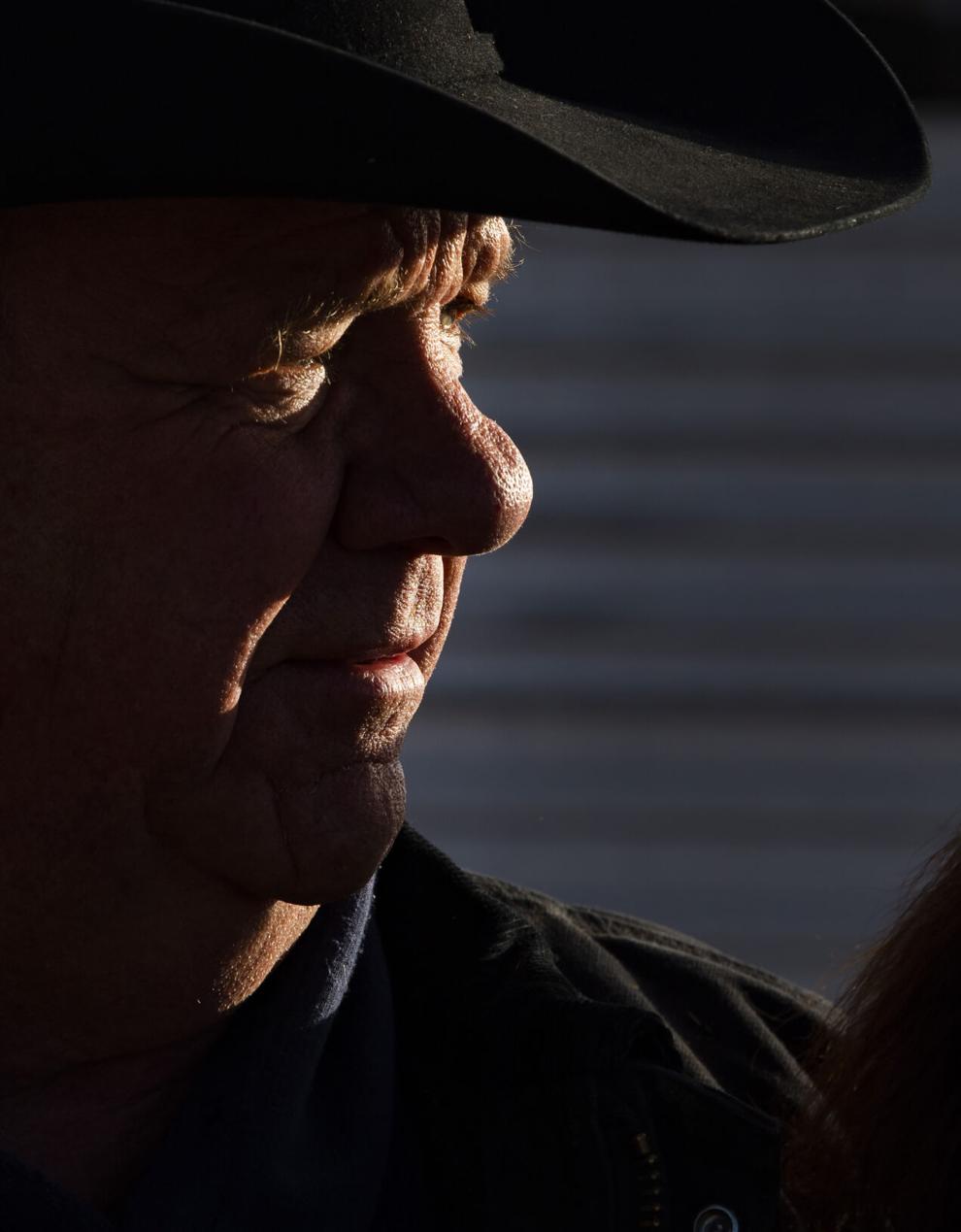 The Monument ranch has been home since the 1980s. There Searle has kept pictures of a large life, including pictures with senior politicians and presidents. Ronald Reagan and George W. Bush have been among acquaintances.
"The Lord put me in a lot of interesting places," Searle says. "I feel like Forrest Gump in a lot of ways."
A box of chocolates comes with heartache.
In 2019, Searle's wife of 60 years died after a long bout with health complications. Her memory was failing in 2015, when their eldest daughter died of lung cancer.
"His faith is his secret weapon," Charlie says. "His faith kept him from feeling like he was getting bombarded and life wasn't fair."
Faith, and the pasture. When the days were hard, off his dad would go on horseback. "Just to look at them," Charlie says. "Note who got a calf."
The longhorns go on while things change around them.
Now Searle looks out and sees future homes. He sees some loss of that image he once read about, that pristine grass waving free over the earth.
But much of it will remain. That's where the cattle will be. And somewhere, too, there will be a portrait, another perfect image, a cowboy on the range.
Contact the writer: seth.boster@gazette.com