Members of the Air Force Academy's first graduating class, the Class of 1959, ushered the newest crop of cadets across the academy's Challenge Bridge on Thursday in a symbolic passing from their civilian pasts to their military futures.
The basic cadets, who marched back Wednesday from Jacks Valley, a 3,300-acre training area on the north end of the academy, after completing their six-week basic training.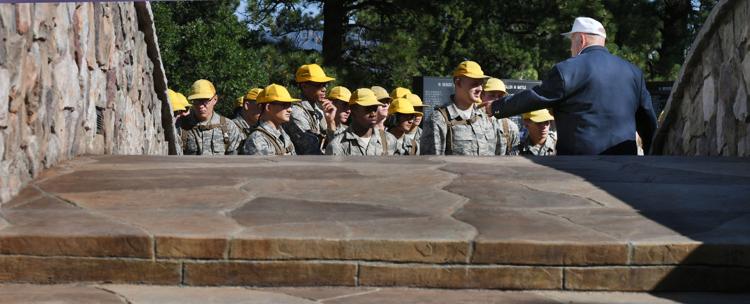 In small groups, they walked along Heritage Trail near Doolittle Hall in the early-morning heat. They spent time at the Southeast Asia Memorial Pavilion and in front of a memorial wall honoring academy graduates who have died in combat.
The basic cadets were likely tired, Class of '59 grad Ed Montgomery acknowledged. During the rigorous basic training, they are seldom praised, constantly critiqued and often told they didn't measure up.
But there's a reason for it, Montgomery, 81, told them.
"That's because throughout the rest of your lives, you will occasionally run into a serious challenge, face an important task, and you will turn around and discover that you are alone," said Montgomery, a retired colonel.
"There's no leader there to lead you, no mentor there to guide you. There's no instructor there to show you the right path to take. You will suddenly realize that the only source you have to develop the motivation you're going to need to meet that challenge is to reach deep down inside yourselves to get the physical and moral courage that you're going to need to meet that situation."
Sixty-four years ago, Montgomery and his classmates were beginning their journey at the Air Force Academy. While construction was underway on the campus north of Colorado Springs, the first class of 306 men was sworn in at a temporary site, Lowry Air Force Base in Denver, the academy's website states.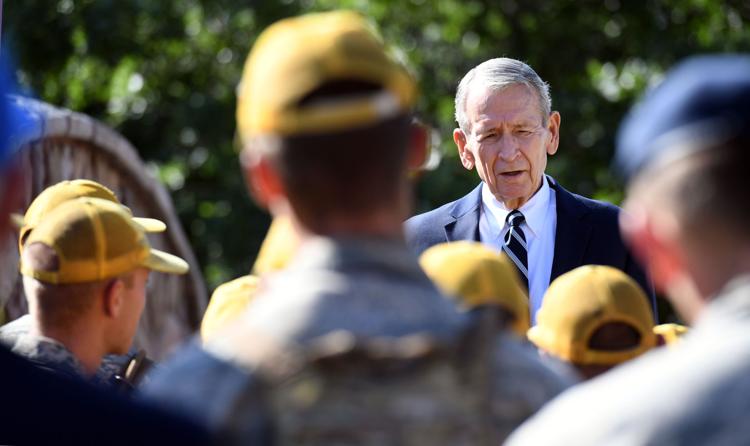 "Although we don't know each other, you and I, we already share a bond, because exactly 64 years ago, my classmates and I took that very same second step on our journey," Montgomery told the basic cadets.
Members of the academy's inaugural class were in town for their 60-year reunion. About a dozen went to the academy to greet the basic cadets.
"There's a lot of interesting and fun things waiting for them over their careers," said Karol "Bo" Bobko, a retired colonel and the first academy graduate to travel in space. Bobko, 81, flew three space shuttle missions — the first flight of Challenger, the first flight of Atlantis and a flight of Discovery — and was commander of two of them.
His advice to the basic cadets: "It's going to be tough, but it's doable."
Dick Carr said he wanted to impress upon the cadets the importance of the academy's honor code: "We will not lie, steal or cheat, nor tolerate among us anyone who does."
"I challenge them to live not just their career or their academy life, but the rest of their lives by the code of conduct," said Carr, 81, a retired major general. "We were the first class, so we made our honor code, and it's really something we live by."
It's important for basic cadets to understand the history of the institution they're a part of, said Hannah Wyatt, assistant flight commander for the basic cadets in Barbarians Echo.
"It's really powerful, coming through here. ...By stepping foot on the academy grounds, you are here to die for your country," said Wyatt, a senior cadet. "This is what you signed up for. This is where the academy has come from."
Wyatt said she hopes the basic cadets felt the weight of the responsibility before them and the sacrifices they could be called to make.
"One thing that Barbarians did going into Jacks Valley was we took them to the wall on The Terrazzo and we had each one of them write down a name," she said. "When we got to Jacks Valley, we had them pick up rocks, and they wrote that name on the rock and put it in their (backpacks), so they were literally carrying the weight of those that have fallen before them."
As each new group of basic cadets walked up to Challenge Bridge, a gift from the Class of 1959, the visiting octogenarians took turn addressing them. Then they asked one of the basics to read the challenge inscribed on the bridge.
To each entering cadet:
The path to which you aspire has been consecrated by the blood of heroes and paved with the selfless service of countless men and women like you.
If you would be worthy of this heritage:
• Make integrity the bedrock value of your life.
• Let your actions always be guided by an unshakable sense of duty, self-discipline and personal responsibility.
• Become a lifelong student of history, war, humanity and leadership.
• Be prepared to sacrifice everything to defend the principles upon which our nation was founded.
• Cross this bridge with the determination to live a life that will make all who went before proud of you.
Contact the writer: 636-0198