Adding a high-speed transit system along Interstate-70 to the mountains would increase safety, save residents money and bring in tourist revenue, a new study contends.
Colorado Department of Transportation, which created the idea back in 2011, partnered with other counties and organizations to fund the study, conducted by Development Research Partners.
Commuters to and from Denver would save $8.4 million in vehicle maintenance costs and travel time, the study predicts. Out-of-state visitors and mountain corridor residents would bring the total savings to $12.7 million.
Bustang route from Denver to Estes Park to begin this month
The system is expected to bring 4.2 million additional visitors to the I-70 mountain corridor. Those visitors could spend up to $548.6 million on food, lodging and entertainment, according to the study.
These revenue sources would support 6,428 employees predicted to earn $227.2 million total, the study states. This would amount to a big change for the region, considering employment rates in the mountain corridor have grown at about half the annual rate of growth in the metro Denver region since 2001.
Beyond the economic impact, the study notes the system could improve the environment and health in the area, citing studies that show that people residing in high-traffic volume areas have higher risks for asthma, cancer and other health conditions.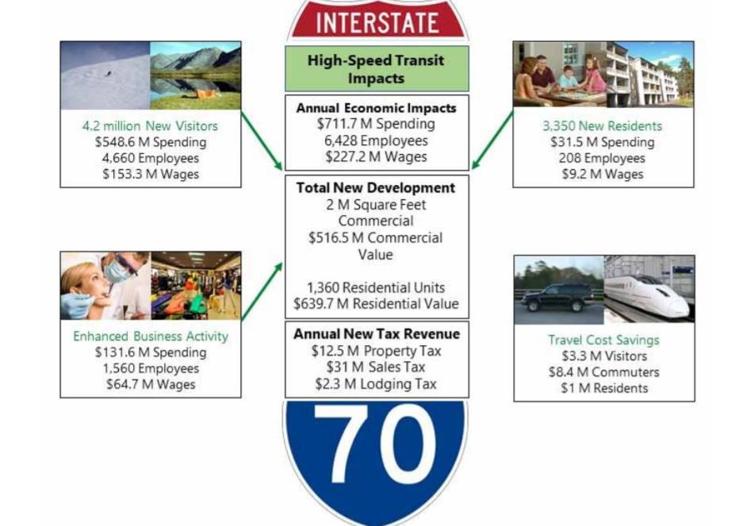 "A transit system connecting the I-70 mountain corridor and the metro Denver urban corridor would provide an opportunity to improve the quality of life for people by reducing pollution, removing the stress of driving, potentially reducing personal transportation costs, and providing greater options for employment and housing option," the study states.
"A high-speed transit system would provide enhanced opportunities for increased economic activity, increased employment and earnings, and expanded residential and commercial development opportunities."