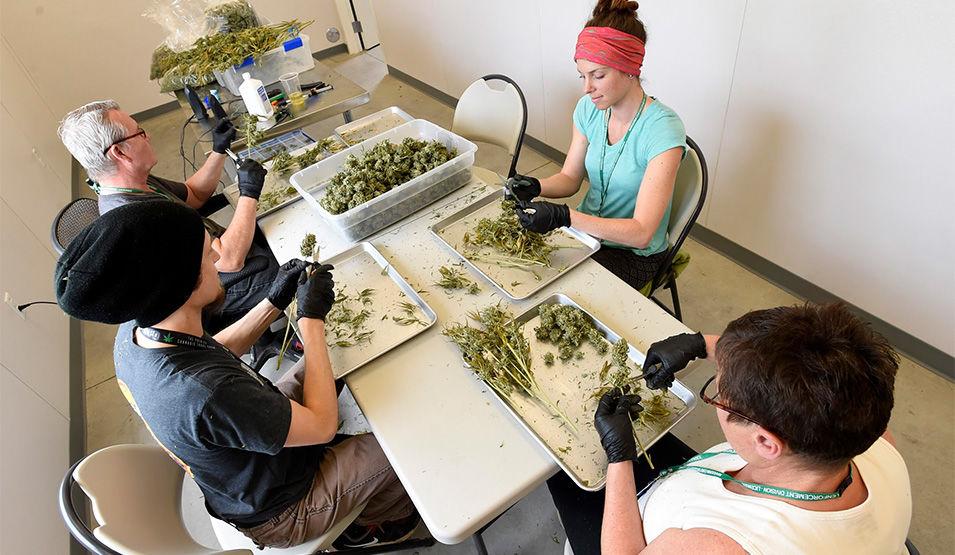 Tail-finned Cadillacs circled Greenwood's Café in Pueblo on Friday nights, the drivers and their dates hungry for the locally famous diner's fried chicken dinner. In this 1950s Steel City, Greenwood's appeal seemed timeless.
But few places typified Pueblo's decadeslong economic malaise as perfectly as that once-bustling neighborhood restaurant. Just as the 1980s brought the collapse of the city's chief economic driver — the Colorado Fuel & Iron steel mill — it also ushered in Greenwood's fall to ruin.
And few places might better suggest the changes brought by marijuana than the abandoned eatery — now a glossy new recreational marijuana shop.
In November, Pueblo voters doubled down on marijuana, soundly rejecting ballot measures aimed at scrapping the burgeoning industry. Helping lead the charge was Jim Parco, who transformed the former Greenwood's from a derelict with hardly a roof into a thriving business.
Its rebirth is perhaps indicative of Pueblo's larger transformation. Increasingly, marijuana advocates say, the Steel City is turning into the Napa Valley of Weed for those seeking to grow, buy or sell the leafy green plant illegal in much of the world.
Denver is the state's political and economic capital, and mountain towns can bank on ski resorts and tourism. Colorado Springs boasts five military installations that drive as much as 40 percent of its economy.
"The rest of us have been getting ignored," Parco said. "So when they legalized cannabis in 2014 and started taxing it, it changed the game. Now we have a chance."
Still, there is a strident and vocal opposition to the pot industry — one that refuses to back down despite November's election day shellacking. Any benefits brought by the industry's burgeoning presence in Pueblo are far outweighed by the drug's societal costs, the leaders of a group called ProPuebloCO say.
They're rallying supporters to combat what they see as a growing drug culture that threatens the city's recent revival.
"We think it's part of the problem, but we know the people have spoken on this issue," said Jack Rink, one of ProPuebloCO's leaders. "We respect that vote. We're trying to move on and say, 'How do we work together to deal with the consequences of those decisions?' "
Providing an opportunity
Pueblo's recreational and medical marijuana plant count was second only to Denver County in the first half of 2016.
Several factors appear to be clouding the industry's future. Supply, for example, appears to be outpacing demand in Colorado — causing wholesale prices to plummet from about $2,100 to $1,300 per pound in 2016, according to Marijuana Business Daily. It was a factor in Pueblo County commissioners imposing a moratorium on new cultivation licenses until April 2019. A moratorium on retail shops also was recently imposed.
Still, Pueblo County's cost-efficient specialty — outdoor and greenhouse cultivations — may be well-suited to weather the recent drop in wholesale prices.
Taxes on the industry have helped spruce up schools, parks and roads while reaping $3.5 million in marijuana-related tax revenue and fees last year. About $1,000 also will be available as scholarship funding to each qualifying high school senior who graduates in Pueblo County and who attend either Pueblo Community College or Colorado State University-Pueblo (itself a marijuana magnet, having created its own Institute of Cannabis Research).
The recreational marijuana industry's explosive growth "literally saved our construction community" during the latter part of the Great Recession — accounting for more than half of the county's construction-related revenues over the past three years, said Chris Markuson, Pueblo County's director of economic development and geographic information systems.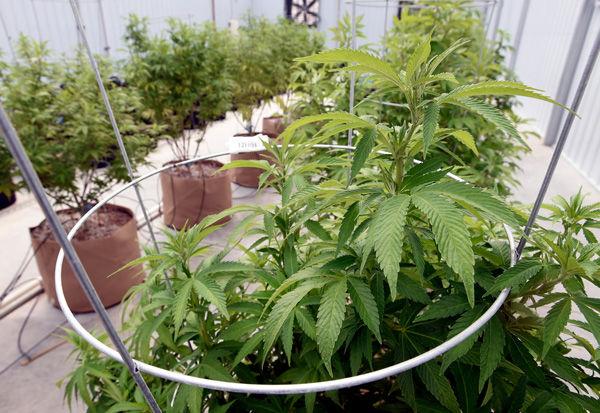 Other states are taking notice of how Pueblo leaders crafted their safety, compliance and land-use policies, he said.
"This is Pueblo's opportunity to lead the world in a very different way," Markuson said.
But economic leaders say Pueblo's recovery is more than just the marijuana boom. The community is seeking to diversify its economy — having learned 35 years ago the perils of relying on one industry for prosperity.
County leaders have been relentless in using taxpayer money to woo other manufacturers.
If marijuana supplied a shot of adrenaline to Pueblo's economy, gains made in other sectors — aerospace, recreation and renewable energy, for example — appear to be the nutrient-rich diet that could keep the good times rolling, some leaders say.
'A vested interest'
From his marijuana shop in the former Greenwood's, Parco sees only green.
A Colorado College economics and business professor who previously taught at the Air Force Academy, Parco said he never even saw a marijuana plant before dumping his life's savings into the industry.
Parco — a valedictorian of his Pueblo County High School class — flummoxed his neighbors with his decision.
"The neighborhood really had a hard time understanding," Parco said. "It's like: 'Why would good people go into something like this?' "
"But we got into it to clean up the property — to employ people, to set up some sort of business operation, because it's right next to our family's land," Parco said. "It's our back yard, so we have a vested interest."
A year in, and Mesa Organics is working to turn a profit.
It's a threefold business — equal parts marijuana shop, manufacturing plant and cultivation site.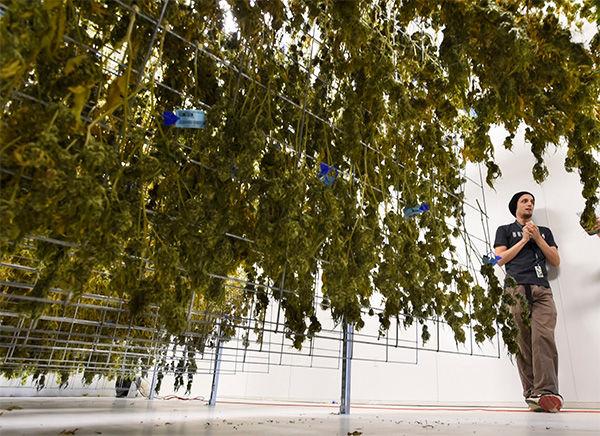 Toward the rear of his facility is a grow house, where plants grow in rocks made of recycled glass, beneath specialized LED lights emitting a spectrum that maximizes marijuana plant growth. To the left are carbon dioxide extractors used to create high-grade marijuana extracts. It's one of the few marijuana processing facilities to rely on solely carbon dioxide-based extraction, rather than butane or propane.
"Like maple syrup," he said, holding the finished product. "Except it's not even close."
Greenwood's outside wall is now the inside wall of Parco's retail shop. Draped across it is an intricate mural created by a fellow Pueblo County High School graduate depicting Greenwood's transformation.
Next on Parco's list: the creation of a national marijuana museum in Pueblo.
"People will come from all over the world," Parco said of what seems a far-fetched idea but that he equated to a tourist draw that will rival the Empire State Building and the Hollywood sign.
Marijuana tourists might already be familiar with plants from Los Sueños Farms, which touts itself as the largest outdoor recreational marijuana grow in the country, supplying shops across the state. It grows 21,600 plants on 36 acres as well as in a 55,000-square-foot greenhouse. And 136 more acres are waiting to be planted.
The cost per square foot to grow marijuana here is far lower than in warehouses that place "tremendous" strains on local utility providers, said Michael Cadwell, Los Sueños' director of sales and strategic partnerships.
"It's really hard to recreate nature inside," Cadwell said. "You can do the math — you just put a plant in the ground, let it grow and give it some water."
A place to grow
Pueblo is perfectly positioned to corner the outdoor pot market.
Snug in Colorado's "banana belt," the city and county enjoy a mix of sunny, warm and dry weather that cannabis plants crave, growers say. Temperatures average more than 5 degrees warmer in Pueblo than in Colorado Springs. And while the rest of the Front Range might get clobbered with snow, Pueblo usually stays warmer and drier.
In Pueblo County — the state's first to allow outdoor and greenhouse grows — the land is far more affordable than other parts of the Front Range. And unlike other areas of the state — such as the San Luis Valley or the far eastern plains — land can be purchased near a city of more than 100,000 people, complete with an airport and thriving cultural scene.
First came peppers, chilies, pinto beans and corn. Now, it's cannabis that offers Pueblo and Pueblo County a "golden opportunity," said veteran Pueblo politician Sal Pace, now a county commissioner.
"We're not Boulder County — we don't have a social message we're trying to push," Pace said. "This is about creating jobs and sustainable economic development."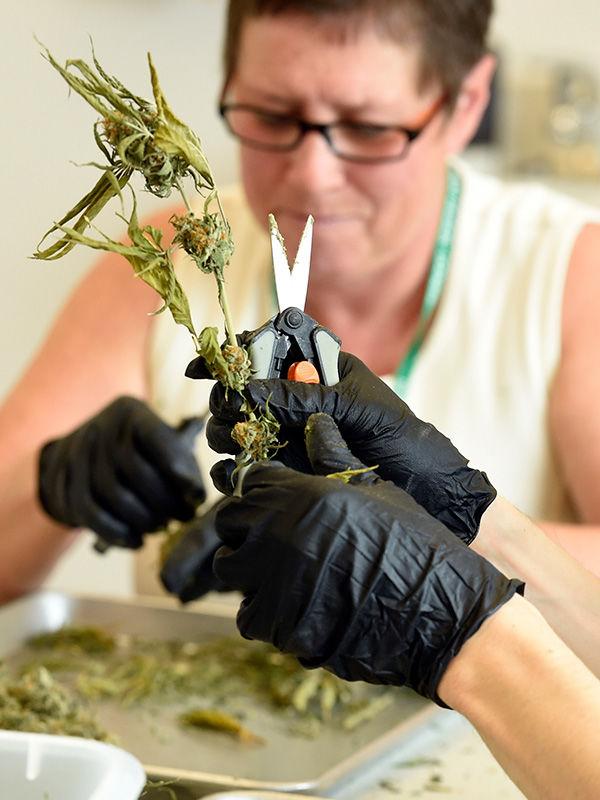 Pace led local lawmakers' efforts to ease the industry's regulatory burdens. The goal, he said, was to spur development and end the generational poverty that afflicted many Pueblo families.
The loss of thousands of jobs in the early 1980s at the CF&I steel mill left middle-class wages out of reach for many Puebloans without a high school diploma.
Thirty years later, the Great Recession lingered far longer in Pueblo than elsewhere in the state. Double-digit unemployment rates persisted through spring 2013, while Colorado's unemployment rate hovered just below 7 percent.
In February, Pueblo's unemployment rate was 4.9 percent, preliminary data show. Embracing the marijuana industry helped drop that figure, Pace said.
A current accounting of the marijuana jobs created locally does not exist. A 2015 industry-funded analysis found 1,300 people employed by Pueblo County marijuana-related businesses.
Winners and losers
Other local employment sectors appear to be riding a second-hand high.
A Pueblo native, Andy Jesik returned to his hometown in 2014 intent on starting his own geotechnical engineering firm.
His business plan never included a marijuana stimulus. But over the following two years, 50 to 60 cannabis-related companies hired him for soil composition and septic studies.
"It was a big boost in getting the company started for us," he said.
Even Pueblo's former sheriff jumped into the fray.
Having once been the man responsible for busting marijuana grows, Dan Corsentino now employs more than a dozen people who guard marijuana cultivation and retail facilities across Pueblo and other parts of the Front Range.
Effectively policing the drug, he said, had grown impossible.
"It was a waste of time."
His security firm, DC Private & Investigative Security Consultants, expanded to 33 security guards — 16 of whom stand guard at marijuana-related facilities.
Still, Corsentino said he isn't quite sold on marijuana being Pueblo's long-term economic savior.
Colorado cornered the market early, he said, but one in five Americans now live in states that have voted to legalize recreational marijuana sales.
"For us to become the Napa Valley of the weed industry, I think that's somewhat of an embellishment at this point."
Pueblo County Sheriff Kirk Taylor is more blunt.
"I don't believe we should base our economy on something that is so fragile," he said at a recent news conference raising concerns about the local marijuana industry.
Others dismiss or deride Pueblo's pot-themed nicknames as foolish or even derogatory.
Embracing the industry creates winners and losers, ProPuebloCO's Rink said. While it may pump some money into the local government coffers, it has overburdened the local social services and health care sectors by attracting a massive influx of transients seeking legal weed, the group's leaders contend.
Since 2013, the number of clients seeking services at Posada — a nonprofit seeking to house and help people who are homeless — has tripled to 7,800 people, said Anne Stattelman, its executive director. One third of them reported coming to Colorado for marijuana or to sign up for expanded Medicaid benefits, she said.
"They're coming, they're poor and they're adding to our community of poverty," Stattelman said.
Filling a void?
The budding marijuana industry still accounts for a minute fraction of the state's gross domestic product, stresses Ryan McWilliams. As chief technical officer of International Engineering, he has been working to transform Pueblo's dilapidated and abandoned Alpha Beta meatpacking plant into a business park accommodating five rail companies seeking to relocate to Pueblo.
But executives at some of those companies have expressed second thoughts, citing drug use in the city, McWilliams said.
"We are on the verge — as Colorado — of trading one industry, the marijuana industry, for all other industries that cannot have any sort of a drug culture," he said.
ProPuebloCO's goals include seeking to boost education in schools about the dangers that drugs pose. And it's advocating for a residency requirement for Medicaid eligibility and other benefits.
Some groups operate as if the industry doesn't even exist.
"It's politically hot, and we're a nonpolitical organization," said Jeffrey Shaw, president and CEO of the Pueblo Economic Development Corp.
A fourth-generation Puebloan, he remembers Pueblo's "dark years" after the 1980s steel crash.
What separated Pueblo from other similarly devastated communities, he said, was an effort to tax itself and use that money to diversify its economy. From that came PEDCO.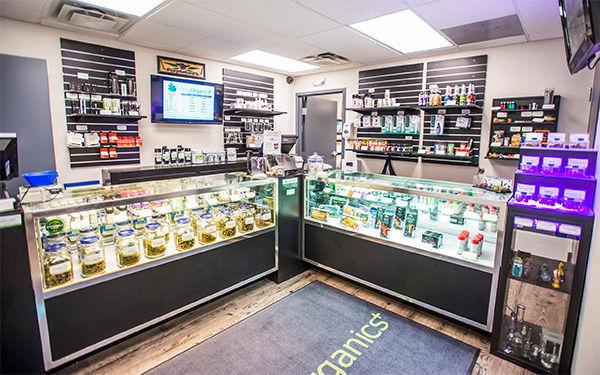 The organization generates $8 million a year to woo businesses willing to relocate jobs that export the majority of their products and services out of Pueblo.
Its largest tax break — $11 million — went to Vestas, a wind-turbine manufacturer that brought hundreds of jobs to the region.
On top of it all, the steel mill upon which Pueblo nearly crumbled is still bustling — albeit with a far leaner workforce that numbers in the hundreds, not tens of thousands. On its production lines are high-quality rail lines and seamless pipes.
While it ignores marijuana, PEDCO has embraced a different form of cannabis: hemp.
The plant — which contains almost none of marijuana's psychoactive ingredient, THC — can be used to make almost anything, including clothing, food, soap, fiberglass, silicone and even a form of concrete. Many oils renowned for their apparent ability to reduce seizures in epileptic children also fall into this category.
Incentivizing companies that process hemp to make Pueblo their home is one of PEDCO's goals, and Shaw anticipates "a couple announcements this year."
The question is: Can marijuana truly fill the void created by all those departed steel jobs?
Yes and no, said Markuson, the county's point man for economic development.
He sees cannabis playing a role in Pueblo's economy for years to come — but just as one cog in a diverse economy protected from any one industry's crash.
"It's just like ag in general — you gotta rotate your crops," Markuson said.
He loves the moniker "Napa Valley of Weed." But he sees it as being no more than the community's other nicknames.
Pueblo remains Steel City, or the Pittsburgh of the West. It's where Pueblo chilies are grown, and its many Medal of Honor recipients make it the Home of Heroes.
"You could name 15 of them all in one breath — they come and go," Markuson said. "But really, our objective is to have a thriving community."
Increasingly, that's what Olene Greenwood, 75, sees.
Her husband's parents and grandparents used to run Greenwood's Café all those years ago next door to the house she still calls home.
She watched with joy as people lined up on Sunday mornings for its donuts. She looked on with despair after the owners retired and it sat abandoned.
"Now when I see it, I smile," she said. "Because it's beautiful and taken care of. And I know there are people running that business who love Pueblo."