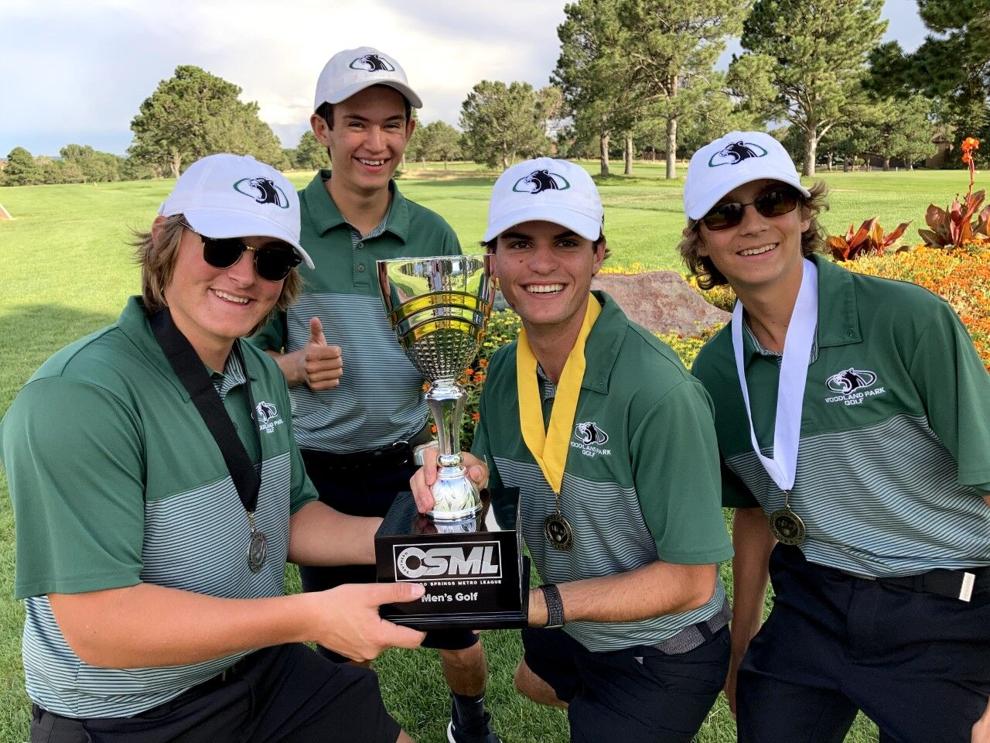 Woodland Park boys' golf only gets a two-month season each year. 
For the other 10 months, athletes can spend time any number of ways. Many across the city participate in other sports or activities. The Panthers, while not immune to branching out, chose to dedicate time to getting better. 
They practiced, plotted and took part in the Pikes Peak Junior Golf Association, as well as day-to-day drills and routine check-ins from the coaching staff. 
The result was a league title, paired with two of the four first-team, all-league spots — seniors Derek Eckhart and Tanner McAfee, alongside Coronado's Noah Keller and Parker Shirola. 
"When our varsity crew found out that they had won a league championship and they got to hold a big trophy, it was awesome," coach Brian Gustafson said. "They got to experience the payoff of a lot of hard work, effort and investment. That was really cool and very validating." 
In-season work has also enabled the Panthers' success. 
They train on the links of Shining Mountain. It's a narrower course than they typically compete on, allowing the team to zone in and be more precise. 
The conditions of the course, perched in the mountains instead of flat land, are also different. Each event, they have to adjust to new course conditions, including drier and faster greens, specifically when competing in Pueblo.  
All the constant tinkering lowers hurdles — no, they're not also training on a track, but rather moments of adversity. 
"We've just tried to stay consistent," McAfee said. "We also play baseball together, so we always keep steady together, especially in tournaments." 
Practices for the Panthers resemble tournaments. 
The guys are put in different situations, including going one-on-one and participating in putting or driving competitions. Above all, Gustafson's desire is to harness the competitiveness of his team against one another. 
"Competition is something we do in and out of practice," Eckhart said. "It's just about keeping that atmosphere at all times. When you never break that, you aren't making a big change on days when it counts." 
The regional awaits the Panthers. 
All year, Gustafson has aimed to have his guys striking in the high-70s each round. They've largely sat 5-to-10 strokes above the marker, but he anticipates his team has the ability to be more efficient. 
They'll need to be pinpoint, because the teams in the region have all found success. 
"With this particular group, we can get to three or four guys under those 70s," Gustafson said. "(With) another big leap in performance, you're starting to talk about being a team that can qualify as a group, through the regional tournament, to go to state and compete at the next level.
"I've told a lot of the guys, 'short game will make or break us,'" Eckhart added. "If we play how we know we can, and how we played to win the title, we'll be just fine." 
4A Region 1
Monday will mark the start and finish of 4A's Region 1 regional competition. 
Woodland Park joins a field of 14 other clubs looking to clinch a regional win, and set itself up nicely for state. Pueblo West, led by junior Noah Wagner, is the top ranking school in the region. 
Behind the Cyclones is Pueblo East, Falcon and Ponderosa, respectively. Woodland Park settles in at sixth. 
Walking Stick , right off the grounds of Colorado State University-Pueblo, will again play host to the southern Colorado tournament. 
Several teams in the regional met last week at the Kadet Invitational. Arapahoe's 5A squad led the way in that one, followed by Cheyenne Mountain, Pine Creek and Pueblo West.