Did we all miss the point?
While we were having conversations about the name, the logo, the colors, the level of play and the mascot - did we forget about the most important thing: the kids?
Like it or not, the Rocky Mountain Vibes are here to stay. Based on the majority of comments on The Gazette's stories, and on our social media posts, many people are still upset by the choice.
It's clear to see why there was such vitriol initially. The team asked for public input on the new name and then went in another direction. That has to rank near the top of ways to alienate a fan base.
Over the New Year's weekend I went to Las Vegas for the third straight year. If you've ever been to Sin City you likely know that one of the most populated walkways is on the second floor of the New York New York hotel. There are bridges that lead to the MGM Grand and the Excalibur hotel.
Inside NY/NY there is an entrance to Hershey's Chocolate World and now inside the hotel there is a kiosk/store in the hallway that is a S'Mores station.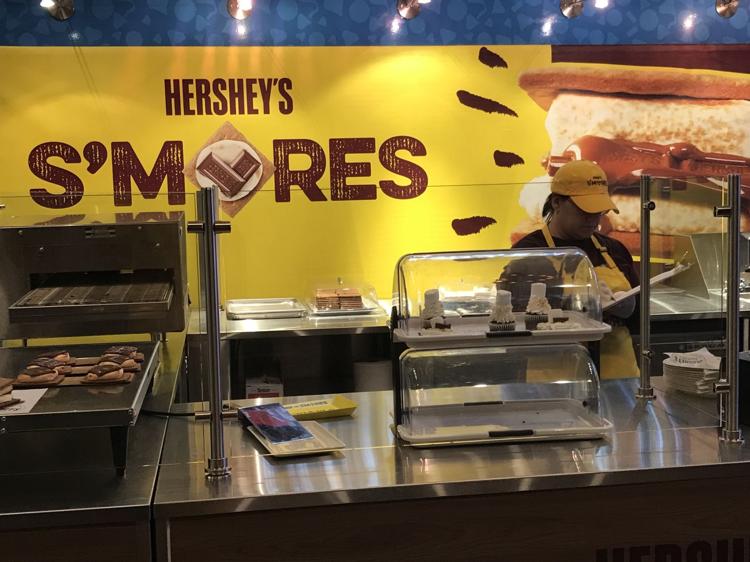 I took this photo of the back wall because I didn't want to be the creepy guy taking pictures of kids, but let me assure you this place was packed with smiling faces each of the three times I walked past it.
Full disclosure: Vibes and Toasty, the marshmallow mascot, weren't my first choices either (I do really like that CS hat, though), but it's not going to keep me from going to a game. I can honestly say I've never attended a sporting event because of the name of a team. I go for the experience, and this could be an awesome scene if the stadium has new and innovative ways to interact with patrons.
Baseball, to many, is the game described as having a romance with its fans. It reminds them of their childhoods, a carefree innocence of days gone by. I have fond memories of going to baseball games as a kid and I also remember making S'Mores with friends as a youngster. The kids of tomorrow might be able to combine the two experiences.
It's quite possible the masses struck out on the initial assessments of the Vibes.