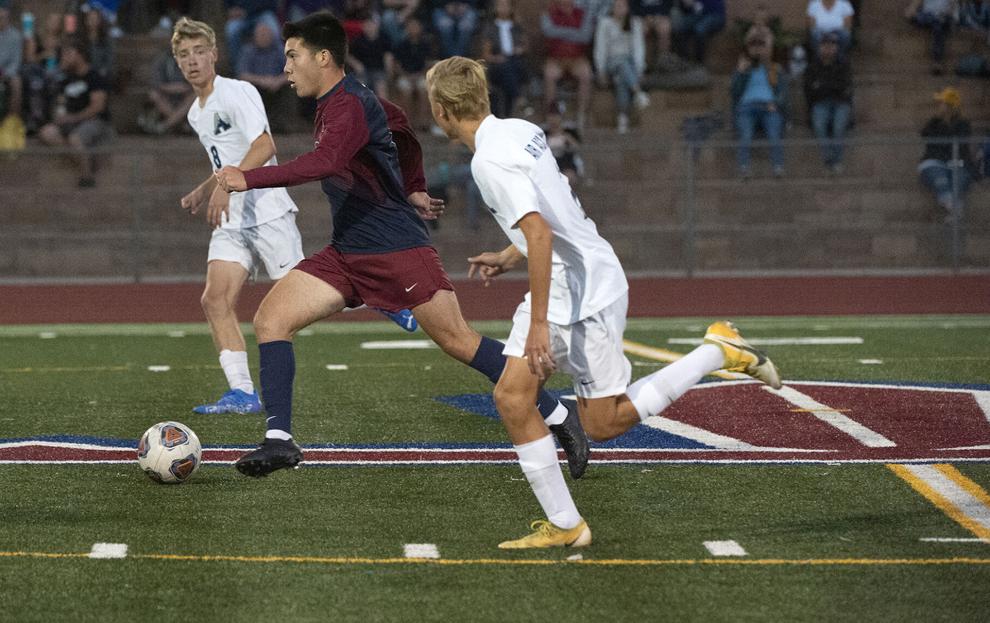 Keeping the defense honest is key for The Classical Academy's soccer club. 
Coach Blake Galvin spends every practice preaching the power of pressure, while keeping a balance. He spends long portions conditioning his team so they won't fatigue while applying it. 
The offense's ability to squeeze the opposition paid off once again Thursday in the Titans' 4-1 win over Air Academy on their home turf, moving the club's record to 7-0. 
"The only thing that matters is how we play," Galvin said. "These guys are well conditioned. We work on it in practice — it doesn't just happen. We're improving and the training that's happening in practice is really benefitting us." 
From the Titans' opening touch, they lived in the Kadet zone. Nearly the entire first half saw the hosts pressing, resulting in a pair of goals — one by junior Jackson Baker, and another by senior Brock Carpenter. 
To open the second half, the pressure once again paid off.
Junior Joshua Vu found himself with the ball just outside Air Academy's box. The Kadets' goalkeeper, senior Travis Tygart Jr., was busy dealing with a swarm of TCA wings when the ball ricocheted off Vu's foot, then a defender and spun into the net. 
What may seem like a lucky goal is a result of constant badgering from the Titans. 
"Good things happen when you press the right way," Galvin said. "Good things happen when you shoot the ball. We have to take smart shots, but we're certainly not going to score if we don't try."
"I think it gets in the goalkeeper's head," Baker added. "Every time they get the ball, they get nervous." 
Air Academy's only goal showed the negative side. 
With their offense flowing, the Titans turned the ball over near midfield, leading to a Kadet goal only seconds after a throw-in. 
The 1-4-1 record of Air Academy coming in was a mirage to Galvin. The two team's constant matchups as rivals stationed on opposite sides of Interstate-25 have proven as much. 
But, this year's team is different. They can handle the opposition, because the Titans' focus is more on themselves. 
"We work as a team every day," Vu said. "It's never just one guy going the whole game. It's always a team effort for us." 
The season's box score concurs. 
Even after Thursday's win, no Titan has over six goals. Additionally, nine different players have scored through seven games, with seven more tallying an assist. 
They've even held seven opposing teams to two total goals. 
There's plenty of talent left on the TCA schedule. Through the first seven contests, they've yet to face a loss. Galvin spends time each day ensuring his team doesn't look ahead. 
"We're focused on one game at a time," Galvin said. "We talk about it a lot. Every single game is the next stepping stone in our season, and we're working hard to not be our best right now. 
"The postseason is a completely new season."