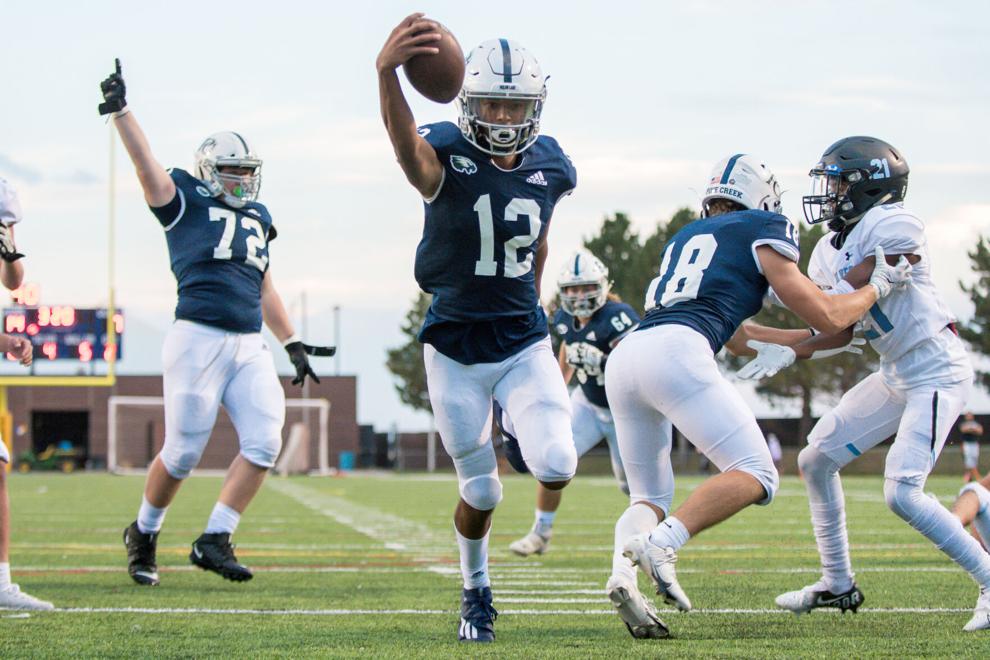 District 20 Stadium plays the hits. 
Classic rock is the genre of choice during pregame of local high school games. Fleetwood Mac is liable to find its way through the speakers, meaning their acclaimed tune "Go Your Own Way," could be too. 
No one has to tell Pine Creek football to go its own way — the Eagles will do it whether they're told to or not. 
Vista Ridge served as Pine Creek's stiffest test to this point. Wolves' junior Brayden Dorman is asked to throw. Without a solid run game, he drops back on over two-thirds of the team's plays. 
The Eagles stuck to their plan, regardless of what the Wolves did, leading the way in their 41-20 win Saturday night over visiting Vista Ridge. 
"They're a good team," Pine Creek coach Todd Miller said. "I thought we tackled well and got after the quarterback early. The best thing we could do is run the ball, eat the clock and wear them down. I think we executed that well." 
Four of the Eagles' six touchdowns came on the ground, including a short dash by sophomore Mason Miller with 32.9 seconds left in the fourth quarter. The run capped a near-nine-minute drive that largely salted away the game.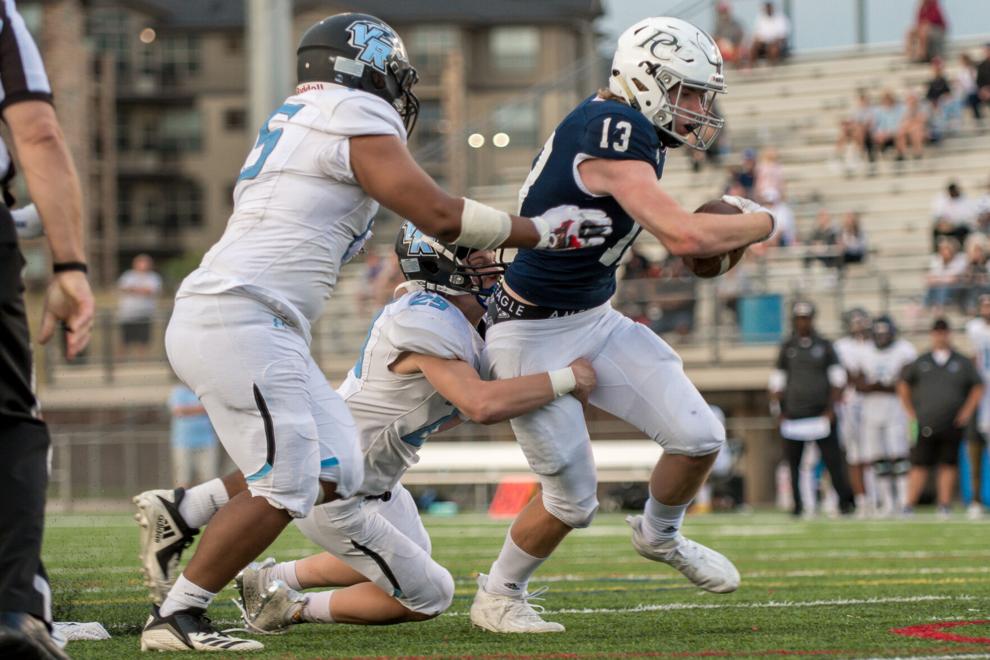 When Pine Creek chose to pass, it worked as well. Senior quarterback Josiah Roy supplemented his lone rushing touchdown with a pair through the air to sophomore Justis Nicholson. 
Eight sophomores start each week for the Eagles, including multiples on the offensive line. In only three games, the group has come together to make sticking to a plan possible. 
"I am so proud of our line," Roy said. "Without them, we can't win. They grew up really fast over the summer." 
Vista Ridge's Dorman and junior Brandon Hills put a lot of pressure on a defense. In just the first half, the wideout had over 200 all-purpose yards, including a 99-yard kick return for a touchdown to trim the lead to one score. 
In the same half, he took a short pass 60 yards for a touchdown to again trim the suddenly grown deficit. 
Both of his scores are miscues Miller puts on himself and the coaching staff. 
"Hill puts a lot of stress on you," Miller said. "We don't need to kick the ball to him, that's my fault. At the end of the half, we knew they were going to throw it. We have to loosen our guys up and stay back. You don't want to put kids in bad spots." 
The 14 points from Hill alone were part of the first points Pine Creek has given up this year. The Eagles tossed shutouts in their first two matchups. 
After the first score, coaches looked to the players to see their reaction. They were unfazed, much like the rest of the game. 
The youth for Pine Creek has a veteran savvy, even with a shortened season last year and only a handful of games this year. 
Miller doesn't think his players operate the same as other underclassmen. Asking them to drive over 80 yards and eat up clock to clinch a win wasn't an exorbitant ask, because they make it easy. 
"They didn't panic," Miller said. "I don't think they know they're sophomores. As we get better as a staff, the kids will get even better. But, they're pushing us right now — in a good way."