DENVER — These are tough, tough days for sports fans. Do you ever feel like taking your $100 NFL and NBA jerseys and going home?
If it's not political activism that turns half the country away, it's a fan ban at Ball Arena that turns everyone away. If it's not James Harden throwing a fit to get his way, it's a cable dispute between Altitude TV and Comcast preventing way too much of Colorado from seeing their beloved Avs.
Is this a good time to say you missed a world-class hockey show Friday night in Colorado's 8-0 blitz of the St. Louis Blues? Didn't think so. But it was, and the Avs unloaded all their firepower in a second period with four sensational goals. Wow! What a show. The Blues will be a playoff team again, a Stanley Cup threat again, a pain in the backside again, and they had no chance.
"Incredible to watch from back there," Avs goalie Philipp Grubauer said.
One day after Jared Bednar called out the boys for getting "outworked" in the opener, the Avs responded with their big guns blazing. Andre Burakovsky, goal. Mikko Rantanen, goal. Gabriel Landeskog, two goals. Just like that, it was 4-0 and over. There's a special, blurry gear with these Avalanche. Boy, can they go.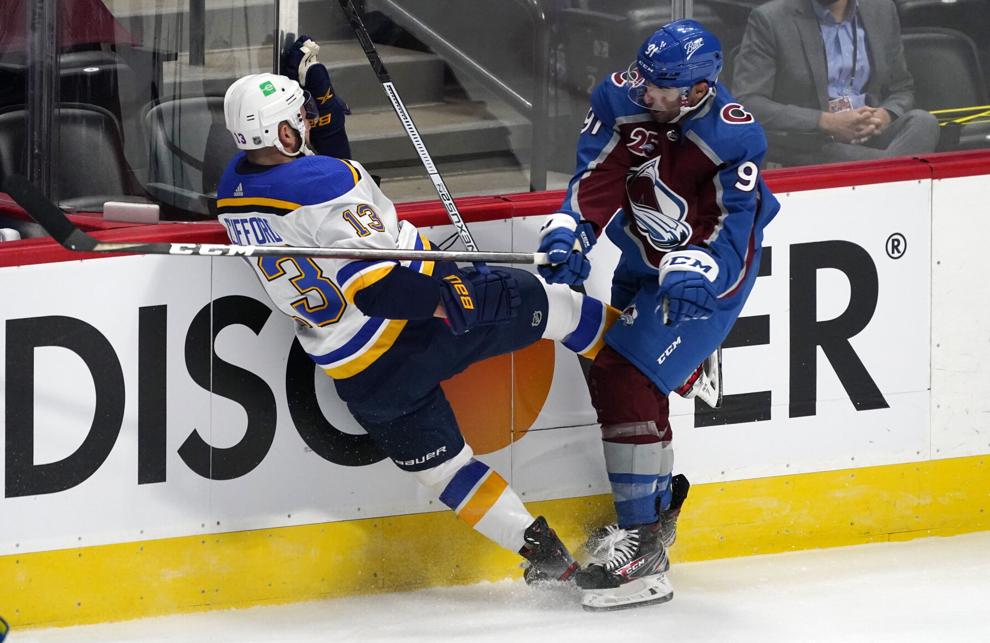 "It was great to see a lot of different guys start to feel it," said Nathan MacKinnon, whose first goal of the season came in the third.
Wish you could be there. Wish you could see it. The Ball Arena crew toned down the fake crowd noise in the second game. Instead of a jet engine, it sounded more like a zombie scene from the "Walking Dead" — Murrrrrrrr — or the dull din at Park Meadows Mall, all masked up.
But fake crowd noise is not the problem here. The real problem here is that the Altitude-Comcast spat is ongoing, and Avs and Nuggets games remain blacked out all over Colorado. Like I was saying, tough days for sports fans, and yet another example of the people in charge kicking the little people when they're down.
I'm not picking sides here, saying it's Altitude's fault or it's Comcast's fault. But it's somebody's fault, and right now's not the time to pick on sports fans again. At some point they won't come back. Forbes says Kroenke Sports Enterprises, which owns Altitude, is worth $8.4 billion. Forbes said in 2018 Comcast is worth $163 billion, and with most of America glued to the tube on the couch every night I'm guessing a cable provider hasn't decreased in value.
What I am saying is if they cared they would have figured out a solution by now.
They don't care. They couldn't care less. The people in charge, I mean, not the athletes on the ice or TV talent in front of the camera. Could be a billion-dollar behemoth like Comcast, could be teachers unions, could be the state government, could be any of the overlords in charge these days.
They're picking on the smallest of us — kids, for example. The CDC says in-person classes do not lead to increases in COVID-19 cases. So why are kids not in school? You're telling me Gov. Jared Polis can close private businesses but can't open public schools? Then there are Colorado's restaurants. They're still getting crushed, to the point Panino's, a Colorado Springs staple, reached out to Dave Portnoy of Barstool Sports for a little financial help. Portnoy hooked 'em up with $5,000, a helluva lot bigger gesture than anything the state has done. Because it doesn't care. It's wrong what the big timers are doing to us small timers, and I'm saying that because I care.
The Blues should care that the Avs appear six more times on the regular-season schedule. St. Louis had Colorado's number, right up until that second period when the Avs remembered they're Stanley Cup favorites for a reason. It's an aggravating system employed by the Blues — aggravating and usually effective. The Avs prefer to play hockey at 100 mph while the Blues prefer quicksand with concrete galoshes.
"A real good St. Louis Blues team ... that's been giving us trouble for a couple years," Bednar said.
He's right it's a good Blues team, and it wasn't until Landeskog scored a pair of second-period goals, sandwiched around a Burakovsky goal, that the Avs felt comfy. Landy's second goal was the 200th of his Avalanche career. That's a ton of goals for a 28-year-old man, and a milestone like that couldn't happen for a nicer man. The captain cares. Cares big.
"You don't play the game to reach these milestones," said Landeskog, who joined three other players in Avs history to reach 200. "You play the game to help the team win."
Wish we could say the same about the people in charge these days. Time and time again, from sports to real life, they prove they don't care.