DENVER • It's not like we live in Missouri or Nebraska. There's a lot to do here, so this list could go on and on. Without further ado, Things To Do Here When the Broncos Season is Dead:
• Remember this is a franchise with seven Super Bowls under Pat Bowlen's ownership. Credit Vance Joseph for burning his weekly participation ribbons on Sunday night after a 23-20 loss to the Los Angeles Rams that everyone saw coming.
"There's no moral victories," Joseph said.
• OK, enough credit. Four straight losses — after eight straight last year — earns a pink slip. Fire Joseph after the Broncos play at Arizona on Thursday. Cure old wounds and dial up Mike Shanahan, who still lives here, and see if he desires to coach again. Remind Shanny he gets to beat the Raiders (his least-favorite team) in Las Vegas (his most-favorite city) very soon.
• The Broncos just gave up back-to-back 200-yard rushers for the first time ever. Isaiah Crowell and Todd Gurley made them look like the end of the Shanahan era. Oops. Hey, is that ex-Broncos head coaching candidate Dave Toub designing another special teams touchdown for the Chiefs?
• Boo these guys at Broncos Stadium at Mile High, like you did on Sunday. They earned boos. That's 15 losses in 22 games under Joseph. Booooo.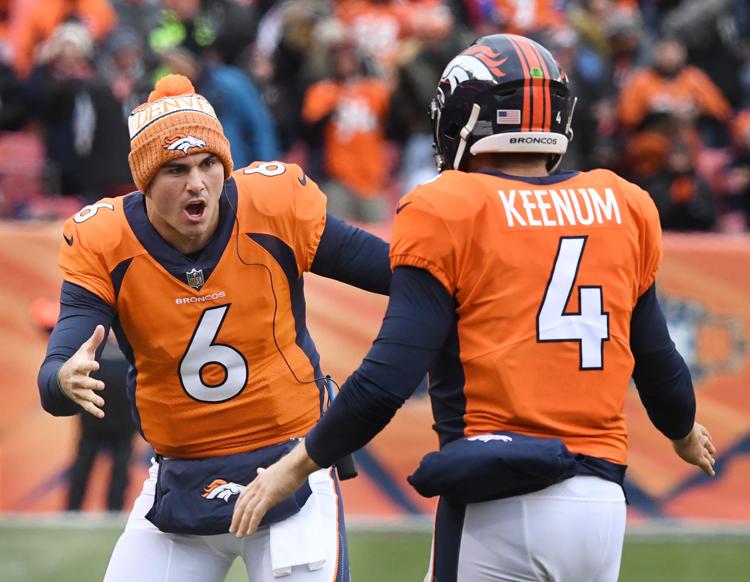 "I heard it. They should be pissed," quarterback Case Keenum said. "I'm pissed. We have to do better. I keep saying that, but we do."
• Boo, then high-5 'em at the grocery market. Losing while slacking is one thing. These Broncos aren't slackers. The care factor remains high at Dove Valley — evidenced by Bradley Chubb's three ferocious sacks, Von Miller's depressing press conference ("I will do better"), Phillip Lindsay's everything, Emmanuel Sanders' taunting penalty.
"It's not like we're not working," Shane Ray said at his locker. "We're working our asses off."
• Yes, Emmanuel Sanders' taunting penalty. Sorry, I have no issue with taunting the guy who just tried to rip off your facemask. (The refs always miss the first one, kids). Cost the Broncos a bundle. Cost 'em 15 yards and a first-and-goal at the 1. Cost 'em four points in a game they lost by three. Tell him don't do it again, but Sanders has been limited by Trevor Siemian, Paxton Lynch and Keenum the past two years — and still is the only man around these hills who makes that 43-yard circus catch to begin with.
"This loss is on me," Sanders said.
"It's not like I walked up to him and head-butted him," he said.
• Do watch the Nuggets, who open their season Wednesday. One of Nikola Jokic's older brothers won an MMA fight by TKO on Saturday. Find out if Nemanja Jokic can play left tackle. Or tight end.
• Applaud the 66,888 Eskimos who showed up (9,131 didn't) and showed out. If there's a more loyal fanbase than Broncos Country, where is it?
The temp at kickoff shivered at 25 degrees, the second-coldest home game here before November. And most stayed through a 20-3 deficit and 'till the bitter-cold end. Salute.
"They expect us to win," Sanders said, reciting a winning tradition of Elway, Manning and, yes, Tebow. "I would expect wins too."
• Peep the Garden of the Gods after an October snowstorm. It's better than football, winning or losing. Take a kid fly fishing. There's a 2-foot trout up in Jackson County, and I can't stop thinking about her. Hope she waits for me.
• Figure out how anyone thought St. Louis was a better option for the Rams than L.A. Office morale remains a key component of success. Where would a 20-something millionaire prefer to work — SoCal's sunshine or St. Louis? Stan Kroenke doubled their value (from $1.4 to $2.9 billion) with one move. Good business, boss.
• Bet your buddy $5 the Rams or Chiefs don't win Super Bowl LIII. The vote's in: explosive offenses, neither with a championship defense.
• Tell Leonard Williams he's right. The Jets lineman said Keenum looked "scared" against a pass rush. I say Keenum's wearing a knee brace and the same look that Siemian wore after one too many wallops.
"Case is our quarterback," Joseph said, pushing back against the calls for Chad "KEL-LY! KEL-LY" from the home crowd.
• Trust your gut, VJ. It's what Gary Kubiak did in his final game as coach, starting (and sticking with) Siemian over Lynch. If it's Keenum, roll with Case. If there's doubt, start "Swag" Kelly. There's nothing to lose but another game.
• Scout the 2019 NFL draft for quarterbacks. Broncos brain trust John Elway and Matt Russell tripped to the Oregon-Washington game to check on Ducks quarterback Justin Herbert. Cross your fingers.
• Check on the Broncos after Thursday. Their losing, repetitive, flashback-y locker room sounded too much like the Rockies' after Game 1 of the NLDS: the old heads know it's over, the young fellas are soon to find out.
"We haven't won a road game since I can't even remember," Chris Harris Jr. said quietly.
• Hope this Broncos season isn't dead. Colorado's good all the time. It's good-er when the Broncos are.