SAN ANTONIO • There's no gray area with Michael Malone, a gritty basketball coach who is proud of his New York City roots and isn't scared to say so.
With 'White Mo,' as LeBron James calls him, you always know exactly where you stand. Friday in the aftermath of the Spurs' 118-108 demolition of the Nuggets, Malone's strength as a coach was on display in a ballroom at the team hotel.
As Michael Porter Jr. whizzed by on one of the Lime scooters that turns the Alamo into tourist Frogger, Malone called out the Nuggets. Big time. Remember how Gary Harris took a shot to the family jewels? This was that, in verbal form.
"I can talk about it. I can bring it up. You can talk about urgency and physicality and aggressiveness," Malone said in a rant about manhood that had me looking for a wall to run through, provided it was only drywall.
"But ultimately it's on our players to take that to the floor and take that fight to the game. We just watched the film. The film, you can't hide from it."
The film shows the No. 2-seeded Nuggets getting bullied by the No. 7 Spurs. Want to get back into a playoff series the Spurs lead 2-1? Malone's plan required only two words: Man up.
"I thought a few of our guys came out of that game like it was a regular-season game," Malone said prior to Game 4 on Saturday. "Like it was, 'OK, Game 3 in San Antonio.'"
Like, no big deal. Loddy, doddy, dah.
"If we've got any chance of winning we've got to set the tone early with our physicality and our hit-first mentality and our rebounding," Malone said.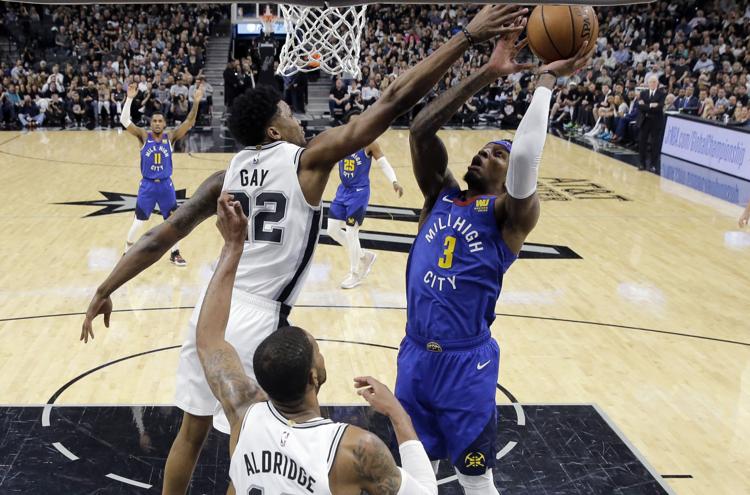 While I love south Texas as much as the next sun worshipper, San Antonio's River Walk could use a wider passing lane. All the beans and tortillas have gone straight to the locals' hips.
And it's a narrow line between respecting the opponent and kissing his championship rings. In a series the Spurs have commandeered, the Nuggets are puckered up, ready for a smooch.
This series is far from over. The Nuggets didn't win 54 games as a bunch of pushovers. But the Spurs are exposing my greatest fear for this group of Nuggets: the possibility the roster around Nikola Jokic is not as good as Joker has made it appear. To frame it in context to which Broncos Country can relate, there is a Peyton Manning element to Jokic's game. Manning and Jokic are gifted enough to make teammates look better than they are. When the playoffs roll around, superior rosters expose their weaknesses for what they really are.
That's the fear here, anyway.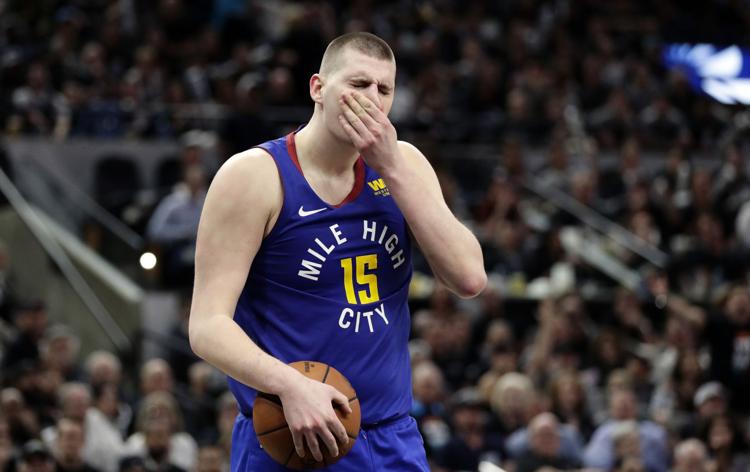 So far, the Spurs have told the Nuggets to meet them out back in the parking lot — and the Nuggets have been busy calling for an Uber.
Yes, it's true San Antonio owns five world titles. But only two current Spurs have won a ring here, and Patty Mills and Marco Bellinelli are not exactly Tim Duncan and Manu Ginobili. (Although Spurs guard Derrick White sure reminds me of Ginobili with his whirling, twisting drives to the hoop.) By beating up on Denver, the Spurs have diminished the talent disadvantage and leveled the playing field.
Spurs center Jakob Poetl thumped Nuggets guard Jamal Murray with a dirty screen in Game 3. In the open court, Poetl buried his right knee into Murray's thigh, knocking him to the floor.
"Jakob Poetl sets really good moving screens. He does it the whole game, and he gets away with it," Malone said.
"He's been setting moving screens the whole series," Harris added.
Instead of passing out sour grapes, Malone asked for the same gamesmanship from the Nuggets.
"If we set physical screens the whole game like they do, the refs will let you play," Malone said.
Beware the athlete on a mission to prove a point. The Derrick White revenge tour ventured through the Division II ranks at UCCS and the PAC-12 before pulling into its latest stop, the Denver huddle. Watch how White follows Murray into the Nuggets huddle.
Whenever Murray looks over his shoulder, even during stoppages in play, White's breathing down his neck.
In much the same way, Nuggets guard Malik Beasley has believed for months he has the goods to be a starter in the NBA. Check out the bench player's averages against the Spurs: 15 points, 4.3 rebounds and 46 percent shooting from 3. For Beasley, it's about proving a point.
But it's not Beasley who should start in place in struggling veteran Will Barton. While I didn't stay at a Holiday Inn last night, I have munched enough tacos to understand what makes San Antonio tick. So here's a three-step instructional for the Nuggets to climb back into the series:
One, start Torrey Craig. From White to Jokic, a former second-round pick, the best players in this series have been the underdogs. Craig, whom the Nuggets found in a basketball league way down under in Australia, plays with a chip on his shoulder, like he has something to prove.
Two, sic Harris on White. Murray can't handle White. The lead guard matchup has been a total mismatch in favor of the UCCS product. In Game 4, Harris has one job: lock him up, dude.
"Make them feel us," as Harris said Friday.
Three, appeal to Denver's pride. Malone took the first step on Friday by questioning the Nuggets' will to win. For athletes there are few things that will get your attention faster.
"I don't want anything to be construed as we're going to play dirty. We're not a dirty team. We don't have that mentality. That's just who we are, and the rules don't allow that, thank goodness," Malone said. "But you have to be willing to take a hard foul sometimes. When a guy gets that comfortable (like White) ... at some point it becomes ridiculous."