DENVER • Wearing a Volunteers-orange button down under a dark blazer, Peyton Manning celebrated Demaryius Thomas' big win with a hug and a handshake. Teammates in life, DT and PFM caught up in the underbelly of Mile High, the site of so many lovely times.
"It played out well for both sides," coach Vance Joseph said of Thomas' return, momentarily forgetting Sunday did not play out well for the Broncos. They lost to Thomas and the Texans, 19-17.
The Broncos are 17-24 since Manning retired. They are 0-1 since Thomas was traded to the Texans. They are 0-fer in the halls of hope.
"I don't foresee any major, major changes (during the bye week)," Joseph said.
Broncos Country desires a change at head coach, bad. If Joe Ellis, John Elway and the Broncos brain trust elect to fire Joseph on Monday, no one should cry foul. Joseph is 8-17 through 1.5 seasons as the coach, a disaster and a disappointment all rolled into a penalty flag.
"It kinda feels like last year for me," veteran Chris Harris Jr. allowed, moments after Brandon McManus missed a 51-yard field goal attempt, wide right, as time expired before 72,048 proud, loud Bronco fanatics (but not 4,222 no-shows).
But there is little to gain by jettisoning Joseph at this point. Nine games into his second season, the Broncos should let Joseph coach out the rest of the year. (The Broncos are playing hard for him, if not smart for him.) But on New Year's Eve, the day after the regular-season finale, it will be time. The Broncos and Joseph should part ways then. He's not the right guy, as anyone with eyeballs can see — not to win now, or from now on, as Elway likes to say.
This era is a recurring nightmare in which the Broncos make their own bed on a weekly basis. The fifth loss in six games ultimately can be pinned on a macho decision just before halftime.
Trailing 13-10, Joseph called for a 62-yard field goal attempt by McManus. "On a breezy night," as quarterback Case Keenum described it later, the kick missed. Houston then needed only 24 yards to make its own field goal.
"At half, that's totally on me. I'm trying to be greedy and get three more points there, and it cost us three," Joseph said.
"I think every game is the same," Joseph said.
The Broncos are barreling ahead toward two straight losing seasons for the first time since 1972. If they fire Joseph, so be it. Shoot, I called for his job after Week 10 last season.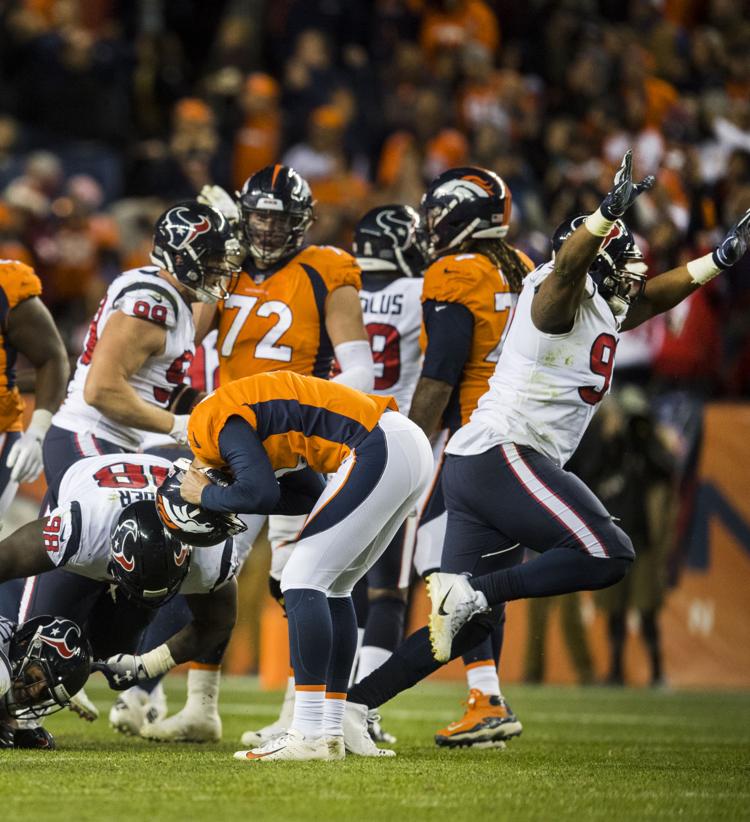 But the Broncos probably must win out to sniff the playoffs.
What they need now is what they're doing now: using and developing the young studs while taking aim at another top-five draft pick. If there's one thing Joseph's Broncos are good at, it's securing top-five draft picks.
"I'm nowhere near where I want to be," said Bradley Chubb, whose eight sacks are the fourth-most by an NFL rookie since 1982.
The Broncos are nowhere near what they were.
No thanks to a series of injuries and the Thomas trade, the Broncos finished Sunday's game with only four players who, just 21 months ago, started in Super Bowl 50: Harris, Von Miller, Emmanuel Sanders, Derek Wolfe.
Hard to believe, isn't it?
The saddest scene Sunday was not McManus bent over in disgust after his kick sailed right of the goalpost. It was in the locker room, where iron man Matt Paradis wore an Air Jordan on his left foot and a tight wrap of athletic tape and gauze around his right leg.
The center who had initiated roughly 3,800 consecutive snaps on offense is expected to miss the final seven games after sustaining a broken leg, according to a Denver 9News report.
"I don't have the words to describe how much it sucks," Keenum said.
When it rains on the Broncos, the ceiling caves in and floods the entire kitchen.
"We gotta win," safety Will Parks said quietly.
Now here's a name to remember: it looks like John Harbaugh and the Ravens are inching toward a divorce. Harbaugh and Gary Kubiak coached an AFC title game together.
"I've never been somebody worried about keeping a job," Harbaugh told reporters about an NFL Media report that he's on the hot seat.
Joseph should not be worried about keeping this job. He should start looking for the next one — after the season, not during the bye week.