DENVER — Funny how a toothless smile works.
While five out of five dentists disagree, smiles are just better without teeth, something 2-year-olds and hockey players figured out a long time ago.
Speaking of, Erik Johnson. What makes the Avalanche's veteran defenseman grin like his tongue's in jail?
"Probably his dogs," fellow D-man Tyson Barrie revealed.
"He's a complete goofball, kind of a recluse," Barrie said. "Honestly he's with his dogs most of the time."
Two Goldens, a black Lab and a Bernese mountain dog offer convincing proof Johnson has this Colorado thing down. Sometimes they don't even wait till Dad's home. They've been known to meet "EJ" on the DIA tarmac.
"I don't have any kids, so they're like my kids right now," Johnson said this week as the eighth-seeded Avs prepared for the top-seeded Calgary Flames in Game 1 of a first-round series Thursday.
Fur children or not, these Stanley Cup playoffs are his baby. While star forward Nathan MacKinnon owns the title of NHL MVP runner-up and red-hot goalie Philip Grubauer flirts with cult-hero status at Pepsi Center, no player symbolizes the Avalanche mission better than EJ. Through the good (a surprise return to the postseason last year), bad (NHL-worst 48 points two years ago) and ugly (the sudden divorce from franchise great Patrick Roy), Johnson's seen it all as the longest-tenured member of the Avalanche.
You'd be hard-pressed to find another athlete who has dug in and embraced Colorado life more than Johnson. Kyle Freeland, Phillip Lindsay, sure, but that's cheating since they're from here. EJ's roots are profound given the Avs' overall lack of success in his nine seasons — three playoff wins with Johnson on the ice — and major upheaval at most every turn.
"(This franchise) means a lot to me. I've been here longer than anyone else has in this room, almost a decade. That's a long time," Johnson said. "I've taken a lot of pride in being an Avalanche. I love playing for this team and this city and organization. I put a lot of onus on my shoulders."
This will be Johnson's second playoff series here since he missed out on the six-gamer against the Nashville Predators last year due to injury. During a conversation Monday, without mentioning anyone by name, Johnson explained this one is particularly sweet while firing a slapper at former teammate Matt Duchene, who forced his own exit via trade.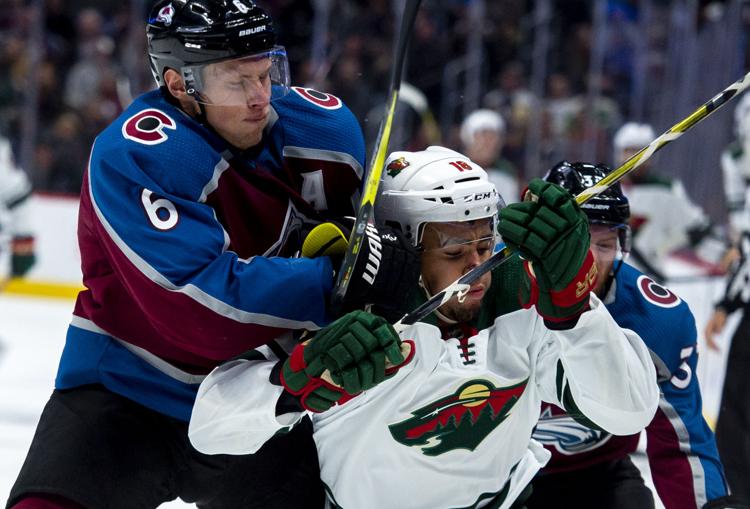 "There's been some bright spots, but there's been a lot of second-guessing yourself. I know a lot of guys in here maybe could've taken the easy way out and maybe asked for a change of scenery (if) it wasn't working out here," Johnson said. "For Gabe (Landeskog), Tyson, myself, Nate — we just wanted to stick it out. You want to finish out the business that you started.
"We put a lot of time into this team and we want to see it continue on. I'm the older guy in the group, and you never know how many times you're going to get to hoist the Cup. You've got to make every opportunity count."
Whether the Avs are good enough to beat the Flames remains anyone's guess. Calgary's a well-oiled machine with a plus-66 goal differential, the only team in the NHL with five guys showing at least 70 points. It clinched a playoff spot way back on March 17 — a point in the season when the Avs stood one game above .500 and outside the playoff picture.
But there is no question the Avs are motivated enough. They are locked in from MacKinnon on down. Put enough hard time into a project and it's going to mean more, and the Avs needed an 8-0-2 run simply to earn the 8 seed.
"Make no mistake about it. We're going in to win this one," coach Jared Bednar said Monday.
The care factor is highest with EJ. If the Avs indeed bring up UMass superstar Cale Makar for Game 3 — when Makar completes his college curriculum at the Frozen Four — they would be wise to position Makar's locker near Johnson's. From Barrie to Sam Girard, Avs defensemen have benefited from watching how EJ operates.
When Johnson scored the game-winner in overtime to beat the Winnipeg Jets, the goal was hailed as meaningless, since the Avs already had clinched a playoff spot. I'm not so sure. The volcanic bench reaction, ensuing group hug and EJ's toothless smile told the story of a goal that carried more weight, because of who scored it.
"What sticks out in my mind is the Avs-Red Wings rivalries," Johnson said of his Stanley Cup memories.
"Was it the playoffs when (Mike) Vernon and Roy got into it? I remember that. I remember cutting out the picture in the paper the next day in my dad's office and putting it on a wall or a bulletin board. I remember that," Johnson said. "I remember Patty's hair flying when he got hit in the face. I'm old enough to remember those rivalries. Maybe this will be a new one. Maybe little kids who are 10 years old right now will be talking in 20 years about the Flames and the Avs in a series.
"You never know. Nothing better than playoff hockey, right?"
Nope. Makes you smile, teeth optional.