DENVER — It'll happen. Won't take long, either.
Come Game 2 on Wednesday night, Nuggets fans will boo Portland Trail Blazers shooting star Damian Lillard. They'll boo him like he's Tom Brady or something, and they should.
"Dame" is the reason the Blazers were at Pepsi Center on Monday for a 121-113 Game 1 loss to the Nuggets. He had 39 points. He's great, and American sports fans love two things more than just about anything else: free T-shirts and booing great opposing players.
But I did a little snooping on Monday before the Nuggets took a 1-0 series lead in this Western Conference semifinal. Asked around about Lillard, the All-NBA guard who floats Portland's boat. Asked his opponents, the Nuggets, who are charged with not letting him score 50 like he did in eliminating the Thunder. Asked his teammates. Maybe they're tired of Dame stealing their shine? Shoot, even asked Jeff Linder, the coach at Northern Colorado and the smart one who signed Lillard out of high school.
This Dame dude? The way he rocks three-piece suits to press conferences and shares mindful answers? The way cutthroats like Jamal Murray admire his every Euro step? Gotta be an act.
"As good of a player as he is," said Linder, an assistant coach when he recruited the point guard to Weber State back in the day, "he's an even better person. And I really mean that."
This series should be good, clean fun. Two longtime division rivals who haven't met in the postseason since 1986. Two road trip-worthy cities you'd want to visit just because. And two basketball stars — this is the best part — who don't behave like they're too cool for school. 
One is Nikola Jokic, a goofy giant who decorates his locker only with a ribbon from a horse-trotting competition. He crushed the Blazers, again, with 37 points, nine rebounds, six assists and rolled his eyes at himself after airballing a 3-pointer. The next person who says they don't like the Joker is fibbing.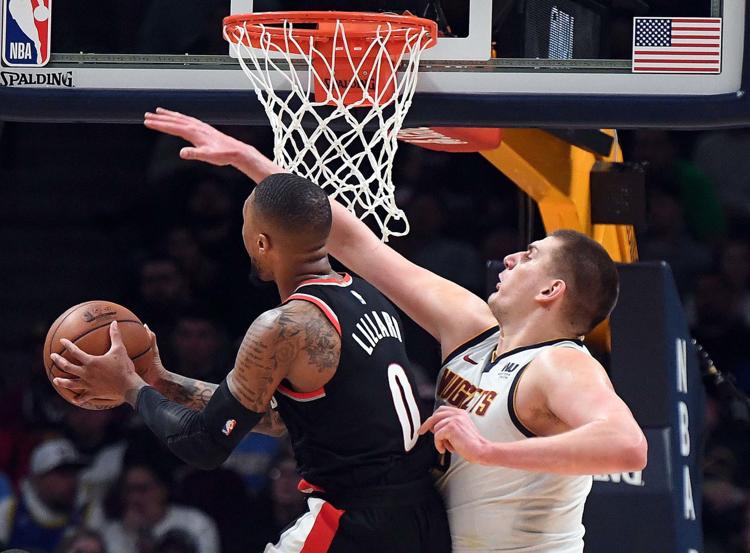 The other is Lillard, who conducts himself like a true pro in a sea of NBA stars who act like they'd rather be anywhere else but on top of the world.
The two men on the marquee are exactly the kind of stars the NBA could use right now. The league has an image problem and doesn't know it yet. Every other day it's Russell Westbrook brooding into the camera with "next question," Gregg Popovich playing the bully's role, Rockets whining about the refs, Sixers checking their phones during a game. Yada, yada, yada.
Then along comes Lillard, a role model a parent can trust, and Jokic, who averaged nearly a triple-double over his first career playoff series and couldn't not talk about himself fast enough.
And where too many stars treat their privileged environments with contempt, in steps Dame. He's a fire-breathing dragon without the roar. When game speaks for itself, you don't need the roar.
"He's someone I look up to — his confidence when he takes 3s, the way he leads his team. He leads by example," said Murray, who considers Lillard a player he wants to emulate.
Some Northwest Division rivalry, huh? If a villain is going to emerge in this series, the smart money's on Blazers center Zach Collins, who will mix it up. (The Blazers should try him on Jokic. It's their only hope.) Don't bet a nickel on the two stars.
"He's not cocky. He's a people's person, just a real cool dude, man," said Will Barton, a teammate of Lillard's in Portland. "He talks to everyone and then in the game he backs it up with his game."
It's a strange deal how the new NBA is filled with a bunch of Grumpy Guses. Looks like a pretty good gig if you ask me. But I suspect some of what's happened with the malcontents is an inability to distinguish mainstream media from social media. That must be it, because there's no way these millionaires can think media are out to get them. Have you heard NBA media? Every other star is the greatest guy ever, the greatest scorer ever, the greatest living human ever. It's social media trolls who must drive the contempt.
Except with Lillard, and his basketball discovery is worth telling, too. The first time Linder saw Lillard was in a tiny gym in Las Vegas, the setting for so many diamond-in-the-rough basketball stories. Linder, a Colorado native from Lafayette, was a young coach at Weber State. Lillard was a 5-foot-10, 150-pound lead guard running with the Oakland Rebels AAU program.
"He had really long arms. And he had enormous hands," Linder said. "That stuff (he does) on the pick and roll, the one-handed passes, it's a big reason he's so good with it — huge hands."
From the Big Sky to the big time, maybe that's why Lillard cuts the impressive image he does.
"Funny thing was, we were the first school to offer him. And he's probably the most loyal person you'll ever meet," Linder said. "He knew we were first, and Dame said, 'I'm going to a place that wants me, where I know I'm going to play.' Schools promised him certain things. He didn't want anything promised to him."
Here's a promise: Nuggets fans will boo Damian Lillard in Game 2, and that's cool. But seven games of Dame and Joker are worth rooting for.