GREELEY — There's a new Ed in town.
Three months into Ed Lamb's tenure as coach of the Northern Colorado football program, there are signs he's turning the culture in a new direction. Ed McCaffrey was fired in December.
New Ed's philosophy on roster construction, specifically with the transfer portal, is in stark contrast to Old Ed's approach. 
"I reject the idea that there's a significant difference in the talent level of somebody playing FBS or Power 5 football and somebody playing FCS football," Lamb told The Denver Gazette. "The idea that I would be swayed or somehow motivated to gather a group of players that things aren't working out at the place that they're already at... I've been at those spots, I've coached at the Power 5 level. I understand that there's a role on every team for everybody that's willing to work hard and commit to a cause. I'm looking for guys who are 100% grateful to be right here.
"I look at transfer students with a pretty skeptical eye because for one reason or another, maybe justified or not, they did not like the place that they were at and there's not a lot of extrinsic motivation to being a football player at UNC."
That's a sharp contrast to the philosophy of McCaffrey over the Broncos legend's two seasons in Greeley — and what Deion Sanders has preached in rebuilding the CU Buffs in Boulder.
But Lamb, who comes to UNC after seven seasons as the assistant head coach to Kilani Sitake at BYU, feels he doesn't need to emulate the hot trend. His blueprint is one he used to guide Southern Utah to a Big Sky championship in the program's fourth season as a member.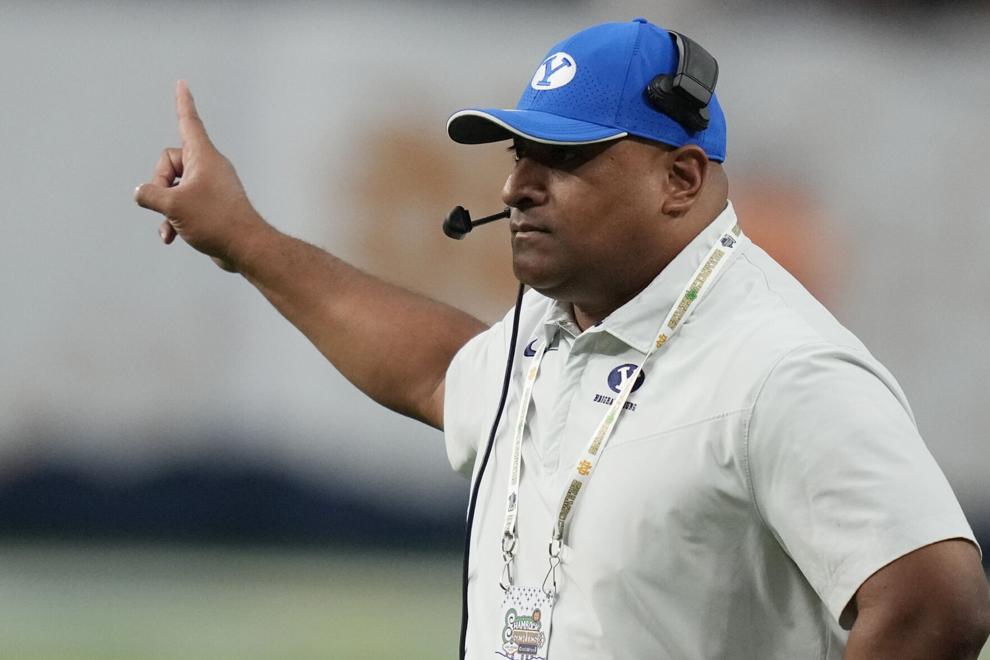 "I thought that Utah high school football, at that point, was underrecruited and I thought that many of the schools in the state were ignoring that fact and passing on very good Utah players," Lamb said. "I found that to be true here. I hoped it (would) be true. It should be true based on the rosters of CU, CSU and UNC. What a population this size in this state should be producing, it looked like to me, at the Division I level, Colorado kids were underrepresented."
Lamb proved his dedication to in-state recruiting with 14 Colorado products in his first recruiting class at UNC. He also cited Colorado School of Mines' success at the Division II level, thriving with a Colorado-heavy roster.
At the core, though, Lamb knows his program must be about talent development. While he learned at Southern Utah is to not get caught up in recruiting battles and focus on coaching up the players they get — a lesson learned while working on Jim Harbaugh's staff at San Diego.
"He was the first head coach that I worked for that talked about it obsessively," Lamb said. "Everything we did was about player development.
"If you're lower on the recruiting food chain ladder, it's important that player development be your mantra. I think that was true at Southern Utah. I certainly think that's true at BYU with the expectations that they have for the program and how that doesn't quite match where they fit on the recruiting ladder and I think it's true here."
Why now, though, did Lamb choose to be a head coach again? He said he's interviewed and been a finalist for jobs in the Mountain West like New Mexico and Hawaii, but wondered to himself why he was only looking for FBS jobs.
"I didn't really realize how much I was missing being a head coach until I actually stepped into the role," Lamb said. "I enjoyed my time at Southern Utah and I knew I would enjoy any head coaching opportunity."
BYU is a part of Lamb's DNA from his coaching days — and from his playing days, when he was part of successful teams. He played under legendary coach LaVelle Edwards, including a 14-1 record and top-five finish in 1996.
"One of the cool things about BYU and my experience is that they were winning before I got there and then we won while I was there and then they won when I left and started coaching at other places and then when I came back we won again," Lamb said. "As a person comes through there, you can take a lot of pride in the things that were accomplished, but you also realize you're a small part in a big machine, a historical machine, and it will probably continue to have success.
"I think I've approached every spot that I've been with that same type of goal that we would move the whole program and the whole roster forward to the point where it's greater than any one individual."