DENVER — Jillian Geib has a designated color for almost every outcome that could happen in a baseball game.
Light purple is for strikeout, blue for a walk, red for an out and green for RBI. But a walk-off wild pitch in the 11th inning? She never imagined she would need a color for that situation. It happened though, in her first game as an official scorer Tuesday.
"That was crazy," she said. "I was like well, cool. This is how my first game is going to end and it's going to be crazy. I don't care what color it is."
Geib joined Marie-Claude Pelland (2015-2017, Toronto), Susan Fornoff (1990-1993, San Francisco and Oakland) and Elias Green (1800s, Chicago) as the only four women to work as official scorers for MLB. The official scoring university, a new initiative starting later this month, is trying to make sure Geib isn't the last.
Lifetime of training
Geib grew up going to Rockies games, where she would score from the stands while listening to the game on the radio with an antenna headset. She loved playing baseball as a kid, but, like most girls, was forced to stop when she was 9.
"It was not great," she said. "It felt like crap."
Regretfully, she made the transition to softball, which she played at George Washington High School in Denver. She never lost her love for baseball though, or for keeping stats.
Geib was hired by MLB in 2012 on the tracking side. A teacher during the day, Geib has spent the last nine years working in press boxes, doing everything from reporting in college to inputting pitches into MLB Gameday.
She worked her way up through the ranks, and had done just about everything on the stat side aside from working as an official scorer. When David Plati retired in the offseason, Geib's name was brought up as a possible replacement. In addition to a lifetime of experience scoring games on her own, Geib has sat next to longtime Rockies' scorer Dave Einspahr, who has mentored her and helped her prepare.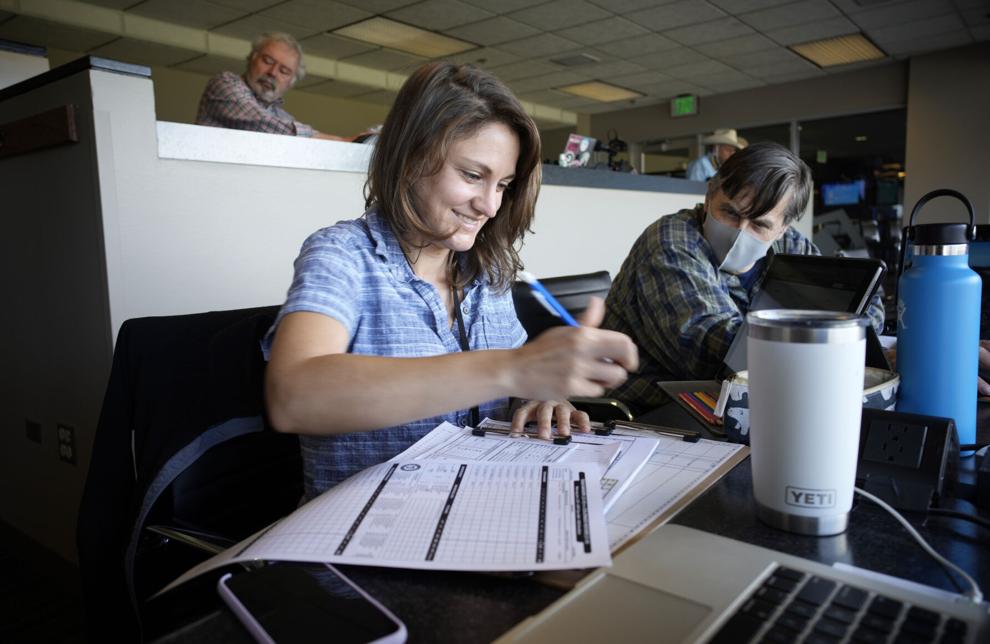 "I was nervous," she said. "When I announced the weather and the first pitch my voice was shaking."
Breaking in as an official scorer is no easy task though. Until now, there was no formal training for the position. It was typically done by retired sports writers, which have traditionally been white men, who would then refer their friends, also usually white men, for openings.
Now, the official scoring university is providing a new avenue into the role. Some members of the first class applied to be official scorers but were told they needed more experience. Others played the sport and are looking to stay involved, including five women who were a part of the U.S. baseball team that won a gold medal at the Pan American Games.
"I told her (Jillian) I hope you aren't feeling a lot of pressure as the only woman official scorer because you aren't going to be for long," Tyler Barton, who is teaching the course, said. "You are going to be joined by many more in the very near future."
Creating a pipeline
The course begins at the end of June, and will continue for the rest of the season. There will be tests, and even a final exam.
The first class will introduce the history of scoring, followed by a look at the technological advances that have changed the position. For over a century, the role consisted of just a scorecard and a pencil. Now, the official scorer, and the rest of the world, have access to multiple replay views. Players also have an app that they can use to dispute a call after the game. It puts more pressure on the official scorer to get it right. 
Then, they will dive headfirst into the rule book. They'll watch video clips of tough calls, and official scorers will explain how they made their rulings. Barton said he will spend extra time on the difference between hit vs. error, and unearned run vs. earned run.
Once they get the basics down, they'll score games together on Zoom. Barton plans to single one person out for each inning, as a way to replicate some of the pressure they will feel during a live game. 
The final exam will be similar to the one applicants take when applying to be an official scorer. In order to be considered for an interview, candidates need to score at least 47 out of 50.
The immediate goal is to add 12 to 15 official scorers next year, and to have a diverse candidate in every market in the near future. As for Geib, she will continue to score games at Coors Field this season, and will also work in her old roles on days she is not needed.
"Eventually, it will probably die down and people will start questioning her and that will be great," Barton said. "When you can look at an official scorer and not wonder or notice if they are a female or African American, they are just an official scorer, that's the end goal of hiring and diversifying the official scorer group."