Dave Pilipovich ran into some old friends Thursday night at the Final Four without a hint of regret or hard feelings.
"It was neat to see them again," Pilipovich said after a chance encounter with Matt Mooney's mother and grandparents in Minneapolis.
The Mooney family divorced itself from Air Force and Pilipovich when Matt left the Falcons' basketball program following his freshman year in 2015. The union just didn't work. Mooney was a basketball-first player turned off by the military demands of the academy. He left, then made comments that he was "bullied" by upperclassmen, comments he later told The Gazette he regretted.
But all along, Pilipovich knew this was a possibility. Well, maybe not THIS — Mooney averaging 11 points for Texas Tech's Final Four team following a second-team all-Big 12 selection and a spot on the league's all-defensive team — but he knew the ceiling was high.
"When he left, I said, 'He'll be one of those grad transfers one day. He'll play at a high level,'" Pilipovich said. "I always thought he was going to be good because basketball is very important to him. He wanted to be in the gym all the time. He was a worker and he was committed to being better and he was a competitive person. Did I think he would be playing in the Final Four when he left? I hoped. I hoped he had that chance because it was a dream of his. I don't know if I'd put money down on it."
Mooney told reporters Thursday that the experience has been surreal.
"I'm sure once I walk out there for the first time, it will hit home," he said. "I'm living a dream right now."
Mooney's college career began in nightmare fashion. He was supposed to be one of the top recruits to join Air Force for the 2013-14 season, but he broke his leg in a bicycling accident just before he was to report for basic training. The academy was able to shuffle and find a spot for him at the prep school.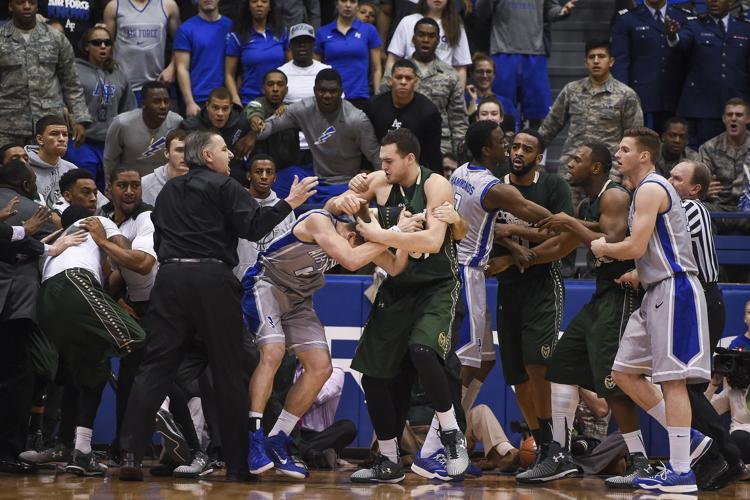 After he averaged 6.9 points for Air Force in an up-and-down freshman season that included an ejection for his part — mostly a headlock in the arms of J.J. Avila — in a skirmish against CSU.
"He didn't come from a military background," Pilipovich said "We had to work that through recruiting with him. It never was something that intrigued him. He didn't see himself with a career path in the military. He didn't welcome a lot of that because he had other things that were of more interest to him."
Then came the comments about bullying, which prompted the academy to issue a statement to essentially say he was describing a typical freshman year.
Mooney landed at South Dakota under coach Craig Smith, who also left South Dakota following last season and led Utah State to a Mountain West title this year. Mooney sat the first year under transfer rules, then spent two prolific seasons averaging more than 18.5 points. After graduating, he entered the NCAA's version of free agency as a graduate transfer who would be eligible to play immediately wherever he went.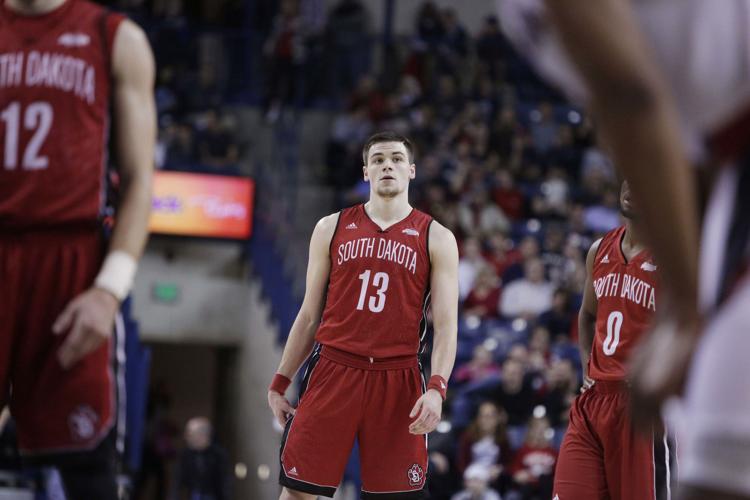 Pilipovich stayed in close contact with Mooney at that point, as teams reached out to his former coach with questions about his playing style and character. Pilipovich heard from teams in multiple Power Five conferences.
"When he left our place there was interest, but not to the level of when he left South Dakota," Pilipovich said. "The level was very high."
Mooney fit in immediately at Texas Tech as the team marched to a share of the Big 12 title and now, led by sophomore Jarrett Culver, has marched to a spot in the national semifinals. Mooney scored 17 in a win over No. 1 seed Gonzaga that put the Red Raiders in the Final Four.
Pilipovich said he is happy for Mooney and has appreciated the small amount of attention his success has brought to Air Force.
The Falcons were mentioned during the broadcast of several of Mooney's games, and national analyst Doug Gottlieb gave the coach a shout-out on Twitter.
"Mooney plays like a kid who has been incredibly well coached ... and playing for Philopovich [sic], Craig Smith and Beard is just that," Gottlieb tweeted.
But Pilipovich won't use Mooney's story in recruiting. He'll instead tell about a player like Justin Hammonds, who struggled academically to the point where he had to be removed from the team for a time during his sophomore year. Hammonds also didn't envision a career in the military. But he turned his academics around, found his niche in the Air Force and is now in pilot training.
He's also prefer to tell recruits about former guards C.J. Siples and Trevor Lyons, members of Mooney's class as freshmen, who just finished first and second in their Air Force cyber security class. Or about Zach Kocur, who just completed pilot training and was given a spot in a fighter jet.
But he knows stories aren't always going to have the same ending. And he's fine with this one.
"I'm happy for him and his family," Pilipovich said. "His mother, Angela, is just the best woman. His grandfather was a big Air Force fan. They're a great family. I'm just happy for him. I hope he gets two more games, two more wins."