Josey Jewell is best described by his family and friends as "Iowa nice."
The term is defined exactly how one would assume: a cultural stereotype or trait used to describe how friendly Iowans are to strangers. And Jewell, a Decorah, Iowa, native and now-Denver Bronco, is no exception to the flattering label.
Just ask Parker Hopkins and Logan Manderfield.
Logan, 17, met Jewell in 2016, when Jewell showed up to a 5K that helps raise awareness for Logan's life-long battle with Duchenne muscular dystrophy (DMD), a rapidly progressive genetic disorder that causes muscles to degenerate and become weak. "Logan's Hope" was Jewell's "My Cause, My Cleats" a couple weeks ago. And Parker, 5, has known Jewell almost all his life, after Jewell met him at the University of Iowa Hospital as he fought acute myeloid Leukemia, which he was diagnosed with at 22 months old.
"You don't expect a guy who hits people for a living to be a nice guy," said Parker's dad, Kiefer. "But he was raised Iowa nice. It sounds cliché, but it's truly a thing in Iowa. You're raised to treat people with respect, and that's what Josey does."
It's these unique relationships with Parker and Logan that exemplifies Jewell's personality. And it's in Decorah -- a town with a population just over 7,000 -- where that caring personality was formed.
Jewell's upbringing has been well-documented -- being nicknamed "The Outlaw" thanks to his parents naming him after Clint Eastwood's "The Outlaw Josey Wales." From loading thousands of turkeys onto a truck to helping harvest his family's organic crops, Jewell is a farm boy at heart. He's the youngest of four children, growing up learning to serve others with his mom as a teacher and his dad as a farmer. And his outgoing and fostering mindset is a result of those who came before him and the small town he grew up in.
"I guess, sometimes, you're a product of your own environment," said Jewell's father, Bob. "It's been very satisfying to see that from him when he was at Iowa and now in Denver."
Jewell's environment has certainly raised him right. On Christmas he'll turn 26 with much to look forward to in his life. He's exceeded all expectations on the field, playing for his dream school and now his childhood favorite team, the Broncos.
But it's Jewell's actions off the field that has him impacting the lives of others. The two go hand-in-hand, Jewell says. Football provides a platform and an opportunity to serve those who need it most.
"It was something he was raised doing," said Logan's mom, Lyndsey. "And to maybe toot Iowa's horn a little bit, we tend to be hardworking, humble people and I think Josey represents that. He's so humble. He genuinely wants to help and he doesn't want the spotlight. He wants to make these kids feel special and he totally does that."
And those special moments -- not just the ones on Sundays -- that give him the most fulfillment.
"Why not give back?" Jewell said. "It feels good and it's good for everybody. I don't know why we don't do it more and I should probably be doing it more."
'Who does that?'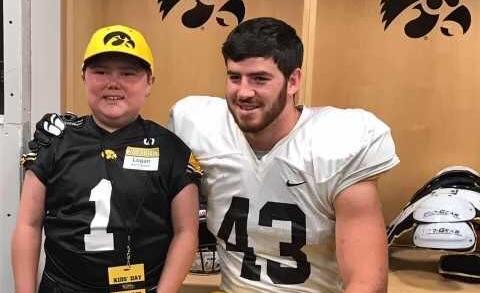 In Decorah, and really most of Northeast Iowa, everyone knows everyone.
This was certainly the case for Logan and his family, who are from Waucoma, Iowa, about a 30-minute drive south of Decorah. And that's exactly how Logan and Jewell met.
Logan's parents were organizing their first 5K in Decorah in 2016 when a local fireman said he knew Jewell's family and would invite the then-Hawkeye linebacker. Jewell of course showed up.
"There aren't a ton of guys from Northeast Iowa, from our area, going to play football at Division I schools," Lyndsey said. "But then when we met Josey's family, they're just real down-to-earth people. And Josey and Logan just hit it off immediately."
Jewell is a celebrity of sorts in Decorah. Most of the people who live there are farmers, whose parents were farmers and their parents before them were farmers, and so on and so forth. Jewell is recognized as one of only two professional football players to ever be from Decorah, joining Jerry Reichow who played quarterback for several teams from 1956 to 1964. And he's considered one of the greatest Hawkeye linebackers in history, totaling 437 tackles in his career, which is fourth most in school history.
When Jewell made it to Iowa City to play for the Hawkeyes, he quickly became a hometown hero, though he's never been one to act like it. When he came home from school, and now from the NFL, he mostly spends his time helping his parents on the farm or eating at Mabe's Pizza in downtown Decorah.
"Josey isn't one who likes to be the center of attention," said Jewell's mom, Paula. "He's always been a man of few words."
But while Jewell isn't one who craves the fame that comes with being a football star, that's how Logan viewed him when he showed up to his 5K in 2016. The two connected right off the bat, as neither actually participated in the run -- muscular dystrophy makes physical activity difficult for Logan while Jewell joked that he didn't know if he could finish the 5K -- and instead drove around in the family's gator.
"Logan just has a really positive attitude and I think that's kind of the thing that drew him and Josey together," Lyndsey said. "They would just talk about anything. It didn't even have to be about sports, it could be whatever. He's a pretty social kid and Josey's the same way. These are just northeast Iowa farm kids, essentially."
A little over a year later, Logan was named a kid captain for Iowa's game against Ohio State. The kid captain program aims to celebrate stories of pediatric patients and honor a different kid during each game. Jewell, a senior captain by then, was the one to let Logan know he was selected.
"He was actually on vacation fishing with his family and he took the time to FaceTime Logan and share the news with him," Lyndsey said. "Who does that?"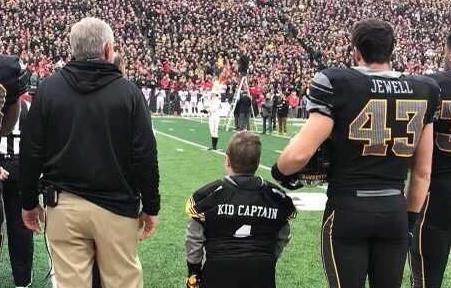 Iowa upset Ohio State that night, 55-24. Jewell led the team in tackles.
Jewell and Logan have been close friends since. Today, Logan is in a wheelchair and is 4-foot-4. But Lyndsey says Logan is like every other 17-year-old boy, driving to high school in a custom-made truck and with hopes of possibly attending Iowa, like Jewell. He's a straight-A student.
He still talks with Jewell, texting him often about school and the Broncos. He and his family even attended Jewell's wedding in 2018 and say they hope to make a Broncos game someday, though Logan is a Cowboys fan and Lyndsey a Chiefs fan.
While they may not always be the biggest Broncos fans, the Manderfields will always be cheering for Jewell, who they say is just a regular Northeast Iowa farm boy who happens to play for the Broncos.
"Logan has spent the majority of his life knowing that he's different and feeling different, obviously he can see that he's different, but he just wants to be treated like everybody else," Lyndsey said of Logan, who was diagnosed with DMD at 16 months old. "It's so important that he just treats him like another young man. Logan's just a regular guy who he enjoys talking to. I think originally, yeah, the fact that Logan has a disability was the reason they were drawn together, but that's irrelevant honestly. Josey has never treated him like, 'Oh, I feel sorry for this kid in a wheelchair.' I think he genuinely likes him and knows that he's a role model for him. I mean how cool is it to be a 17-year-old kid and be able to be friends with a star?"
'The perfect role model'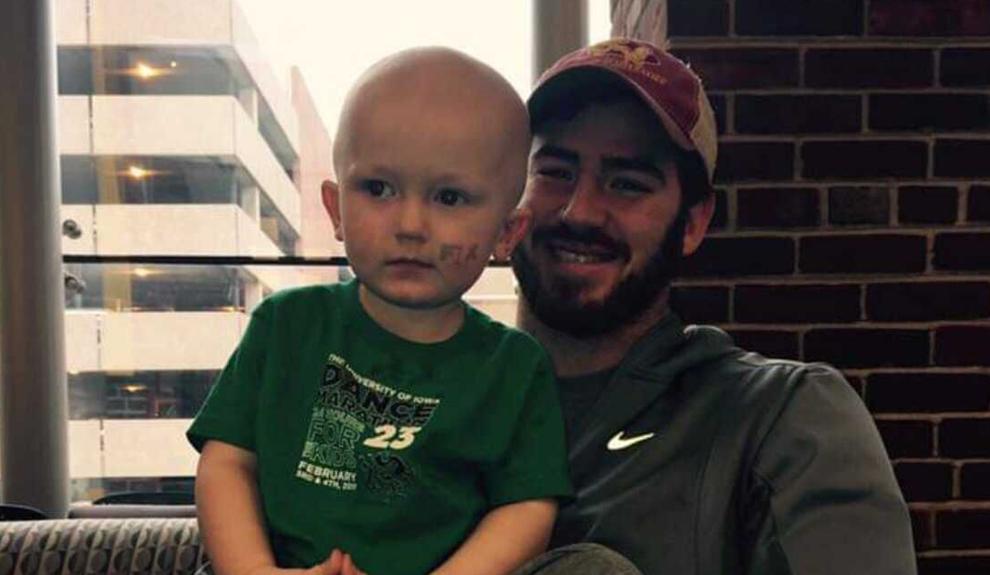 When Jewell first walked into Room 88 at University of Iowa Stead Family Children's Hospital around Christmas in 2016, he had no idea the friendship that would ensue.
It was then that he met Parker, who had been diagnosed with Leukemia in August of that year. Jewell gave Parker a remote control car and spent the day visiting with him and his family. As Jewell left, Parker gave Jewell a bracelet that read "Parker's Army."
It was a special moment, Parker's dad says. But it was a few months later, in March at the University of Iowa Dance Marathon, which raises money for the children's hospital, that Parker and his dad were blown away by Jewell.
"We were kind of starstruck, of course. We're big Hawkeye fans. We didn't think we really made a big connection until we showed up at the dance marathon," Kiefer said. "We went into the marathon and Parker instantly recognized Josey, but what surprised us was that Josey instantly recognized Parker. He was still wearing Parker's bracelet."
Jewell clearly isn't the only Hawkeye to make a difference in a young kid's life. That day he visited the children's hospital and met Parker was actually due to an organized visit by the football team, who has been nationally recognized for its efforts of working with the hospital and participating in the famous "Iowa Wave."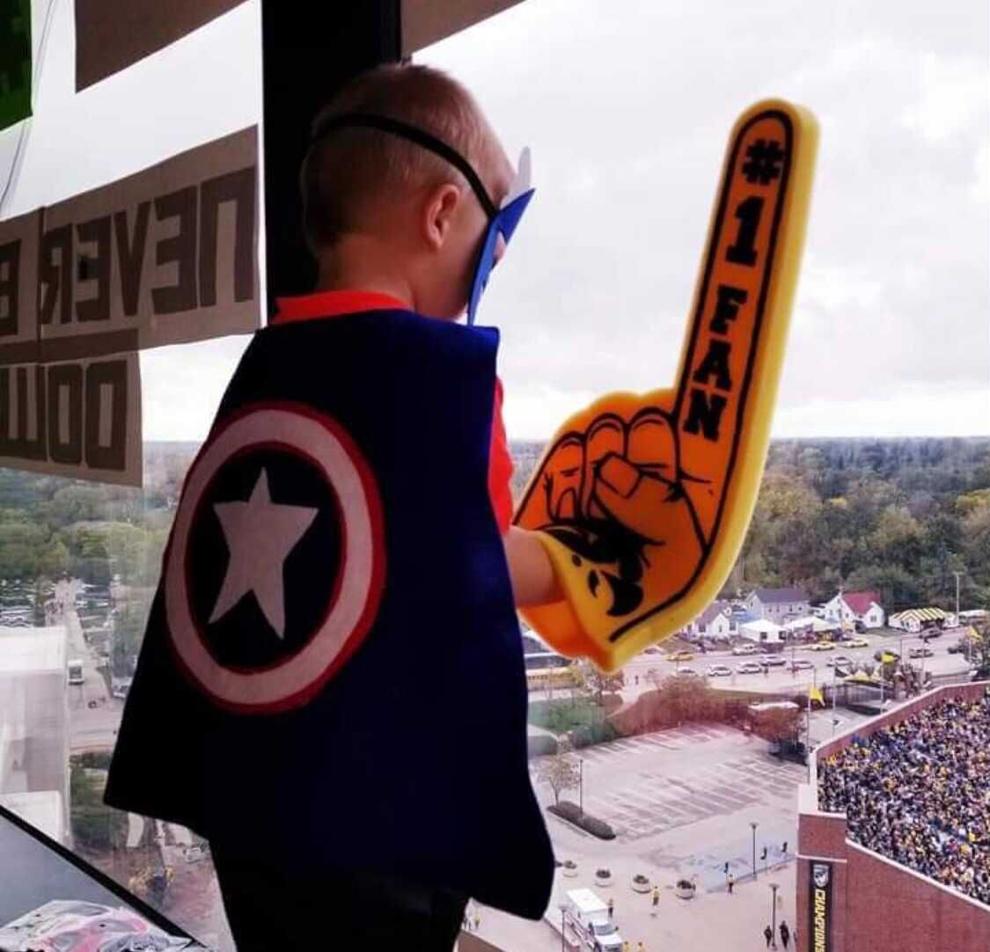 This has been a staple of Iowa coach Kirk Ferentz, who has emphasized in his 21 years as coach the importance of giving back.
"Coach Ferentz really instilled that in me and in the team," Jewell said. "You've got some free time, why not go do something productive instead of staring at the TV or wasting your time doing something else. Why not give back to somebody that's less fortunate or not help somebody have a better day by just talking to them or you brought them a present or something like that. That was kind of what he taught us."
Jewell took that to heart, making sure that he and Parker's friendship never wavered. He continued to visit him several times a year at the hospital, with and without his teammates.
"It's really neat that we get to keep in contact because he is already seen as a star in our eyes as a Hawkeye," said Kiefer, who lives in Muscatine, Iowa, three hours South of Decorah. "And now he's progressed to this level and he didn't have to keep in touch. Most people wouldn't do that, but Josey does."
And when Parker had a relapse in 2017 right before his senior season, Jewell was one of the first people to reach out and ask if there was anything he could do to help.
"I really enjoyed talking to them," Jewell said. "I just kind of bonded right away with them and then from there, I've just messaged back and forth them a few times over the years. Hopefully, after all this COVID stuff is over, I'll be able to go visit him."
Today, Parker is in remission and, in his father's words, "a healthy, growing 5-year-old boy."
Still, Jewell checks in every once and while, as Parker and his dad try to catch his games as life-long Broncos fans. And while Parker is only 5 and doesn't fully comprehend just how well-known Jewell is, their friendship is something that will last a lifetime.
"Parker's still kind of young with it, but to be honest I would say Josey is the perfect role model," Kiefer said. "We haven't seen Josey -- it's been a few years and we've stayed in contact, but Parker is still looking for him on TV. He remembers how Josey treated him and that's why he remembers him. To have that kind of person to reach out to, especially when you talk about kids going through cancer and trying to be strong, to have somebody like Josey who's a celebrity to us, is just really neat. Like I said, Parker's a little young to realize the type of impact it'll have on him later in life, but I'm so grateful he has someone to look up to."
'We are in awe of him'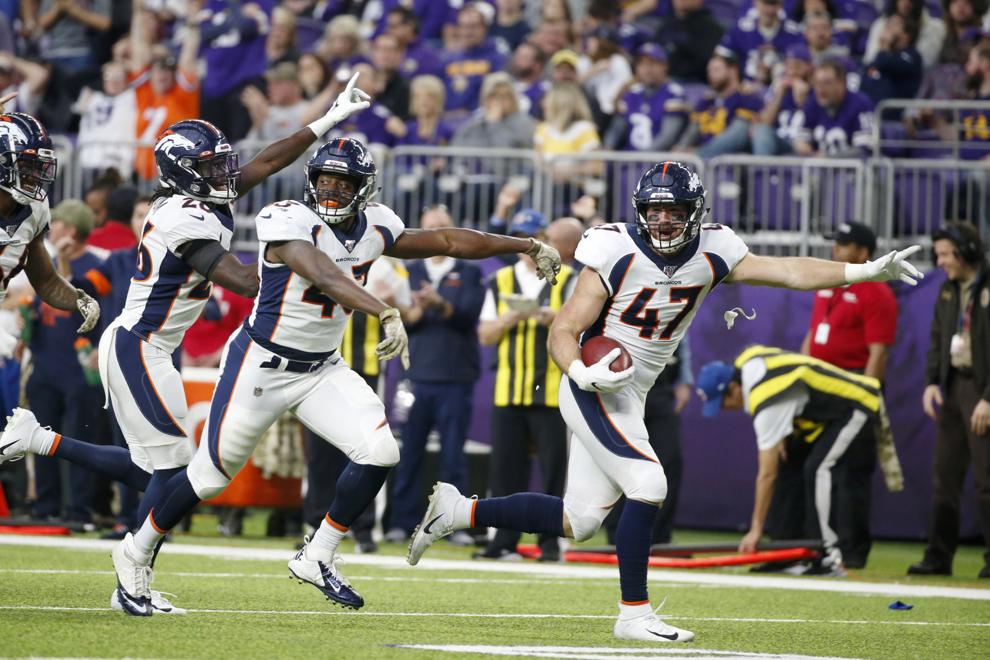 It only made sense for Jewell to be drafted by the Broncos.
"They were our team and John Elway was God," Bob said. "We just couldn't get enough of the Broncos and then they drafted him. I never saw it coming. I had to pinch myself."
Now three years into his career, the Jewell's have to pinch themselves again as Jewell's become one of Denver's top defensive players this season, starting all 13 games and recording a career-high 93 tackles.
His parents say it was grandpa, Robert, where Jewell gets his football genes. His grandpa was one of the best players in Iowa before being diagnosed with a brain tumor in high school, ending his career. He had hopes of playing at Iowa, like Jewell.
"It was really special for grandpa Bob to be able to, more or less, live his dream of playing football at Iowa through his grandson," Jewell's father said. "Josey is a lot like my dad. It's really strange how similar they are in so many ways."
Robert Jewell died Oct. 3, 2015, at 86 years old. It was the same day Jewell and Iowa upset then-No. 16 Wisconsin, in which Jewell was on the field helping recover a Badger fumble to seal the game -- Robert had died just a few hours earlier. Jewell's family believes Robert was in Madison, WI, that day, helping the Hawkeyes to victory.
But it's not just on the field where the two are similar. It's that giving back mindset that Jewell's grandpa had, a man who was best described as a "hardworking farmer who would give his shirt off his back to anyone who needed it."
And that's the Iowa way. Jewell's whole family is this way. While his older siblings Jessica, Samantha and Robby aren't professional football players, they too are known for their kindness and selflessness.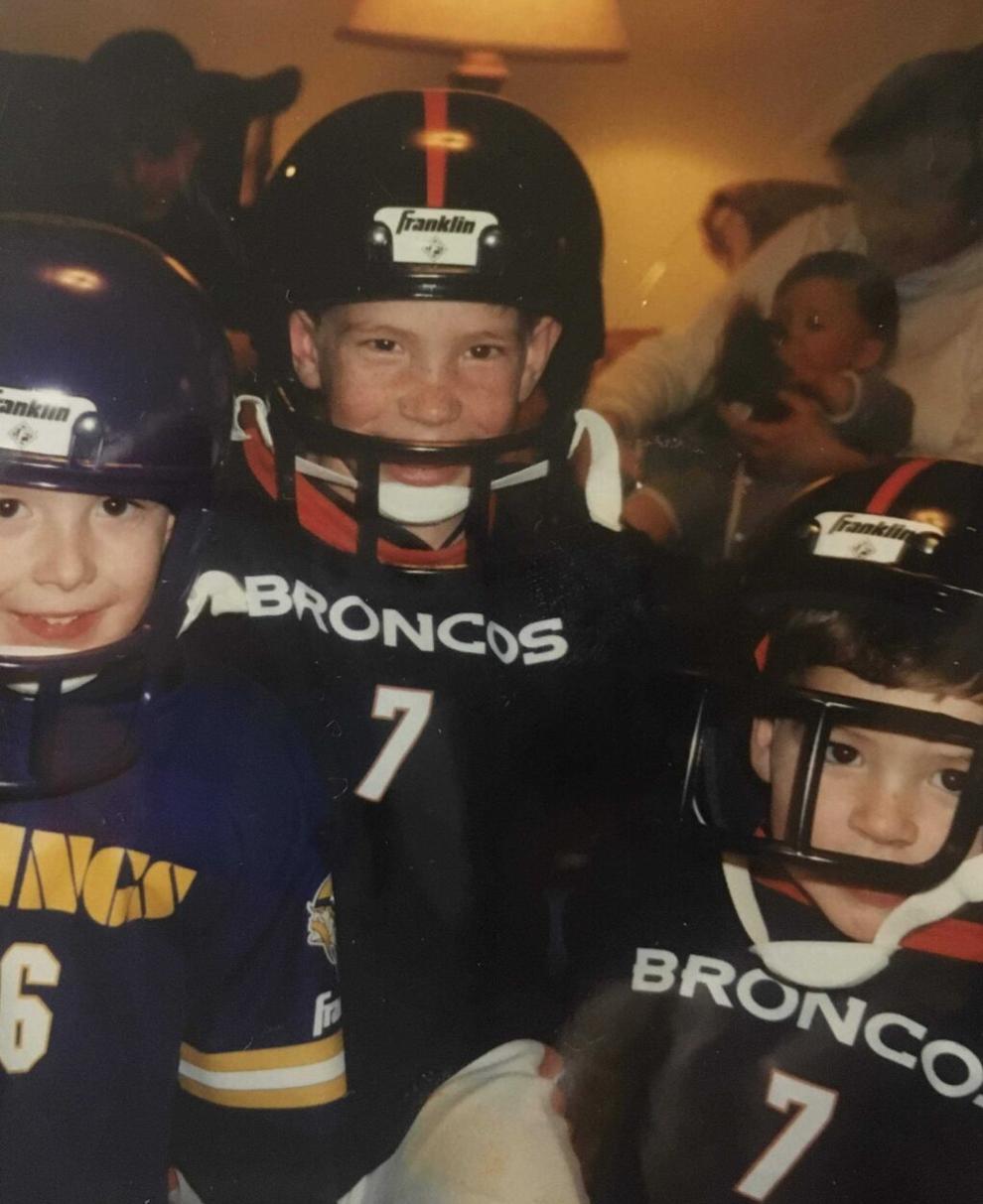 Jessica, 35, is a teacher in Decorah. Samantha, 32, is a physical therapist. And Robby, 29, who played football is a farmer alongside his dad. Each are married and either have or are expecting kids, including Jewell who's daughter Rohen turns 1 on Dec. 29.
"Just because he's a celebrity football star, he's still just Josey," Paula said. "All of our kids give 110 percent of what they do and that's huge. We're proud of all of them."
Jewell hopes to continue his relationships with Parker and Logan, and also hopes to make a few new friends at the Children's Hospital Colorado when the pandemic ends.
"I just really like to give back that way and be able to go on hospital visits and see people that maybe aren't having the best of days and hopefully give a little light in their eyes and have a little hope at the end of the tunnel," Jewell said. "I don't know, I guess I just really enjoy talking to these people. It's almost more important for me to see this and to know how lucky we are and I am to not have any of these problems and have to go through cancer or muscular dystrophy or stuff like that. I enjoy talking and listening to them, hearing their perspectives. It's inspiring."
Inspiring is the right word.
Jewell serves as an inspiration to not only Parker and Logan, but to Hawkeye fans, to Northeast Iowa and to those who raised him "Iowa nice."
"I don't know if you can teach it. I don't. But we are in awe of him," Paula said. "I think it's every parent's dream that your child grows up to be a respectful, honest and caring person. And words cannot express how proud we are of him and the man he's become."