Air Force hockey has gotten used to the taste of postseason victory. The Falcons have seen what's behind that automatic bid, and they like it.
Back at the helm is Frank Serratore, with 26 seasons of collegiate coaching experience and a large arsenal of quips for players, media and fans alike (see graphic).
A few of the names have changed, but for more than three-fourths of the team, the experience is there as the Falcons start their bid for a third straight Atlantic Hockey Tournament title at 7 p.m. Friday against Niagara. Anything less will be a disappointment.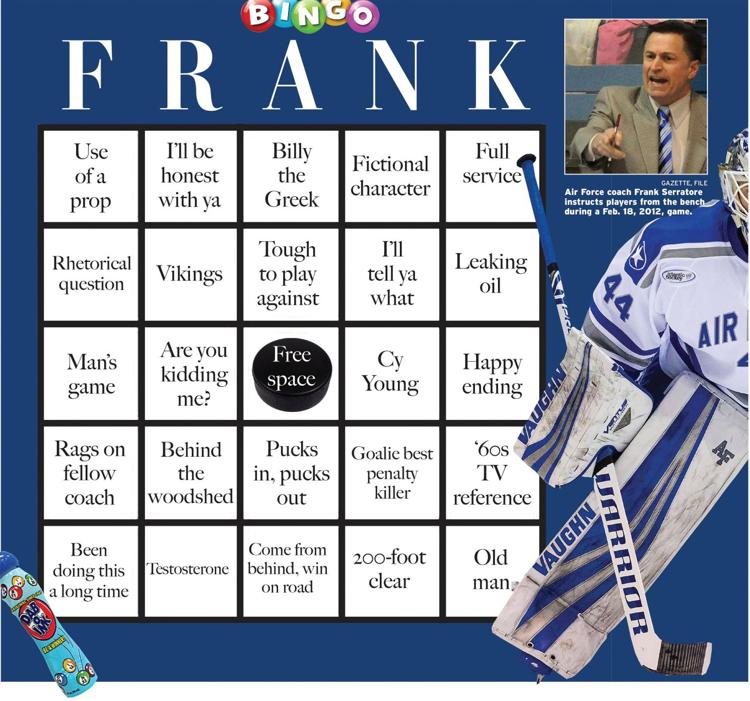 No matter what happens, this one will have a different flavor.
"We have guys on this year's team who were on the team, but didn't feel like they were on the ice for the last few championships," senior Dan Bailey said. "They have bigger roles, and their own motivation to contribute to another championship."
The seniors' motivation is obvious: leaving a legacy.
"We want to go out on top again," Bailey said.
Air Force only played Niagara once this season in late October, and it feels like a lifetime ago. The Falcons skidded to a 5-0 home loss, then rallied the next night behind Billy Christopoulos' 35 saves for a 2-1 win and a split.
Bailey said there's nothing really to be gleaned from that series — the teams are too different now. Serratore said he could barely recall it.
Now that the regular-season dust has settled, it's Atlantic Hockey's best defense against one of its best offenses.
One of its worst offenses against one of its worst defenses.
Like Air Force, with co-captain Matt Koch (four goals, 21 assists), a defenseman leads Niagara in points. Noah Delmas (14 goals, 24 assists) is just ahead of freshman phenom Ludwig Stenlund (20 goals, 16 assists) who leads the country in freshman scoring.
He's notably deadly on the power play, where half his goals have come, landing him in a tie for the Division I lead.
Pair that against Air Force, which has allowed the least goals in Atlantic Hockey and boasts a senior goaltender with arguably the league's most impressive resume. Christopoulos' saves percentage (.927) and goals-against average (1.90) top the league, and he was named first-team all-conference Thursday.
"If you don't like seeing good games, don't come to the Cadet Ice Arena this weekend," Serratore announced.
"Trust me, they're going to be nail-biters."
Bailey said third-seeded Air Force showed up "bright-eyed" after a hard-earned bye week, while sixth-seeded Niagara had to dispatch Canisius in three games, two of which went to overtime and double overtime, respectively.
The Purple Eagles (14-18-5, 11-12-5 Atlantic Hockey) could be tired, and/or the Falcons (16-13-5, 14-10-4 AHC) rusty. Or Niagara's offense could run roughshod, or Air Force's defense could play lights-out.
It's the postseason. Anything can happen.
The Falcons have seen quite a bit of it.
"We are fully preparing to play three games this weekend," Serratore said of the Falcons' advance work. "We want to make sure all of the gas is in the tank."