Ashten Prechtel and a couple of other Coloradans on the Stanford women's basketball team helped "T Dawg" become top dog.
Prechtel, a Discovery Canyon graduate, Regis Jesuit's Fran Belibi and Cherry Creek's Jana Van Gytenbeek all played roles in Stanford's 104-61 win over Pacific on Tuesday that gave Stanford coach Tara VanDerveer, or "T Dawg," more wins than any of her peers. VanDerveer's 1,099 wins are one more than the late Pat Summit's mark set with Tennessee in 2012.
"We took care of business and we had fun, and they got me a beautiful swag sweatshirt and we had little fireworks in the locker room," VanDerveer said, later clarifying they were confetti poppers, not pyrotechnics. "Obviously we miss all the fans coming to the games and doing what we're used to doing, but I feel like it made us closer as a team."
Leading up to the milestone victory, the Cardinal coach noticed Prechtel and a couple of her teammates sporting oversized sweaters and said she wanted one. So, the Cardinal pitched in and presented VanDerveer a customized sweatshirt with her new nickname embroidered on the back after the final buzzer sounded.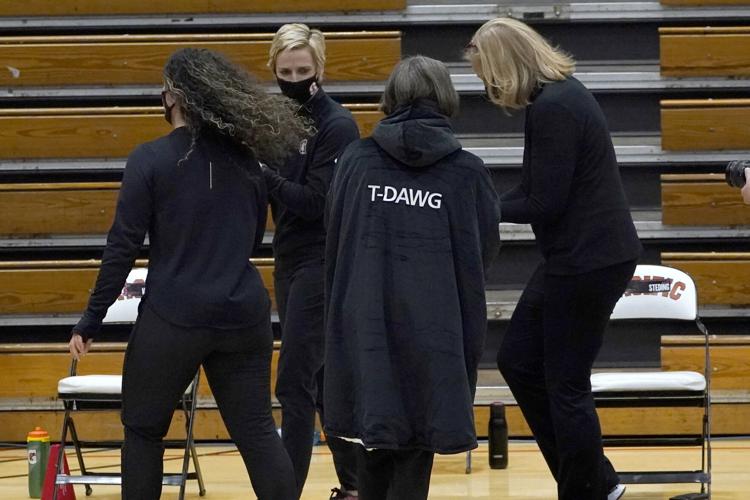 "She was so excited. That was awesome," Prechtel said. "She loved it, for sure."
To celebrate her milestone, VanDerveer said she planned to donate $10 for each of her wins, which amounts to just under $11,000, to her local food bank during a time when many are out of work.
"You know, we're playing games and we know people are really suffering," VanDerveer said. "They don't have jobs. Their unemployment's running out. They're hungry. So I think, I'm so thankful for my job and my opportunity that I just want to make sure I'm giving back."
That kindness, Prechtel said, coupled with VanDerveer's basketball prowess and the school's academic reputation, helped separate Stanford from the rest of her suitors when she made her college decision.
"I wanted to be able to play for a coach that, first of all, was successful, and that I would have a lot of respect for throughout all four years," Prechtel said. "Tara is definitely that person."
So far this season, the Cardinal are 5-0, and 32-6 since Prechtel and Belibi joined the team last year, and ranked No. 1 in the country. The crop of Coloradans have been around only for a fraction of VanDerveer's career wins, but Prechtel has a pretty good understanding of what makes her coach special.
"She approaches every game to win and we all do the same," Prechtel said. "She's a great leader for our team. I think we all just have a lot of trust in her. In the teams before us, I think it's been the same way. Everyone has a lot of respect for her and what she says. I mean, she's just great."
She's the greatest, as far as Division I women's basketball wins go.