DENVER – The Denver Nuggets entered Monday's 113-96 win over the Miami Heat without two of its stars and could be without the third for some time.
With the Nuggets leading 111-94 with 2:39 left, Miami forward Markieff Morris appeared to throw an elbow into Nikola Jokic's side to stop a fast break. Jokic retaliated with a violent shove that left Morris on the court for a few minutes. A stretcher was brought onto the court, but Morris walked to the locker room under his own power.
"I haven't watched it. I'll look at it. I know from just seeing it live, Morris fouled Joker. Then, Joker went and pushed him from behind. Then, all hell broke loose," Nuggets coach Michael Malone said.
"I think the referees did a good job of breaking it up and trying to restore order. It's somewhat of an ugly end to a great game for us. We're not going to allow that to take away from the win."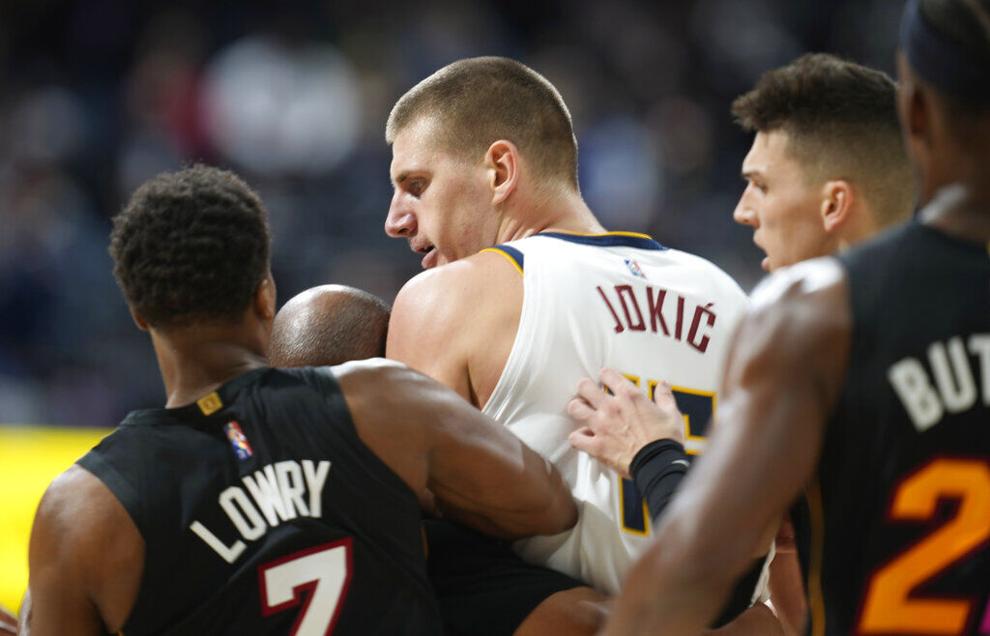 After a review, Jokic and Morris were both ejected.
"It's a stupid play. I feel bad. I'm not supposed to react that way, but it's in the middle of the game. I got hit. I saw him, but I thought it was just going to be a take foul," Jokic said.
"I think it was a dirty play. Then, I just needed to protect myself. I felt bad."
The dust-up tainted an otherwise big night for Jokic, who finished with 25 points, 15 rebounds, 10 assists, two steals and two blocks, his first triple-double of the season.
Will Barton III matched Jokic's 25 points and added five rebounds and six assists.
Jimmy Butler led the Heat with 31 points.
The Nuggets were already playing without Jamal Murray, who is rehabbing a torn anterior cruciate ligament suffered late last season, and Michael Porter Jr., who was ruled out for the "foreseeable future," with a back injury.
With two of their top players sidelined, the Nuggets started Monte Morris, Barton, Jeff Green, Aaron Gordon and Jokic.
"I really just tried to play off Joker, find open spots, make smart reads," Green said. "It's tough to develop chemistry right off the bat."
All five reached double-figures scoring with Morris (14), Green (13) and Gordon (10) rounding out the group.
Denver led nearly wire-to-wire, expanding a five-point lead after the first quarter to 15 by halftime. The Nuggets led by as many as 23 points in the second half. The Heat did not score more than 26 points in any quarter.
"I feel like we was the aggressors and we initiated everything," Monte Morris said. "That's a good step for us."
If Jokic is suspended, something Malone doesn't anticipate, the Nuggets could play Wednesday's game against the Indiana Pacers without any of its big three.
"I'll concern myself when they tell us he's suspended," Malone said. "I'm not going to waste any of my time looking through my crystal ball or tea leaves. I don't have any of that, so he's available until they tell me he's not. I don't see any reason why he wouldn't be available Wednesday night."
Jokic said he felt regret once he saw the replay but said he didn't know if he would or should be suspended.
"I felt bad, for real," Jokic said, saying he asked someone to show him the clip once tempers cooled.
"His head snapped back, so I feel really bad. It was a reaction. It's a bad move."