A formula created by ESPN determined Air Force has the third-smallest amount of returning production in college football.
And to hear Troy Calhoun talk last week, even that seems generous.
"I don't know if we've ever gone into a season that required more of a nearly total makeover or redo as we do with this one," Calhoun said during the Sports Corp.'s College Football Kick-off Luncheon that brought the state's NCAA Division I coaches together via Zoom.
Asked twice about his team entering the 2020 season, Calhoun mentioned 17 players by name. Each were part of the class that graduated in April. He didn't mention any current players.
The coach made similar comments to The Athletic earlier this month ("We're starting all over again. We might struggle hard for a while.") and in a Q&A on the Air Force website he noted they were "decimated by graduation."
Calhoun downplaying his roster has long been his modus operandi. But is it justified this year? The Falcons lost 30 seniors from the 11-2 team that finished the season ranked No. 22. And supporting him was the ESPN formula for assessing returning talent that ranked it above only UTEP and Utah.
Here are some variables to consider when it comes to the experience Air Force will feature — assuming that season is played during the 2020-21 school year with the current roster.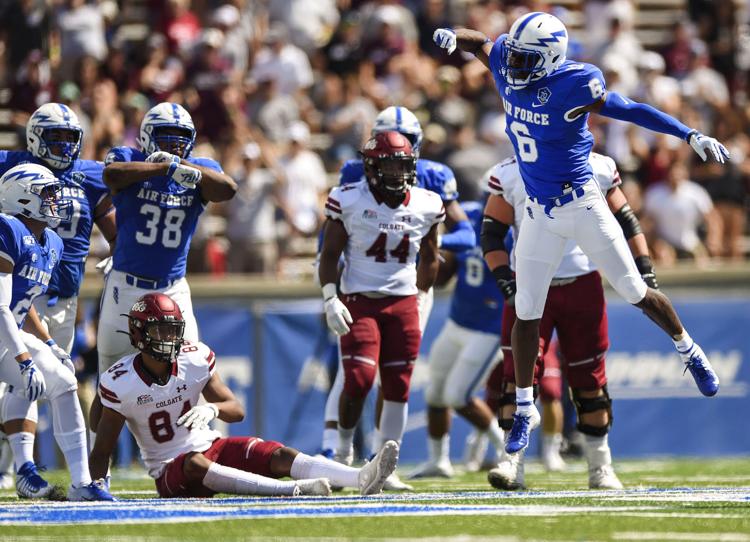 The spots that were hit hardest
The defensive secondary loses four of the five starters from a year ago, including current Arizona Cardinals cornerback Zane Lewis. Two-year starting cornerback Milton Bugg III is the lone returner. Sort of. James Jones IV was a starter at safety in 2017 as a sophomore. He then lost the 2018 season to a knee injury and played in a reserve role last year. On offense, the receiving corps loses players who caught 59 of 68 passes. The offensive line technically returns just two starters in left guard Nolan Laufenberg and left tackle Parker Ferguson. But both have been pegged as preseason first-team all-Mountain West picks.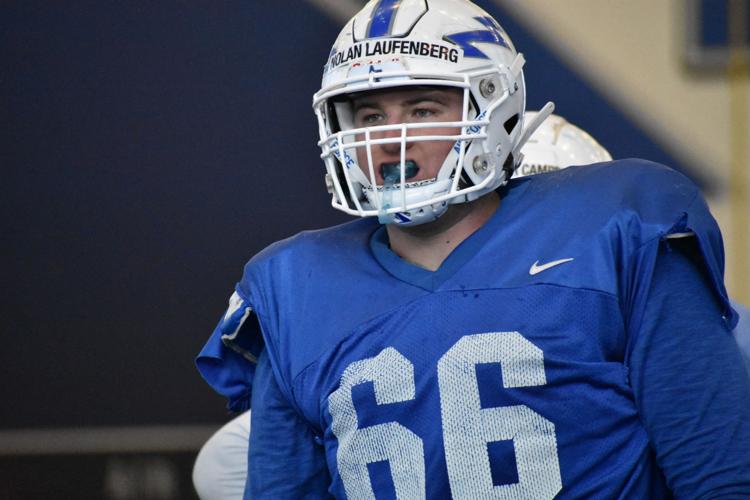 The details of ESPN's formula
ESPN's Bill Connelly developed a method to analyze returning production in a way that goes beyond returning starters. In the weighted formula, percentage of returning QB passing yards accounts for 32%, returning WR/TE receiving yards gets 32%, career starts returning on the line is 17.5%, offensive line snaps returning is 12%, running back yards returning is 6.5%. On defense, the secondary accounts for 37%. It's a catch-all formula that, particularly on offense, doesn't match up with what makes the Falcons tick. With Air Force being wiped clean of experience at WR/TE and in the defensive secondary, it makes sense that it would fall short on that formula.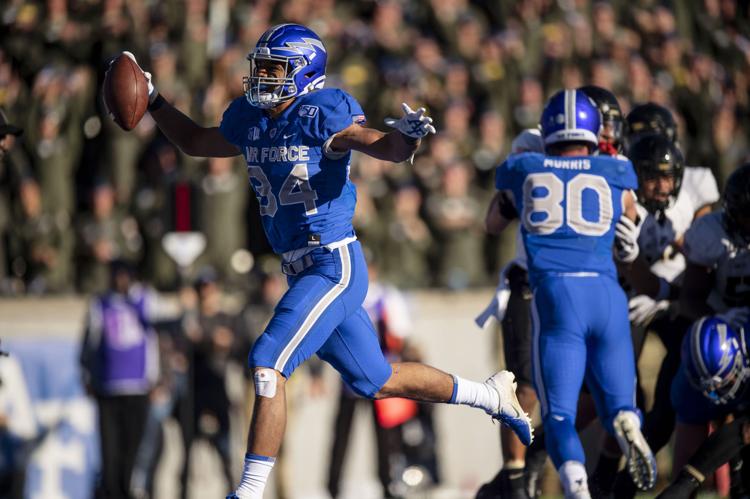 The returning starter numbers
Going with this old-fashioned measurement, Air Force returns just four starters on offense, four on defense and looks like it is in for significant turnover. But to qualify as a "returning starter" a player must start half of his team's games. Here's a list of significant players who don't fit that criteria — fullback Timothy Jackson, who ran for 100-plus yards in four straight games; right guard Kyle Krepsz, who started the first four games before an injury ended his season; defensive tackle Christopher Herrera, who started the final six games; OLB Grant Donaldson, who started six games and was named defensive MVP of the Cheez-It Bowl; and Jones, who started 10 games as a sophomore and last year appeared in 12 games with one start.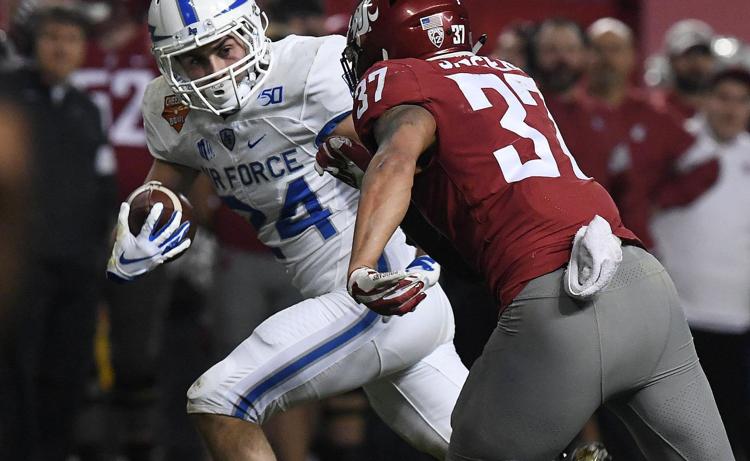 Who is coming back?
The eight players who fit the official criteria as returning starters would be enough to fuel expectations for a strong season. All eight — QB Donald Hammond III, TB Kade Remsberg, Laufenberg and Ferguson on the offensive line, DE Jordan Jackson, LB Demonte Meeks, OLB Lakota Wills and Bugg at cornerback — received preseason all-Mountain West recognition from various publications. It's not hyperbole to suggest any of those eight, with a strong senior season, would be considered on a short list of the best Air Force has produced at their position.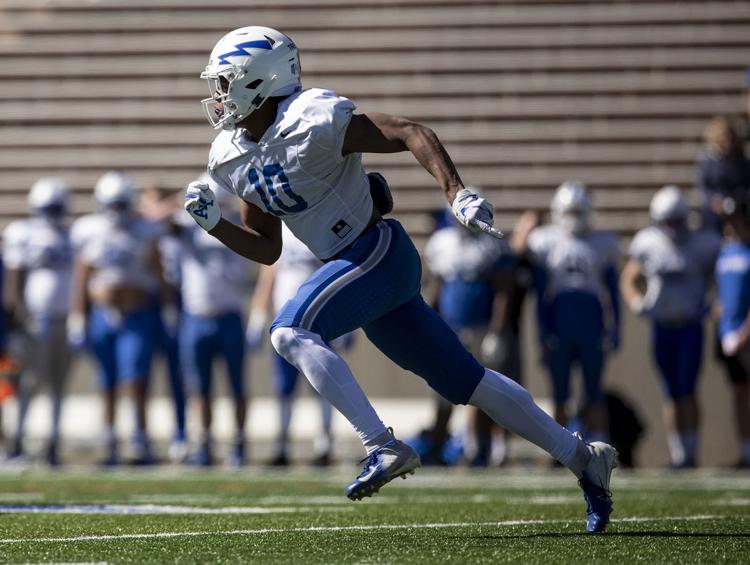 Whose got next?
The downside of Calhoun's annual refusal to talk about his current team is that, for fans, they aren't let in on the excitement of what's coming. A string of strong recruiting classes should see the Falcons experience an uptick in talent, even at some of the positions it suffered the biggest hits. David Cormier at wide receiver, Brandon Lewis at slot receiver, Kyle Patterson at tight end, TD Blackmon at linebacker and Trey Taylor at safety were once touted recruits and looked comfortable in spring in starting roles. Turnover is the nature of college football. Ben Waters had zero career catches before his breakout season a year ago. Geraud Sanders entered with two career starts and then led the nation in yards per catch. Replacing nose guard Mosese Fifita and cornerback Zane Lewis on defense and Scott Hattok on the offensive line will be challenges, the secondary is a concern and depth at key spots like quarterback, linebacker and defensive line must be replenished. There are holes, but this is clearly not a rebuild.