On a few fall Friday nights, retired football coach Mitch Johnson sits in a folding chair watching Fountain-Fort Carson's Trojans. He watches, munching homemade popcorn, from a hill at Jordahl Elementary that overlooks the F-FC stadium. He calls his viewing spot "the grassy knoll."
"I try to keep a distant eye," Johnson says. "From afar. I usually go to one or two games a year. I'm watching with my binoculars, and it's just a great pristine view, kind of nestled on the hilltop there, taking in the moment, having the peace that you're outside of it looking in."
He remains outside because he does not want to distract the current players or coaches. Johnson was a football star, playing guard, linebacker and placekicker for the Trojans, and later returned to coach his alma mater for 37 seasons, 29 as head man. For Johnson, coaching was an obsessive labor of love.
His obsession vaporized so quickly.
In April 2016, District 8 enacted a policy that all F-FC coaches had to re-apply for their jobs. This is a fad, a ridiculous one, embraced by show-off high school administrators. Johnson had won 207 games at F-FC, including seven of his last eight, and led the Trojans to the 2014 state quarterfinals. He remained at the height of his coaching powers.
He declined to re-apply for his job. Instead, he resigned.
His departure led, in many ways, to joy. Johnson sits, sometimes by himself, outside the F-FC Stadium on Friday nights, but that's virtually the only time he's alone.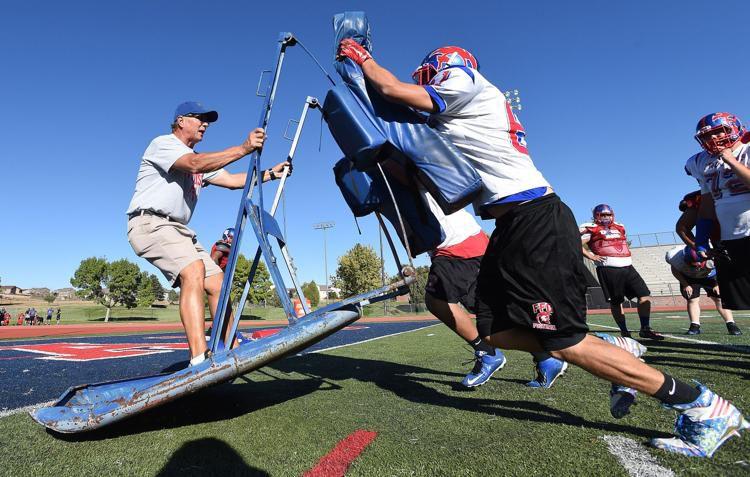 He drives his hail-attacked truck to the Fountain Loaf 'N Jug, where he drinks iced tea and talks with friends. He takes care of his 88-year-old father, Bennie, who suffers from dementia. He babysits his granddaughter, Harper, who turns 1 on Sept. 13.
"She has been the light of our life," Johnson says, voice filled with wonder. "She's definitely given me a new vision. I don't think much about football when I'm around her. She is absolutely amazing."
And his departure from coaching allowed him to more fully savor his wife, the former Peggy Paradise. They met as sophomores at F-FC and a friendship soon turned to romance. They've been married going on 39 years.
"We're soulmates," she says. "I know they say that's not true, but it's true for us."
Johnson was a superb straight-ahead field-goal kicker at F-FC and CSU-Pueblo. A key element to his excellence was a diligent, patient practice holder. At the old F-FC football field, Johnson and his holder worked nearly every day of the year, no matter the weather. The holder remained steadfast, despite the perils.
"He kicked me many a time and it was quite painful," Peggy says, emphasizing the kicks were accidental. "My parents asked me, 'This is what you guys do for fun?'"
Peggy knew the game always lurked in the back of Mitch's mind and often traveled to the very front. Football resides, she realizes, at the very core of the man she loves.
Since his departure from coaching, Peggy and Mitch have enjoyed cruises to Alaska and through Europe. For decades, Mitch spent Labor Day morning overseeing practice. On Labor Day 2018, Harper sat in her grandfather's lap watching Fountain's annual parade. His is a full, bright life.
Still, Peggy wishes Mitch could become more than a football spectator. She senses how much he misses the game.
"He's never not been involved in football," she says. "I would say — besides me, I think — football was the absolute love of his life.
"... It does make me a bit sad that he doesn't have a football home and a place in which he could be part of something bigger. I wish he didn't have to sit on the grassy knoll like that, but I understand his thinking. That's who he is. He has to separate. He has to allow the new to come in."
Johnson, 61, frequently attends high school games in the Colorado Springs area. Last season, he watched Ty Evans throw touchdowns for Palmer Ridge and his old coaching nemesis (and old friend) Todd Miller coach Pine Creek. He remains fascinated by football strategy.
Coaching, Johnson says, invades your psyche and there's no way to exorcise it. You can pretend it's not there, but you're only pretending.
"Once it gets in your system," Johnson says, "it's like, 'Wow.' I think it's always in your system. It's give me another shot. Give me another try. It's always like, 'Wow.'
"Would you like to be back on the sideline? You always entertain that thought."
On Friday night, Fountain-Fort Carson will play host to Columbine. If you're in the stands, look to the grassy knoll. Johnson might be there, sitting in his folding chair, entertaining thoughts, eating popcorn and watching from afar the team that for so long was his team.