BOULDER • Tad Boyle has never read the literary classic "The Strange Case of Dr. Jekyll and Mr. Hyde," but he doesn't need to in order to understand it's a good way to describe his basketball team this season.
On New Year's Eve, Mr. Hyde showed up as Colorado suffered a disappointing loss to Cal.
On Thursday, back at the CU Events Center, Dr. Jekyll was back as the Buffaloes (10-6, 2-3 Pac-12) dominated Oregon (8-7, 2-2) by a final of 68-41.
"That's what this team is right now," Boyle said of the inconsistency that's yet to go away.
CU has had multiple signature wins this season: the win over Tennessee in what was basically a road game in Nashville; the 103-point explosion over then-No. 24 Texas A&M in Myrtle Beach; the blowout win over in-state rival Colorado State.
But this win was different, and for the simple fact that it came without KJ Simpson, the team's leading scorer and one of the top players in the Pac-12.
It was all because of the stout defensive effort up and down the lineup.
Oregon came into Thursday's game averaging just over 70 points per game and shooting 45% from the field. But the Buffs made sure the Ducks got nowhere near either of those averages.
"It wasn't their best night — there's no doubt about that — but I think we had something to do with it," Boyle said. "This is how we have to play defensively, night in and night out. That's how good we can be when we lock in."
It's no secret Oregon's offense runs through senior guard Will Richardson and senior center N'Faly Dante. They're two of the top 20 scorers in the conference, but were held to a combined 7 points on 1-for-13 shooting.
"It has been a long time since somebody beat us that bad," Oregon coach Dana Altman said postgame.
Altman can thank Tristan da Silva for that.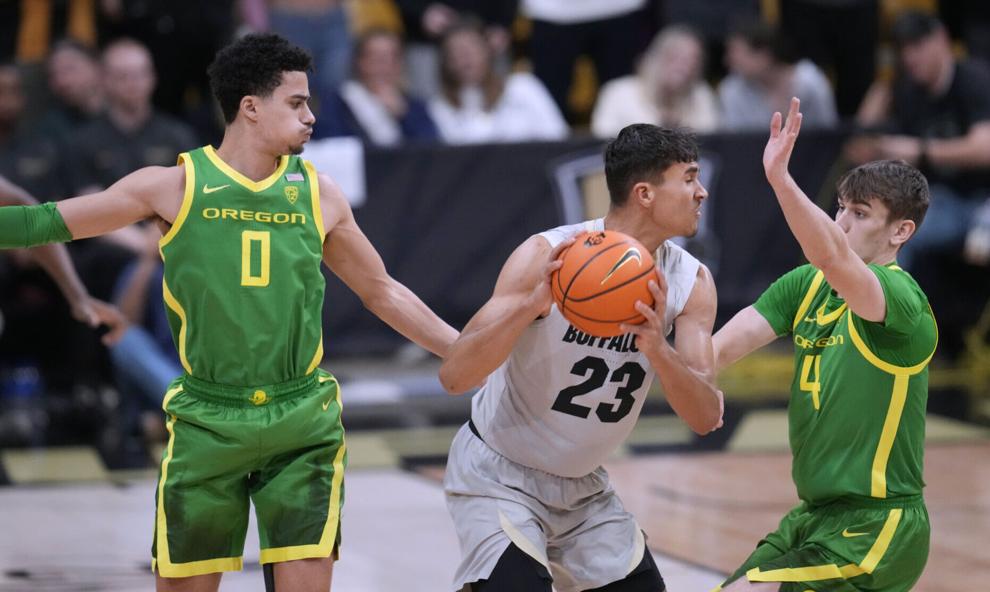 The junior forward has really blossomed into one of the Pac-12's best players this season. He posted a career-high 30 points on Thursday and was able to score from all over the floor, seemingly getting any shot he wanted in the second half. But as always, his coach was more impressed with his defense.
"Defensively, he was fantastic," Boyle said. "He's a guy who can guard Will Richardson, who's a point guard, and N'Faly Dante, who's a five man. To have a defensive guy like that, holy cow. His defense was just as good as his offense."
Cherry Creek's Julian Hammond III was the one who got the start in place of Simpson, who Boyle said "probably could've played" but decided to sit him due to missing the three practices leading up to the games.
Hammond III made three starts near the end of last season, but made his first start of his sophomore year and didn't disappoint with a career-high 16 points and also chipping in with the defensive assignment of Richardson.
"I've had some games where I play good, but I just come out here every night and try to do what I can do to help us win," Hammond said. "Today, I scored 16 points and either way, it doesn't matter to me how much I score — it's just as long as we are winning games."
This team has proven it can beat anybody on any given night. The only problem is that they've also proven they can also lose to just about anybody on any given night.
Boyle knows that if this team wants to achieve its goals, the 2023 portion of the schedule needs to be a lot more consistent than the 2022 portion. Thursday was a start.
"We've gotta build on this," Boyle said." November's done, December's done. The time is now."