BOULDER — It was always a matter of if, not when the Colorado women's basketball team would hear its name called on Selection Sunday.
Still, after a half hour of waiting, human nature began to take over.
The Buffs did eventually see their name pop up on the ESPN broadcast of the bracket reveal and they are officially a No. 6 seed in the NCAA Tournament heading to Durham, North Carolina to face 11-seed Middle Tennessee on Saturday.
"I just was excited to see our name pop up," CU coach JR Payne said. "We waited so long, a couple of our players were like, 'Are you sure we're in?' I'm like, 'Yes, we're in, don't worry.'"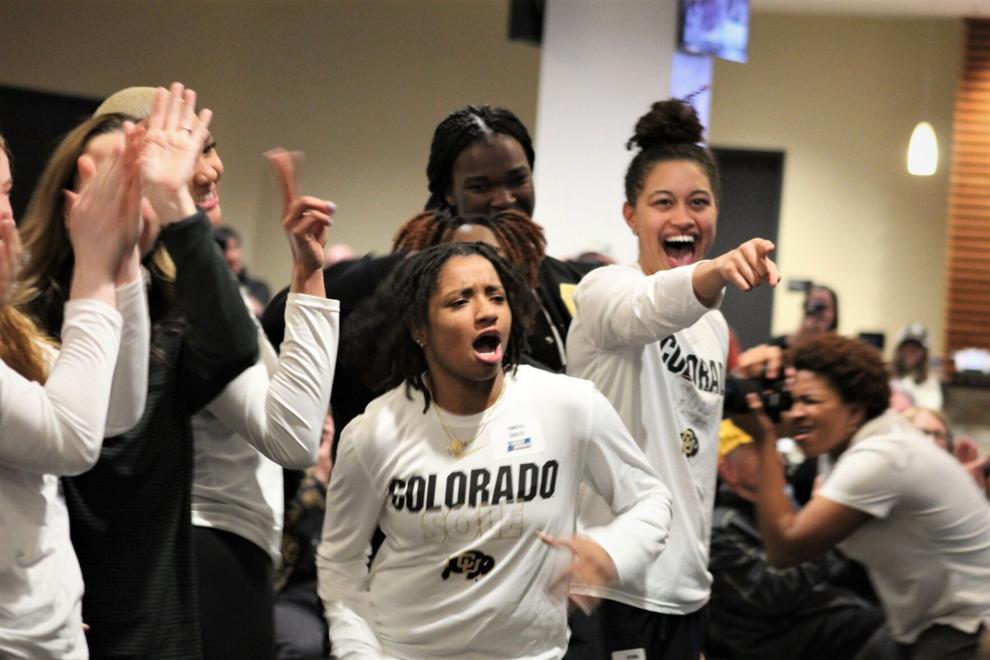 There really was never a reason to worry.
With a 22-7 regular season record and a third-place finish in the Pac-12 standings, the Buffs have had their place in March Madness locked up for a while now.
Now it's official, though, and it's a second straight NCAA tourney appearance for this group.
"You still sit in those seats and even though you've been through it once, you get those nervous butterflies in your stomach just waiting for your name to be called," sophomore guard Kindyll Wetta told The Denver Gazette. "This year, it was a lot longer of a wait, but same feeling as last year. It's just as cool."
The Buffs are hoping this year's trip lasts a little bit longer.
After being selected as a 7-seed in 2022, CU was bounced in the first round by a 10-seeded Creighton team that wound up making a surprise run to the Final Four, something the Buffs were reminded of a few times during Sunday's broadcast.
This time around they face a Middle Tennessee team that is coming off a win over Western Kentucky in Saturday's Conference USA Tournament final and it's a special opponent for Payne to go up against.
"I was born in Tennessee, I have a lot of family in Tennessee, grew up hearing about Middle (Tennessee)," Payne said. "I have a lot of family members that went to school there. I know they're really good."
This CU team will certainly be ready for what's to come after a grueling regular season schedule in the Pac-12.
"We know tough games, we know tough schedules and playing back-to-back tough games," Wetta said. "We're not going to see anybody that's that much better than what we've already seen in the Pac-12."
The Buffs also know what to expect after being relative newcomers to the postseason a year ago.
"Just learning the value of the moment," senior guard Jaylyn Sherrod told The Denver Gazette. "I think last year was not stressful, but none of us had ever been there, we didn't know what to expect. We were walking into it kinda (like) rookies to it. I think this year, we know (that) it doesn't really matter at the end of the day, you gotta go out there and play your heart out because it's win or go home at this point."
If the Buffs do win, they'll face either 3-seed Duke or 14-seed Iona next Monday.
Winning and advancing in the tournament is the next step for this program. This will be CU's first back-to-back appearances in nearly 20 years and it's exactly what Payne and her staff set out to do when they arrived in Boulder in 2016.
"We came to the University of Colorado to help build a program," Payne said. "We recruited players to come help us build a program, so our upperclassmen that are celebrating tonight, they've worked for this. They came here when we weren't NCAA Tournament eligible and they've worked to put us in (this) position."
Wetta, the Castle Rock native and Valor Christian grad, is one of those players and it's decisions like hers to stay home when many of the best local players head west to programs like Stanford and others.
"Being from Colorado, I committed here knowing that this is where I wanted to take the program to and be a part of a great team," Wetta said. "Back-to-back (appearances) is absolutely incredible and I think it just shows that we're going to continue to get better and better and hopefully make it (every year) from now on."
Colorado men's hoops gets surprising No. 3 seed in NIT
Well, Tad Boyle and company will be playing postseason basketball after all.
The Buffs were selected as a No. 3 seed in the NIT and will host Seton Hall on Tuesday at 9 p.m. at the CU Events Center.
Should the Buffs win, they will either face New Mexico on the road or host Utah Valley in the second round.
"I'm excited and I know our players are too," Boyle said in a statement. "We live to see another day, which is all you can ask for. We know from first hand experience how good of a tournament this is; good teams, players and coaches. St. Bonaventure came to our place last year and it was a great game and they made it to the final four. I know Seton Hall will come in with that same mindset and I'm sure we'll be ready."
CU was originally announced as a 2-seed, but apparently the NCAA swapped all of the No. 2 and No. 3 seeds.
The Buffs currently have a record of 17-16 after going 1-1 at the Pac-12 Tournament, winning their opening round game against Washington, but failing to pull off the upset against top-seeded UCLA in the quarterfinals.
This is the second straight year the Buffs will play in the NIT and 13th in program history. CU lost in the opening round of the tournament at home against St. Bonaventure last season.