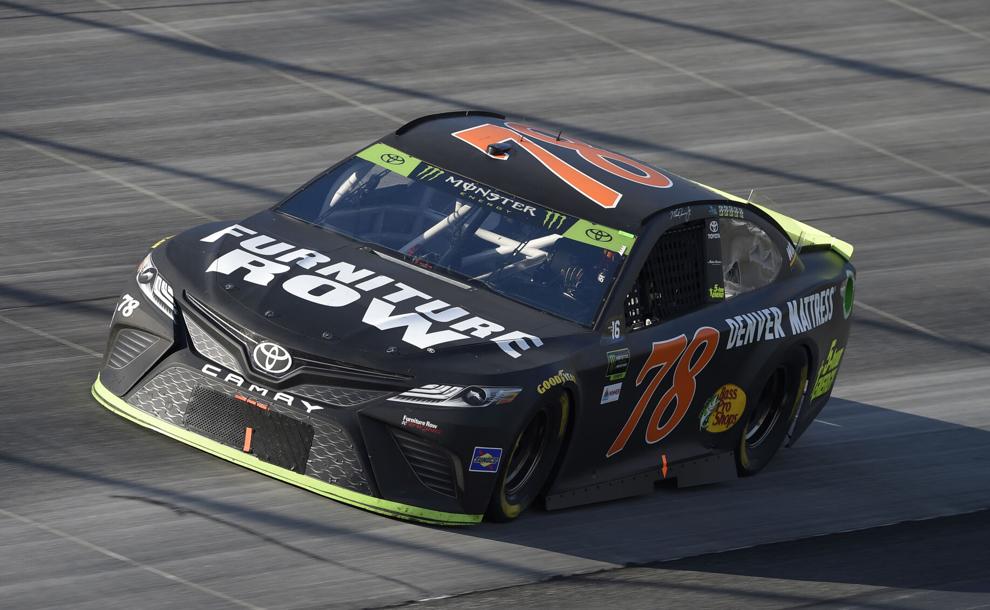 Regan Smith came out of Turn 4 at Darlington Raceway and was just happy he didn't put the car in the wall like he nearly did exiting Turn 2.
One of the sport's best, Carl Edwards, had been on his tail for two laps, but it didn't matter. The checkered flag was waving, and Smith had just secured the first win of his career, and the first win in the NASCAR Cup Series for Furniture Row Racing based out of Denver.
"It feels like it was just yesterday," Smith told The Gazette. "It was one of those moments where you remember every detail of the night and in particular, everything that took place afterward. I think it was a very defining moment for the race team to continue its growth and to continue building."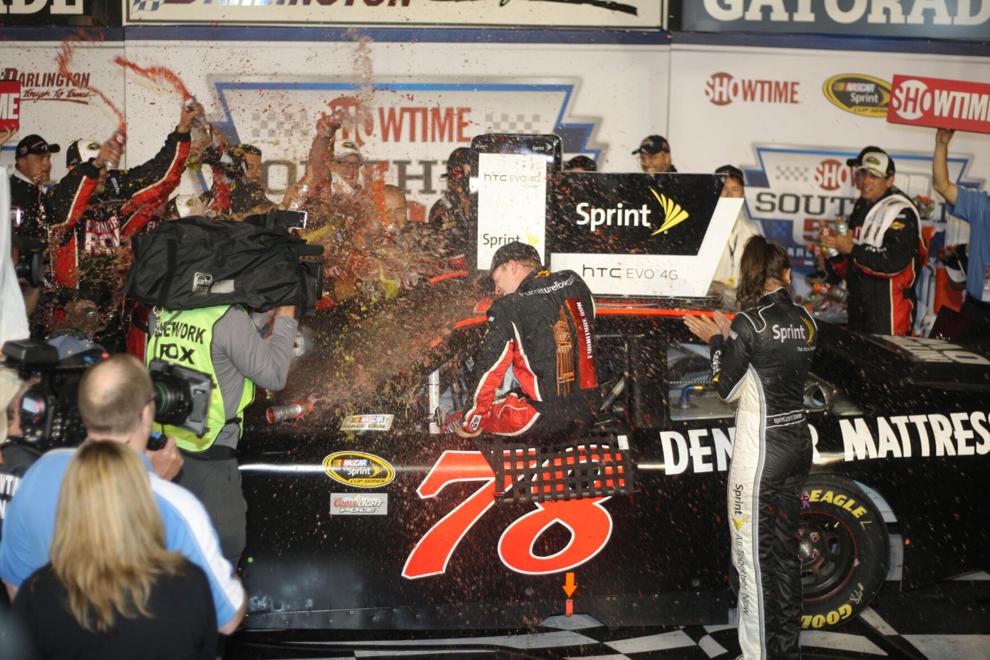 That win took place 10 years ago Friday and although Smith was confident that he would continue to make Victory Lane with Furniture Row Racing and the No. 78 car, not many people in the industry would have believed what would take place for that one-car team located thousands of miles away from the rest of the sport.
An uphill climb
Most of NASCAR is based in Charlotte, N.C.
It's where the NASCAR Hall of Fame is located, and it's regarded as the place you need to be if you want to be a part of the sport.
But Barney Visser never saw it that way.
Owner of the Denver-based Furniture Row chain, Visser initially decided to get into NASCAR in 2005, but had no intention of moving his team to North Carolina. Visser enjoyed having the team in Denver where he could keep a close eye on it. But that didn't mean it was going to be easy for the team to find success.
"It was definitely an uphill climb for to be based so far outside the sport because what happens when all the teams are pretty much clustered in one area, there's a lot of cross-pollination going on," Mike Joy, Fox's lead NASCAR broadcaster, told The Gazette. "People move between teams and even when there's not a lot of movement, members of different teams get together and they talk about things they found and ways to innovate, ways to make things better. When you're alone on an island a couple thousand miles away, none of that happens."
There was chatter in Charlotte about what Furniture Row was doing, but it would have been hard to find anyone who thought Visser's team would last.
"I think my first thought was, 'Oh that's nuts, that's never gonna succeed,'" Smith said. "It's kind of one of those (situations) where they'll be here for a month or two and go away. We've seen that happen thousands of times in this sport."
Furniture Row struggled in its first few full-time seasons with a handful of different drivers at the wheel from 2006-08, but Visser decided to stick it out in 2009, although only committing to a part-time schedule of races and this time there was going to be just one driver: Smith.
"When I committed to going there, we didn't even know if we were going to go back to full time," Smith said.
But even though it was only going to be for 18 of the 36 races in 2009, Smith needed a ride and a chance to prove himself after losing his seat at Dale Earnhardt Inc. when the team merged with Chip Ganassi Racing.
"At the time, there weren't any seats open and I needed to be in something," Smith said.
After taking a vacation in Vail following the 2008 season, Smith stayed in Denver to meet with Visser and his feelings of what the team could do quickly changed from what he thought back in 2005.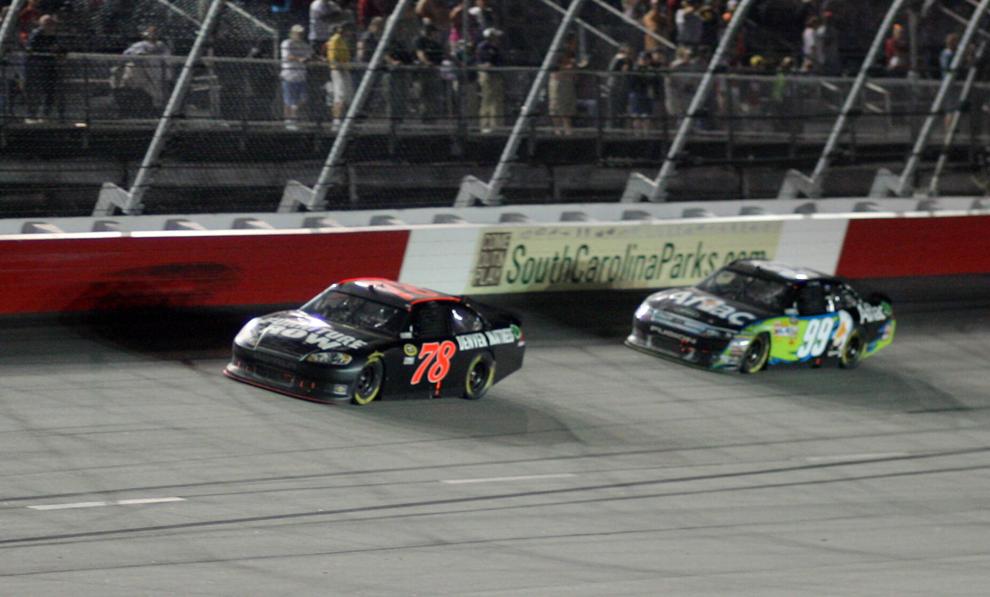 "The differences from the beginning of 2007 to when I first heard of Furniture Row to 2009 when I went to work there were massive and those differences continued to grow from 2009 to 2011," Smith said. "I can't tell you how fast-paced everything happened in between there and how much stuff had to take place to get to where you had any success level."
Smith led the No. 78 car to a pair of top 15s in 2009 and that was enough to get back to full-time racing in 2010. Smith turned in three top-15 finishes that season, setting himself and the team up for a special 2011 season that forever changed the trajectory of Furniture Row Racing.
The team earned its first career top-10 finish to start the season at the Daytona 500, but struggled in the weeks to follow, failing to finish higher than 15 in the next eight races.
But on May 7, things fell into place at Darlington. Some late-race pit strategy gave Smith good track position, and he was able to take the lead, holding off Edwards and Brad Keselowski on several restarts to win the Southern 500, one of NASCAR's four crown jewel races.
"Legends win this race," Smith said in Victory Lane. "I'm not supposed to win this race. I've never even had a top five."
"It's not like every other race," Smith added about the Southern 500. "It's not like going to one of these cookie cutter racetracks. You have to have a perfect night to win (at Darlington), or even be competitive and run up front. That's not a race that you think of a driver and team, typically, getting their first win."
The win proved that a team didn't have to be based in Charlotte to win in the Cup Series.
"It was a breakthrough win for him, for that team and for the idea that you didn't need to be a multicar powerhouse in this sport to get a win on a very difficult track," Joy said. "It meant a lot to a lot of people for a whole lot of different reasons."
Reaching the summit
A year and a half after winning its first race, Furniture Row took another step forward.
The team brought in former Cup Series champion Kurt Busch to replace Smith near the end of the 2012 season, with Busch taking over full time in 2013, providing the team with the most recognizable person to drive the No. 78 car.
Busch also gave the team an added boost on the racetrack, finishing with eight top fives in 2013 and giving Furniture Row its first appearance in the playoffs.
But all optimism that was generated during the 2013 season quickly came to a halt when Busch announced he was leaving the team to join a new fourth team at Stewart-Haas Racing, beginning in 2014.
So, suddenly Visser was stuck looking for a driver and what he found was ultimately the only other driver he would have, Martin Truex Jr.
Truex was looking for a ride after his No. 56 car at Michael Waltrip Racing lost its primary sponsorship.
"Basically, I was in a bad spot, and they were in a bad spot with Kurt leaving late in the season," Truex Jr. told The Gazette. "We just got together, and I was like, 'Hey I need a ride' and they were like, 'Hey we need a driver,' so I think there was a few guys they were looking at, but for whatever reason they decided to give me an opportunity and it was really pretty simple."
Truex couldn't replicate the success in 2014 as Busch did with Furniture Row in 2013, but the team decided to make a change prior to the 2015 season, promoting Cole Pearn to crew chief and the results were immediate.
"Driver-crew chief relationships are very much like a marriage," Joy said. "There's great ones, there's good ones, there's working together so we can go along and then there's divorces. The Martin Truex-Cole Pearn marriage was a great one."
The team managed top 10 finishes in 14 of the first 15 races, including the team's second career win, this one at Pocono Raceway.
"I felt like 2015 was a big turning point for us," Truex said. "We won that race at Pocono, but we ran really, really good everywhere.
"... I just felt like we had a bunch of guys who were really motivated to be the best that we could be and get the most out of what we had to work with, and they were real difference makers in getting the most out of the equipment. I knew at that point it was really special."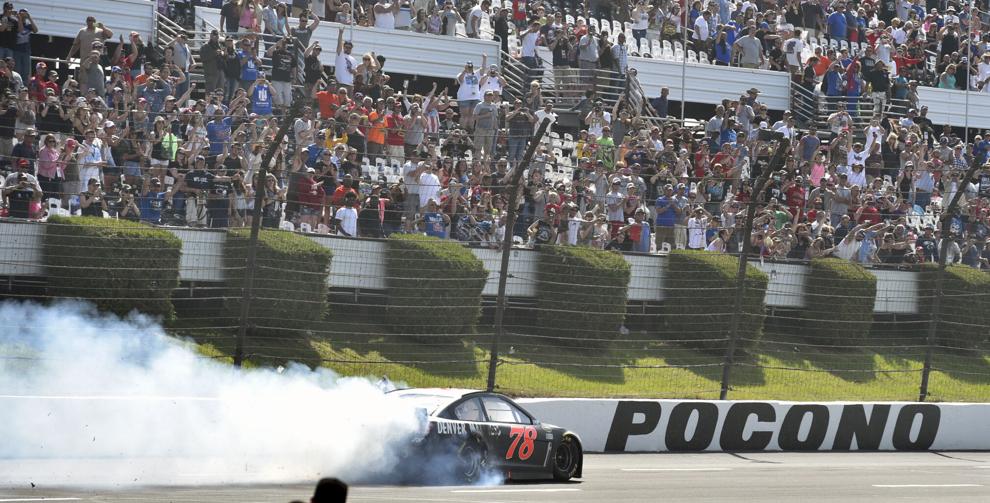 Truex and Furniture Row were one of the final four teams still in contention for the championship heading into the final race at Homestead, and suddenly Truex found himself sitting next to some of the top names in the sport — Jeff Gordon, Kyle Busch and Kevin Harvick — with a chance to make history.
"The way I see it, these three next to me are supposed to win the championship and I'm probably not," Truex said prior to the title race. "So that's a cool story in and of itself."
Truex was the worst finisher of the championship four, crossing the line 14th, but that weekend set the team up for what was to come when they returned two years later.
But maybe equally as important as the decisions to bring in Truex and promote Pearn, was the move Visser made prior to the 2016 season, switching manufacturers from Chevrolet to Toyota, forming an alliance with powerhouse Joe Gibbs Racing in the process.
"That was huge," Truex said. "To be able to tap into a championship organization and a place that wins tons of races and have access to their resources, that was a huge step."
Added Joy: "Obviously, Barney knew that having the team in Denver he could keep a close eye out and he could enjoy participating in the sport, that that was a tall order, but then also to commit to the level of spending that Gibbs required to make Furniture Row a top-ranked Toyota team, that was a huge commitment, but Barney made that because he wanted a winning team and he was going to provide the resources necessary to do that."
Furniture Row returned to the playoffs in 2016, winning multiple races for the first time, but fell short of being one of the championship four at Homestead.
By the end of that season, Truex had won five times with Furniture Row, giving the team six career victories. So, it would've been hard for anyone to predict the team would more than double that total by the end of the following season.
"We had such a great season in 2017," Truex said. "We won a lot of races; we dominated a ton of races. Just having that experience of being a part of that weekend was huge, so it didn't overwhelm us, and we weren't freaking out because we were probably the favorite for the championship."
Although they were the favorite heading into the championship race, Truex still said it felt like they were "bringing a knife to a gunfight" because they were competing against three other teams with much bigger budgets.
But none of that mattered on that night. Truex said he didn't have the best car that night, but the No. 78 car led 78 laps to do what many doubted a single-car team could do by capturing a championship.
Visser was not able to be in South Florida to see his team reach the pinnacle of the sport because he was recovering from a heart attack suffered a few weeks prior, but even still, Truex knew from his conversations with Visser of how proud he was of what the team had accomplished.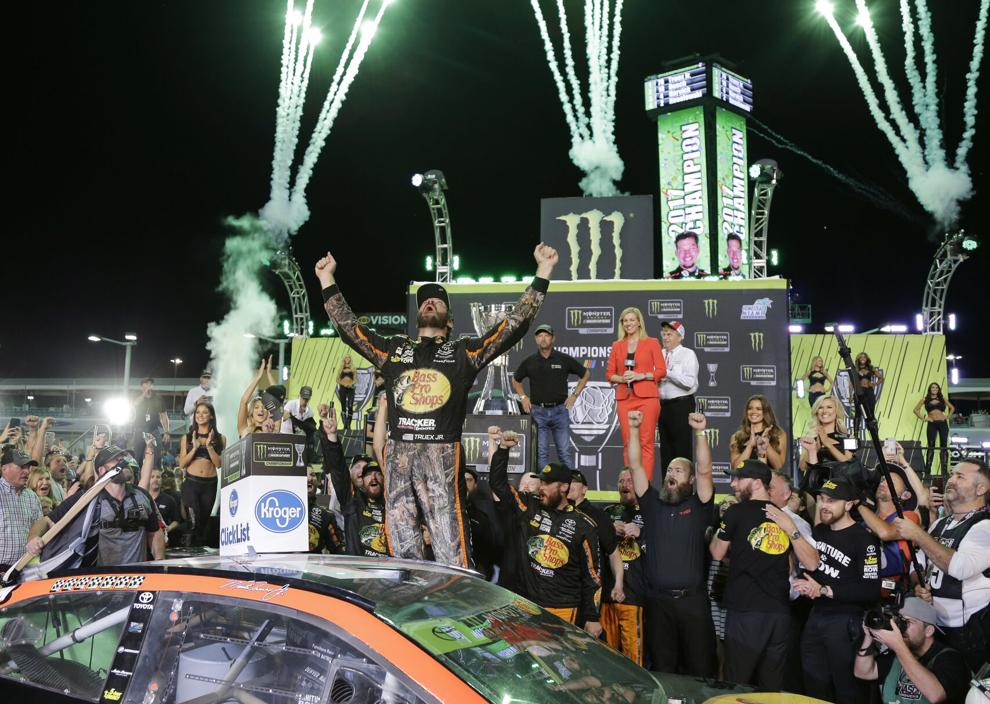 "It was typical Barney Visser fashion, man of few words, but you could tell he was over the moon and all his hard work had paid off," Truex said. "He felt like he was the small team that conquered the biggest challenge you could ever imagine."
"It was something special. It goes back to the commitment Barney made. We kept things simple, but we had (Joe Gibbs Racing) to lean on, so it was kind of the best of both worlds."
We will certainly never see it again with Furniture Row Racing because the team ceased operations one season later after Visser announced the team lost a major sponsor in 5-Hour Energy.
Lasting impression 
Was Furniture Row Racing an anomaly or a sign of things to come?
NASCAR is hoping the answer is the latter after releasing the Next Gen car to be run starting next season, setting up a potentially easier financial model for smaller teams to succeed, just like Visser did with Furniture Row.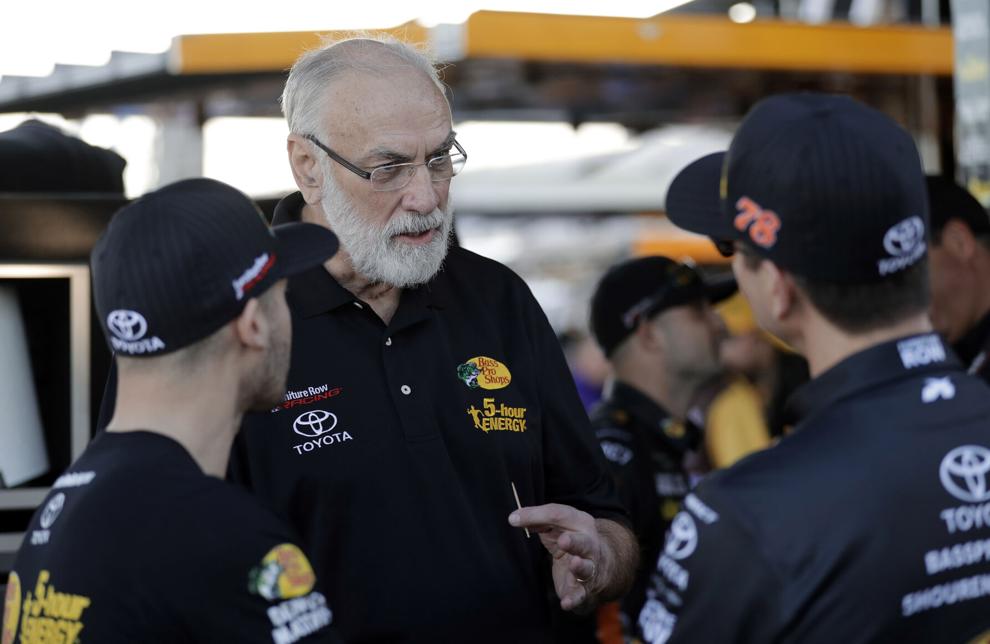 "I know that NASCAR and everyone in the sport was proud of what Furniture Row accomplished and that they had brought themselves right up to the very top teams in the sport," Joy said. "Everybody was proud of that. I don't think anyone expected what happened to happen, but from what I was able to learn, I don't think Joe Gibbs Racing fully appreciated the contribution Furniture Row was making to Toyota's success as a whole and that seemed to bring things to a much quicker close than might otherwise have been."
NASCAR returns to Darlington Raceway this weekend on the 10-year anniversary of Furniture Row's first win and although the team hasn't run in three seasons, Truex is one of the top drivers and he's honoring his time with Furniture Row with a special matte black paint scheme just like the one Smith ran when he first took the team to Victory Lane.
"It's definitely special and means a lot," Truex said of his car being part of NASCAR's throwback weekend. "Furniture Row was a huge part of my career, being able to have success winning a bunch of races and a championship. It's always special to pay tribute to Barney and everything he was able to do."