Leticia Detrow lines up second to last as her competitors stand in front of her.
In speed roller skating, the last racer at the end of each lap is eliminated, so 11-year-old Leticia knows she has to make up ground fast in the 30-lap elimination race.
As the skaters in front of her begin to move forward for the pace lap, Leticia follows close behind. And while the other 19 racers wait to hear the gun for the start of the race, she focuses only on the flashlight in the referee's hand — a tool specifically used for her.
The light flashes and Leticia takes off. She quickly weaves in and out, moving to the middle of the pack. Everything is silent for Leticia — the fans, her coach yelling instructions, the referee's whistle — it's just her and her thoughts. But that's not by choice.
Leticia is deaf. She's also one of the best speed skaters in the country for her age.
"I think it's easier because I'm the only deaf one," Leticia signed to her mom, Kris, who translated. "Sometimes at practice I didn't know what to do, but now I just follow the person in front of me and copy them."
Leticia was one of 260 racers competing at the Comcast American Roller Speed Skating Championships at Xfinity Skating Arena in Colorado Springs last week. Skaters travel from all over the country to compete in the festivities, which includes a split $10,000 prize for the overall winners.
The championships showcase the best of speed roller skating and why it's unlike any other sport. There is drama, as most races finish in under 10 minutes, coming down to a single wheel on a skater's blade or end with skaters sliding into the wall.
But what truly makes speed roller skating unique isn't the speed or drama — it's the community, the skaters say. No matter if you're a world competitor or an 11-year-old deaf girl from Uganda, the roller skating family accepts you.
"It's a sport for everyone," said Meagan Renick, who's daughter competes for Team USA. "It's the best kept secret in sports."
"You can't beat the roller skating atmosphere"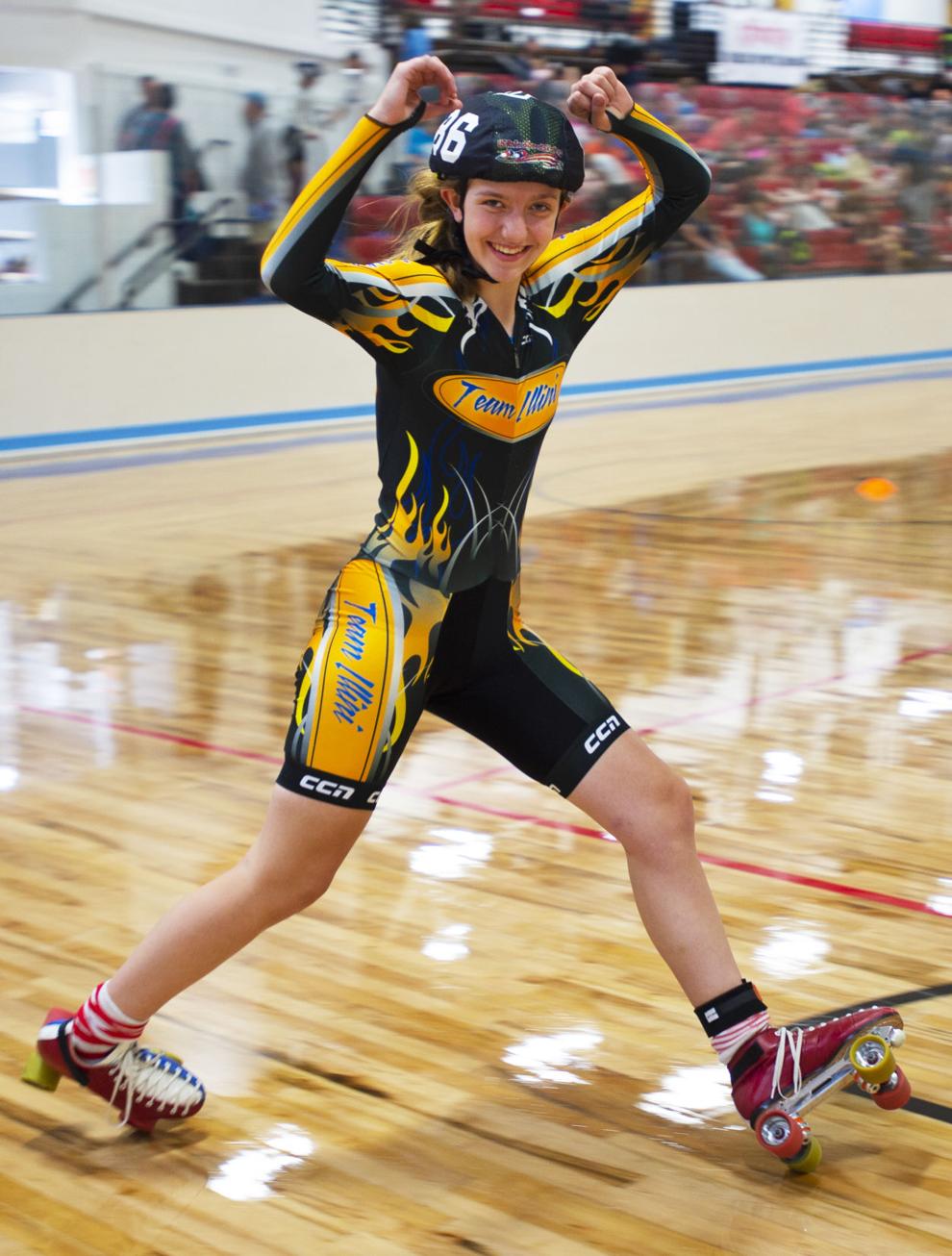 Meagan's daughter Michaela is hard to miss.
Standing at 5-foot-7, she's one of the tallest competitors in her field. Her long, golden hair paired with her black and blue blades, makes her easy to spot during a race. And at 14, she's the youngest female skater on Team USA.
If her height, hair, blades or talent isn't enough to separate her from the pack, then her personality certainly is.
Before races, while other skaters wait for the race to begin, Michaela is often by herself skating in circles and dancing to whatever music is blaring through the speakers.
"I don't like to think about the race moments before it because I know I'll get in my head," said Michaela, who lives in Olympia, Washington. "It works pretty well for me."
Like many of her competitors, Michaela has been skating for her entire life. She wore her first pair of skates when she was just 11 months old. Michaela and her mom, who also serves as her speed coach, spend thousands of dollars each year to travel to competitions. Next month, they'll travel to Barcelona for the World Championships, which they say will cost them around $10,000.
That's one of the biggest reasons why US Roller Speed Skating started to give away money at the American Championships the last two years, an effort to help fund travel for many world competitors.
"We don't really get much help. You have to fund your own racing," said Kelsey Helman, who was the overall female winner at last week's race of champions and another member of Team USA. "We really appreciate the money and the support this event gives us."
The overall male winner for the race of champions was Jonathan Blair, who's competed for Team USA six times. He hopes events like this one will spark interest in fans.
"Get your eyes on it because it's one of those sports that once you see it, you're going to fall in love with it," Blair said. "We have no motor, we have no gears. It's just our legs, our mind and our wheels."
Michaela didn't place in the race of champions. She was the youngest competitor in the field. She gave them a run for their money, leading the 5,000 meter race with just four laps to go before Helman took the lead and kept it.
But it wasn't about winning for Michaela. Of course, the competitor in her would have liked to have been standing on the podium. But her career is just getting started, and right now, she's just enjoying the race.
"I just love the thrill of it," Michaela said. "You can't beat the roller skating atmosphere."
"The sky's the limit for her"
Saturday wasn't Leticia's best day on the track either.
After falling in warmups, it was clear Leticia wasn't herself during the 30-lap elimination race. She made her way to the middle, but that's as far as she would get, eventually being eliminated with 12 laps to go.
But Leticia has faced much tougher challenges than being eliminated in a race.
She was born in Uganda and put into an orphanage as a baby because of her disability. At six years old, she was adopted by John Detrow and his wife, Kris, who was teaching deaf kids in Uganda at the time.
Two years later, after a battle to get her U.S. citizenship, she moved to the United States where she was officially introduced to roller skating at a birthday party.
"She's very strong willed, so it kind of pissed her off that she couldn't do it at first," Kris said. "So we signed her up for lessons."
Since then, Leticia has joined "Fast Forward," a speed skating team in Hagerstown, Maryland. Despite losing the elimination race, she won the rookie 500 and 1,000 meter races.
She's found a passion for skating.
"I really enjoy going as fast as I can," Leticia said through sign language. "I just want to go fast all the time."
Following the race, Leticia was visually upset. Her coach, Patty Leazier, told her she wanted more out of her. Leticia skated off the track with her head hung low, but what happened next is the perfect representation of the speed skating community.
As Leticia made her way through the stands back to her mom, she received a high-five and a pat on the back from nearly every skater in attendance.
"We embrace her, we help build her self-esteem, we include her. But the bigger question is what does she teach us?" Leazier said. "She's taught us coaches and kids how to fight through an obstacle that's trying to keep you down. She does that every single day."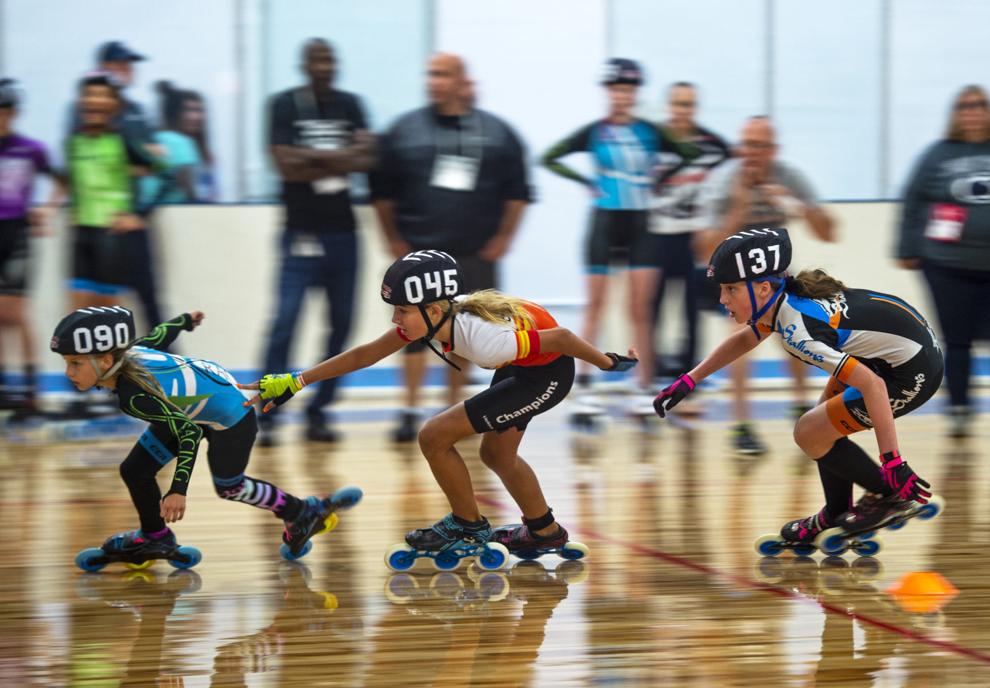 Leticia hopes to make the world team one day. On top of speed skating, she also plays basketball and recently won a chess tournament.
Speed skating is her favorite activity right now, but no matter what she decides to do in life, her future will always remain bright.
"Sometimes I forget all the things she does because she makes them look so easy," Kris said. "Think about where she was a few years and look at where she is now… The sky's the limit for her."
"You can't find a community like this in every sport"
Leticia and Michaela embody what roller speed skating is all about.
Michaela's fun and outgoing personality speaks to the atmosphere of the speed skating, while Leticia's determined and passionate spirit speaks to the competitors that partake in speed skating.
"You can't find a community like this in every sport," Meagan said. "Not many people know about it, but once they find out, they really enjoy it."