Hanging in the back corner of Don and Karen Karl's basement are hundreds of medals.
Those medals — mostly gleaming — have been collected by the Karls for years. Some read "first place" while others read "participation." But it's not their entire stash. No, the rest, the "not-so-pretty-ones" as Don says, are hidden away in the closet.
Each medal represents a race that either Don or Karen have run in during their 53 years of marriage. Together, the two have competed in hundreds of races — 5Ks, 10Ks and half-marathons.
Don is 75. Karen is 73.
"We're trying to back off a little bit," Karen said. "But we just can't."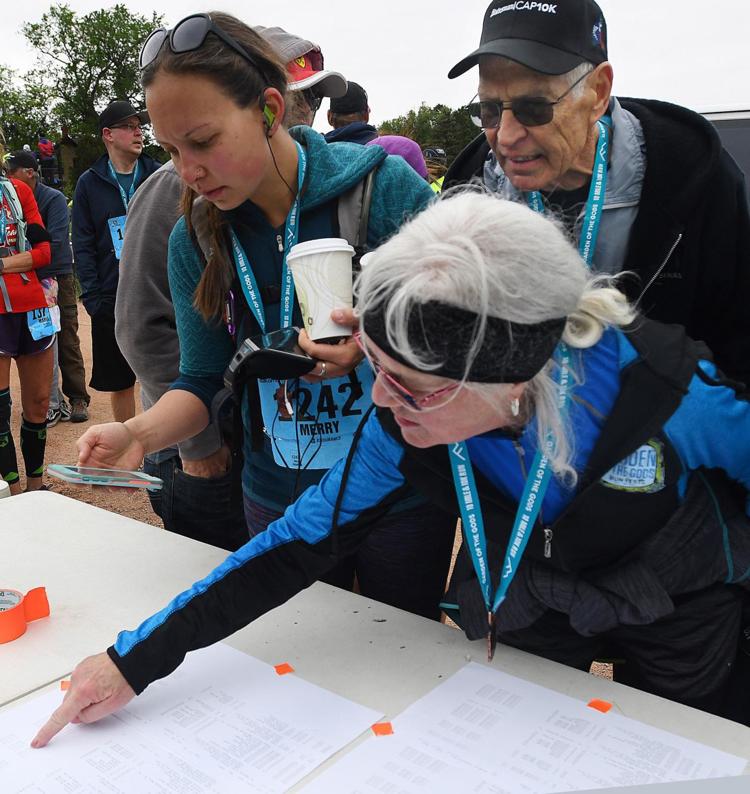 Sunday, at the Garden of the Gods 10 Mile and 10K Run, Don and Karen completed their combined 329th race since September 1998 — when they first started logging races. Dominic Korir and Caroline Rotich were the overall male and female winners of the race, each breaking the previous course records. The Karls competed in the 10K portion of the race, both taking first in their age groups. 
The Karls have traveled all over the world to compete, and have formed a strong bond through running. They credit the strength of their marriage to the sport. 
"I think, when you're married or in a relationship, it's important that you have something that you do together," Karen said. "We found that in running."
***
Don and Karen first met at Michigan State in the fall of 1964.
Karen, a sophomore at the time, was "fifth wheeling" with her friends at a party when she was introduced to Don. The two immediately connected.
"I just found it easy to talk to him," Karen said. "We hit it off and now we've been married for 53 years."
Don and Karen married in March of 1966, right before Don was stationed in Germany with the Air Force. Karen followed Don wherever he served in the military — Germany, Belgium, Los Angeles and Albuquerque, New Mexico — until his retirement in 1986.
"She followed me around for the 20 years I was in service," Don said. "And after that I said 'OK, I'll follow you.'"
This is when the running really started, after the two settled down in Albuquerque.
Don was always a runner, having to run on the cross country team in high school — a request given to him by his basketball coach. Karen, on the other hand, was never much of a runner. While Don kept his conditioning up in the military, Karen started participating in volksmarches, which are noncompetitive walks.
But in 1990, the two ran their first real race together in the Duke City Marathon in Albuquerque.
"I discovered I'm competitive. Who knew?" Karen said. "I had this 'You're passing me? I'm not letting you pass me' mentality."
The Karls quickly became regulars at nearly every 5K, 10K and half-marathon in Albuquerque. They soon started traveling across the country for races — Las Vegas, Hawaii, Disney World, Cincinnati, Georgetown, just to name a few of their favorite places they've competed at.
In 2005, after both Don and Karen decided to retire, they moved to Colorado Springs, something they had always wanted to do. They loved the beauty of the mountains and the numerous outdoor activities the state offered.
And almost immediately, they noticed a change in the running culture between Albuquerque and Colorado Springs.
"It has a unique running community atmosphere," Karen said about Colorado Springs. "It's such a strong community. We see the same people every week, and we've made some of our best friends that way."
***
The Karls, in some way or another, have participated in nearly every run in Colorado Springs since 2005. The two have probably put in more time volunteering then actually running.
They remember walking into their first meeting to volunteer for the The Pikes Peak Ascent and Marathon, noticing they were a little different than everyone else.
"We looked at each other and said 'I think we're the oldest ones here,'" Don said with a laugh. "I'm sure they were saying, 'What are those people with grey hair doing here?'"
The Karls says some weeks they'll put in close to 100 hours of volunteering. They enjoy the labor and it's just another activity that keeps them close.
The two have also met some of their closest friends through volunteering. One of those friends is Crag Dayberry.
Dayberry, 58, has known the Karls for a decade, meeting them through a running club. He credits Don and Karen's relationship to often being the constant variable in multiple running clubs.
"I look up to them as far as their interactions with other people," Dayberry said. "Don and Karen will just walk up to people and make them feel welcome. You need people like that."
Dayberry and other runners have been a big reason Don and Karen continue to run despite their age.
The Karls say they run 15-20 miles a week, trying to stay in shape for 5Ks and 10Ks, and sometimes they even sneak a half-marathon in there. 
"At our age, we keep saying 'no more half-marathons,'" Karen said. "But we keep signing up for them anyways."
Don and Karen plan to keep running and volunteering as long they can. But for now, they continue to serve as an inspiration to those around them.
"I'm getting up there, but I'm not their age," Dayberry said. "I hope I can do what they're doing at that age."
***
Sunday, Don stood a few feet past the finish line looking down the dirt trail for Karen.
When she crossed the finish line, the two embraced for a hug, before heading to the official time table. Don finished his 10K in 1:06:18. Karen wasn't far behind, finishing in 1:13:30.
"People always say to us 'Oh it's so nice you guys to get to run together,'" Karen said. "But we just start together. It's more like, 'See you at the end.' But I'm catching up to him."
They congratulated each other, seeing that they had both won their age division. Then they headed down the hill to help handout the trophies at the award ceremony.
Don and Karen both took home some new hardware to add to their already-impressive collection in their basement, but for them, it'll never be about the medals or trophies they've won.
Instead, it's about the memories they made along the way.