The Rockies have been reluctant to refer to their long-term strategy as a "rebuild." Instead, they seem to be standing pat, fine with exercising patience until their prospects are ready. 
"We're going to try to win as many games as we can this year," general manager Bill Schmidt said last month at the Winter Meetings. "When these young guys come, we'll give them the opportunity."
There's still time to make some noise on the open market. But with less than a month to go until pitchers and catchers report, the Rockies have yet to make any major splashes.
They've signed two major-league free agents, bringing back starter José Ureña and adding Denver native Pierce Johnson to their bullpen. They picked up Brent Suter on waivers and acquired Nolan Jones from the Guardians. The Rockies also cleaned up their roster, trading away Sam Hilliard and Connor Joe, in addition to non-tendering Garrett Hampson. 
So where does that leave them for 2023 — at least for now? Let's take a look at the team by the numbers. 
Starting Lineup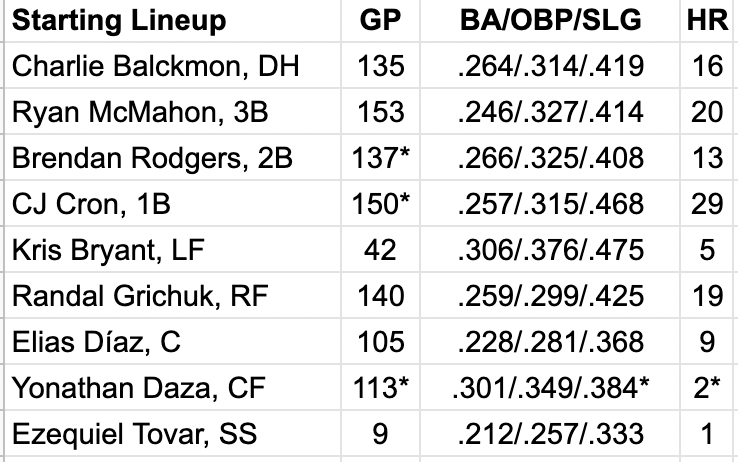 This lineup should seem very familiar, as the only major changes are the additions of Kris Bryant and Ezequiel Tovar. Bryant played only 42 games last year, spending his first season in Colorado on the injured list, while Tovar burst onto the scene for the final roadtrip. Both, if healthy, will have a spot. And the Rockies sure hope they will be — especially Bryant, who they will be paying $27 million this year. 
As for the rest of the crew, the Rockies must rely on what they have for the leadoff spot. They had a left-handed hitting centerfielder and a new leadoff man written in all caps at the top of their offseason wishlist, but, so far, those both remain aspirations.
Veteran Charlie Blackmon, who is entering the last year of his contract, is best fitted to take on that top spot in the lineup. That is, at least, until top prospect Zac Veen hits the majors, which could happen before the All-Star break. 
As for that centerfield spot, Yonathan Daza and Randal Grichuk are the likely candidates to split time there. Daza is the Rockies' best defensive outfielder, while Grichuk has the potential for big power that the team is always seeking. They will both see plenty of playing time. 
Bench 
Sean Bouchard earned his spot after his play in the last month of the 2022 season, and Alan Trejo will be needed to provide infield backup. Brian Serven is the only other catcher on the 40-man roster, so that one's a given. 

As for the final bench spot, Nolan Jones and Michael Toglia will likely be battling it out. Elehuris Montero will see major-league time this season and could compete for that opening day spot depending on how he does this spring.
No one on their projected bench has more than a year of service time. 
Starting rotation
The starting rotation was a surprise for the Rockies last season. They had high expectations after how they performed in 2021, but the group wasn't nearly as stable in 2022.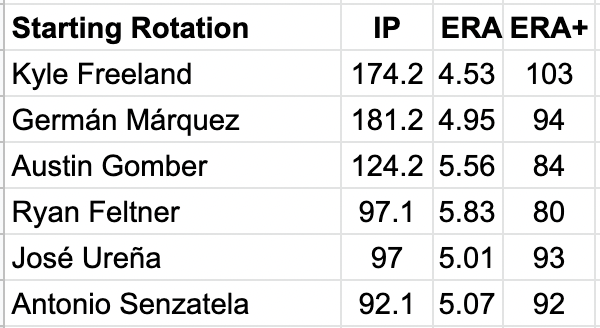 Now that group lacks depth and has many question marks attached. 
At the top of the order, Kyle Freeland will lead a hodge-podge group into the season. He was fine last year — and one of two starters to finish with an ERA under 5.00 — but not his best. 
Can Germán Márquez get back to his All-Star form after a consistent winter of training? Will Ryan Feltner, no longer a rookie, find consistency at the major league level? Are the Rockies going to give Austin Gomber his spot back in the rotation after sending him to the bullpen last year? 
There's also José Ureña, re-signed in November, and Antonio Senzatela, who will likely start the year on the injured list after tearing his ACL at the end of last season. That's only six starters available, and their farm system isn't exactly stacked with talent close to the majors. They'll have to cross their fingers that this group can stay healthy and perform. 
Bullpen
On paper, the bullpen seems poised to take strides forward this season after finishing last season with the highest ERA in MLB.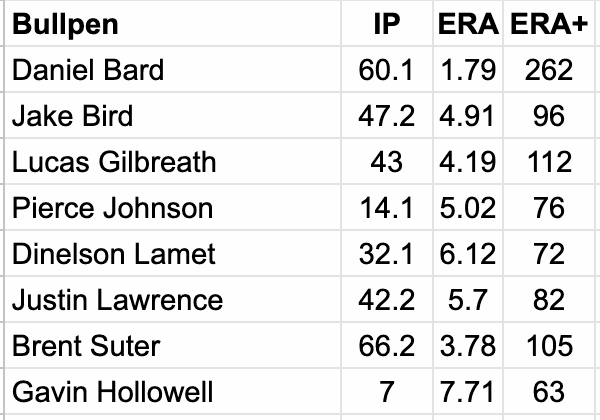 Daniel Bard is one of the best closers in the league. The addition of Brent Suter should provide valuable leadership, and their young pitchers now have a year-plus of experience. And there's also Tyler Kinley, who is expected to return mid-season. Kinley was having a breakout season before he needed elbow surgery. 
Johnson is an intriguing signing, and Dinelson Lamet, picked up midway through the 2022 season, now has half a season under his belt at elevation.