The shoeless Antelopes arrived at the dance without dancing shoes.
Weaving through north Denver en route to a practice session Wednesday, Grand Canyon's bus pulled up to the Regis University Field House checking all the boxes of a tall NCAA Tournament tale.
—A coach, Bryce Drew, still a March hero exactly 25 years after his own tournament buzzer-beater.
—A local connection with Walt Ellis, the entrepreneurial son of former Nuggets fan favorite LaPhonso Ellis.
—A senior, Noah Baumann, on his fourth school in the age of the transfer portal and NIL.
—An improbable path to the NCAA Tournament as a No. 5 seed in the WAC Tournament.
Only one thing was missing prior to No. 14 Grand Canyon's matchup with No. 3 Gonzaga at Ball Arena Friday: the shoes, man. Gotta be the shoes.
To start a practice that was closed to the public and most media, top scorer Ray Harrison slid through the plays in socks. Same for Baumann, the sharpshooter who previously played at San Jose State, Georgia and USC.
When its charter flight from Phoenix landed at DIA, the Lopes learned the airline had inspected every luggage compartment except for the one assigned to the basketball gear heading to the basketball tournament. The pep band's instruments made it. The clothes for a five-day stay in Colorado's wintry weather made it. But not the shoes, stretch bands, game uniforms or practice jerseys. So the Lopes borrowed tops that read "Regis Hoops" on the front.
Promptly at 5 pm, 30 minutes into practice, director of recruiting Kaylen Butler burst through the doors of the Field House: "We got the shoes!" Student managers sprinted inside with four bags of shoe boxes from Dick's Sporting Goods — the final stop on a whirlwind shopping spree that saw the managers scour Denver from Ross to Nordstrom to Finish Line to Dick's.
I mentioned to Butler, "Dude, you saved the NCAA Tournament."
"We would have saved the NCAA Tournament if we had found the (size) 15s and 16s," he said with a laugh.
By the time practice was over, the shoeless Lopes were the talk of NCAA Tournament Eve. CNN and USA Today reported on the team's missing gear.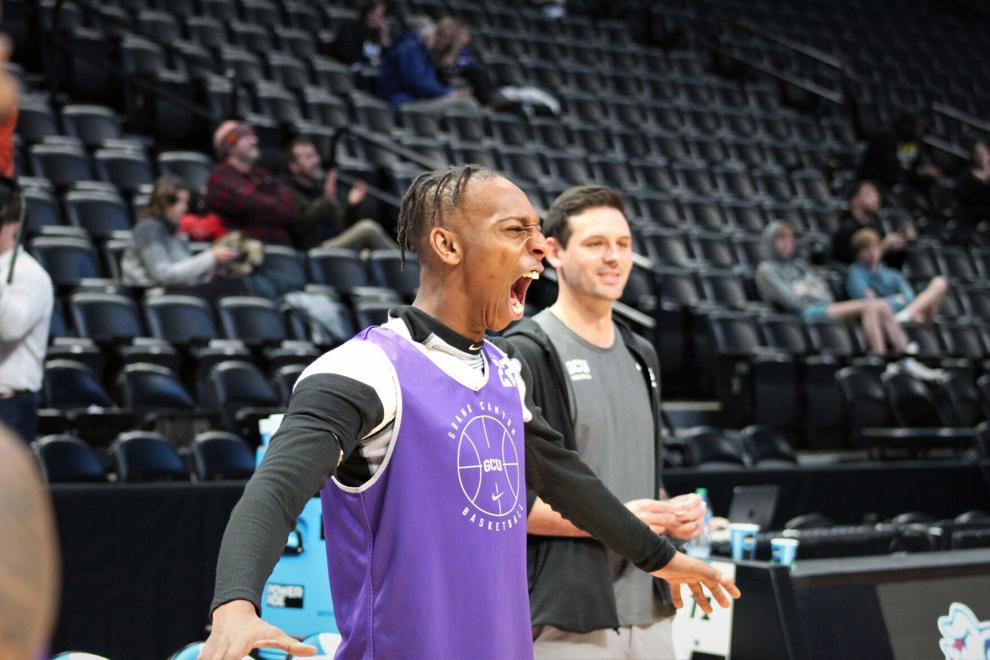 "No shoes! Let's go viral!" Ellis said.
The NCAA Tournament is back in Denver and promises to once again have a bit of everything.
Except, for the Lopes, the basketball gear.
***
Denver's NCAA Tournament history is long and memorable, from Air Force's standing ovation vs. North Carolina in 2004, to Kenneth Faried's breakout with Morehead State in 2011, to Gonzaga's Domantas Sabonis busting brackets in 2016. Shoot, our NCAA tournament tradition goes back much further than that.
Arizona State coach Bobby Hurley guided the No. 11 Sun Devils to a Friday game vs. No. 6 Texas Christian — 33 years after Hurley guided the Duke Blue Devils to the 1990 Final Four.
Duke was blown out 103-73 in the national championship game at old McNichols Arena.
"I'm going to have to erase that from my memory," Hurley said Thursday with a chuckle.
Now it's Gonzaga, Baylor, Creighton, TCU, Arizona State, NC State, Grand Canyon and UC-Santa Barbara entertaining a sold-out Ball Arena with games Friday and Sunday.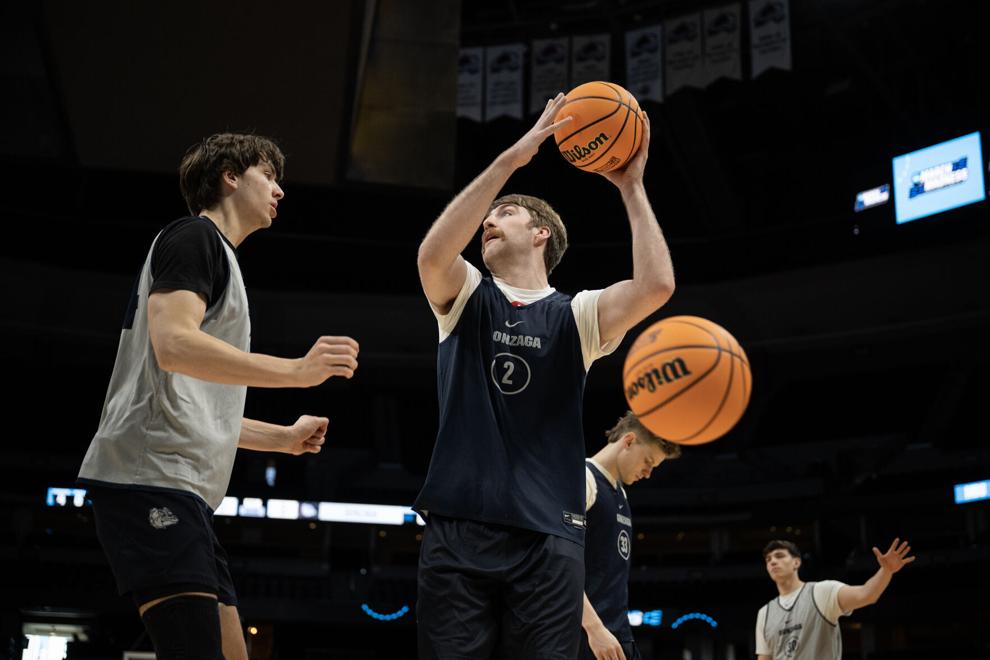 "Denver is a Mecca for the NCAA Tournament," said Javan Hedlund, associate commissioner of the host Mountain West Conference.
College hoops fans flooding LoDo also is a boost for a downtown gut-punched by COVID restrictions in recent years. For proof, note the mayor's homeless sweeps earlier this week.
"From an economic standpoint, these games are great for cities because they bring in eight teams, band and fans across the country," said Matthew Payne, executive director of the Denver sports commission.
The charm of the tournament is in the subtleties. Denver this week has brothers Bryce Drew (Grand Canyon) and Scott Drew (Baylor) in town but in opposite brackets, allowing parents Homer and Janet to root for both in the same building. Likewise, Grand Canyon is in the tournament for the second time in three years, though the first came in the COVID bubble in Indianapolis, where teams had to quarantine in their hotel rooms for as long as they survived.
"Having a normal tournament makes it real for our guys," said GCU assistant Jamall Walker, one of the sharpest hoops minds in Denver.
It gets real Friday for the Lopes, who are 15.5-point underdogs against national powerhouse Gonzaga. It would be a historic upset for GCU. A 14 seed has upset a 3 seed 22 times, the most recent coming in 2021 when Abilene Christian beat Texas. Plus, Gonzaga has won at least one NCAA tournament game in an astounding 15 consecutive tournaments. The last time Gonzaga lost a first-round game, Steph Curry beat them.
"We love playing here (in Denver)," Gonzaga athletics director Chris Standiford told The Denver Gazette.
The image of David (GCU) vs. Goliath (Gonzaga) is lost when you consider the enrollment numbers. GCU has over 100,000 students, online included, while Gonzaga hovers around 7,200.
GCU crossed paths with Gonzaga in a Ball Arena hallway Thursday with hugs all around. Their connections range from Zags assistant Roger Powell and Bryce Drew, the GCU coach, who worked together at Vanderbilt, to a longtime friendship between the Drew family and Gonzaga coach Mark Few.
"We actually played pickle ball together," Bryce Drew said of Few.
Their next matchup is on a slightly bigger stage.
***
In search of an upset, the Lopes must look to their own coach. Almost 25 years ago to the day — on March 13, 1998 — Bryce Drew hit "The Shot" to lift No. 13 Valparaiso over No. 4 Ole Miss. It's the one CBS plays on a loop.
"It makes (me) feel a lot older when you put a number on it," Bryce Drew said Thursday.
The number he needed most was his brother's, Scott. When GCU landed at DIA and realized its basketball gear had not made the trip, Bryce text messaged Scott for a little help. Baylor's practice gear arrived a couple hours later, but it was damp. A GCU student was nice enough to throw it in a dryer at the downtown Sheraton, so big bro owes little bro a round of laundry.
Walt Ellis, the entrepreneurial senior forward and LaPhonso's son, had other ideas for practice gear: his own clothing line. At practice, Ellis wore his self-designed t-shirt, a montage of his teammates with the logo: "No Bad X The Canyon."
Ellis had lobbied the school to let the team wear his clothing line on CBS on Selection Sunday.
"I am feeling Regis University," Ellis shouted after another swished 3-pointer.
One issue: Grand Canyon is a Nike program, Regis an Adidas program, and the social media team had to sidestep any photos with the Adidas logo. Nevertheless, the Lopes will be fitted in their own uniforms for the program's first NCAA game in front of a crowd, Friday at Ball Arena.
"It actually worked out," said Harrison, the leading scorer. "Everybody got a new pair of shoes."
Time flies. Pack your dancing shoes every day.
***
No. 3 Gonzaga (28-5, 14-2 WCC) vs. No. 14. Grand Canyon (24-11, 10-7 WAC), 5:35 pm Friday
TV: truTV (Lisa Byington, Steve Smith, Avery Johnson)
Gonzaga's NCAA history: Third-longest NCAA tournament streak in history — 24 straight. And the Zags win when they get here — seven straight Sweet 16s and 22 wins since 2016, both tops in the nation.
Grand Canyon's NCAA history: The Lopes are 0-1 in the NCAAs with an 86-74 loss to No. 2 Iowa in 2021. Context is required: GCU only transitioned to Division I athletics in 2017.
What to watch for: GCU must make a decision. Let Drew Timme get 30 points and make the other Zags beat them? Or throw the kitchen sink at Timme? As one WAC coach said, GCU's faced a team with GU's size only once — vs. Utah Valley, the WAC champ. There's another option, of course: hit 15 or 16 threes.
Betting line: Gonzaga -15.5
Prediction: Gonzaga 92, Grand Canyon 70.
—Paul Klee