The road to Tampa for the Frozen Four begins on Friday night at Magness Arena.
No. 3 Denver, the Penrose Cup winners and top seed in the NCHC playoffs, hosts Miami (Ohio) in a best-of-three series and the defending national champions have the mentality that they expect nothing less than to win a few more trophies in the coming weeks.
"It's time to end people's seasons," sophomore forward Carter Mazur told The Denver Gazette.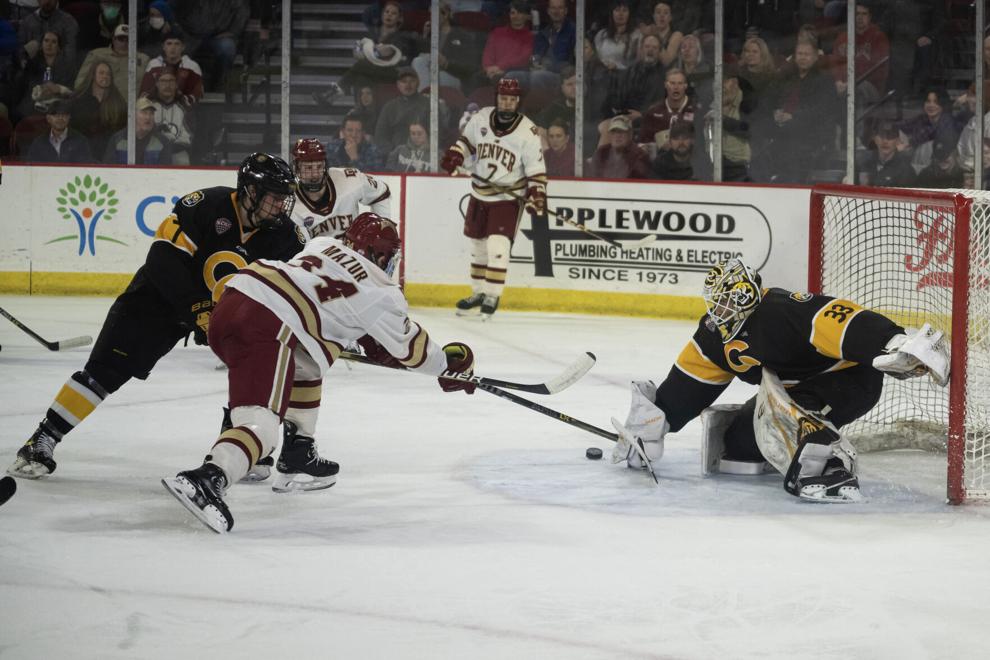 The Pioneers couldn't be playing better hockey heading into the postseason. They won nine of the final 10 regular season games, including going 6-0 against Colorado College and North Dakota, the program's biggest rivals and a road sweep over the second best team in the conference, Western Michigan.
"To go 9-1 in that 10-game stretch against CC, (Minnesota) Duluth, North Dakota and Western (Michigan), looking back, we'd take that," DU coach David Carle said.
It's probably safe to say any coach in the country would take a 9-1 record over a 10-game stretch at any point of the season, let alone to close the regular season.
Every coach in the country would also take this group of stars leading DU on its quest for a 10th national championship. Just look up and down the NCHC all-conference honors and list of awards finalists and you'll see why DU went 28-8 in the regular season and has been a consensus top-5 team in the country since October.
The trio of Mazur, fellow sophomore forward Massimo Rizzo and junior defenseman Mike Benning has carried the Pios to this point and Carle knows he'll need every point they can provide in the coming weeks.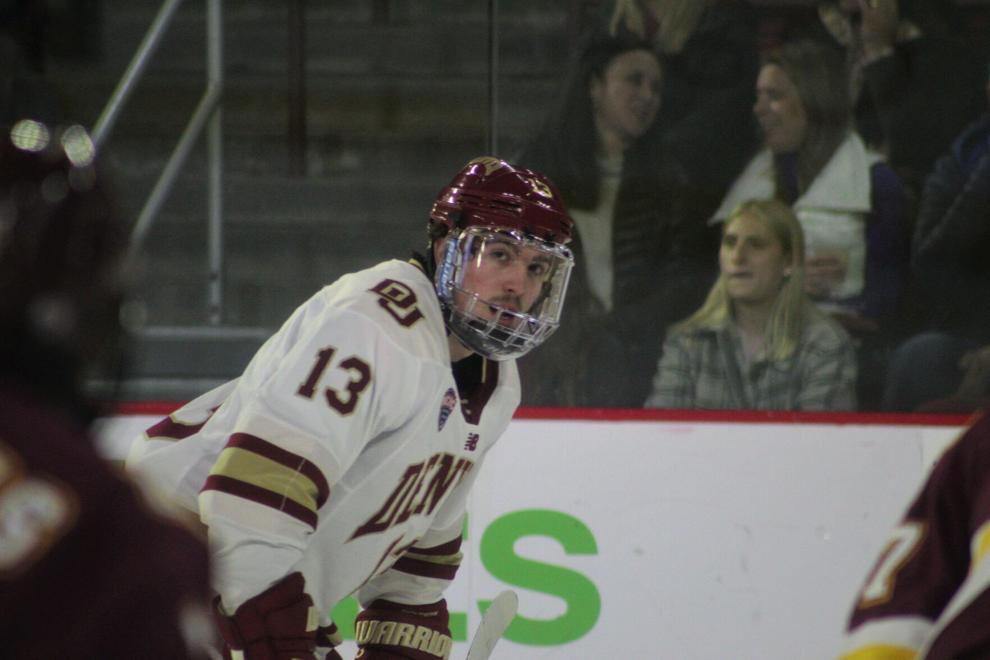 "We talked a little bit about Mazur, Rizzo going through a little bit of a slump in January and I think they've come out of that really well and Mike, as well," Carle said. "You need your best players to be your best players and those guys have been very good for us."
It's no coincidence that those three players are top three on the team in points and they all bring a unique aspect to the rink each day that allows for DU to be so successful.
Rizzo, a finalist for NCHC forward of the year, is sixth in the country in points and has been a do-it-all forward who excels on faceoffs, makes plays for others and has found his owning scoring streak lately as well.
Mazur, who's quickly become a team leader and an enforcer willing to stick up for his teammates, is tied for third in the country in goals and is one of the best end-to-end forwards in the country as he is also a finalist for NCHC defensive forward of the year.
"He's a beast," Benning told The Denver Gazette. "He's a player that can change a game. He does it all. He hits guys, scores goals, makes plays and I think he's gonna be huge for us going down the stretch."
Benning might just be the most important of the bunch, though.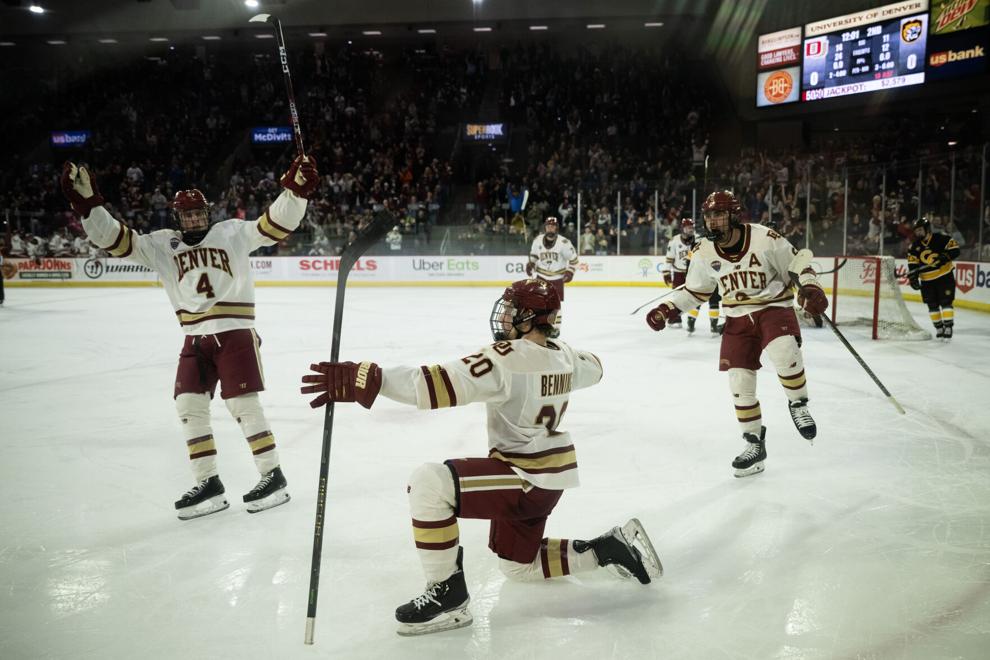 The junior and Florida Panthers prospect might just be playing his way into an NHL contract once this season ends. Benning was named the most outstanding player at the Frozen Four last season and has followed that up with another stellar offensive season. He's tied for the national lead in goals among defensemen and is third in points among defensemen and was recently named First Team All-NCHC and is a finalist for offensive defenseman of the year in the conference.
With five goals in the final six games of the regular season, he also just so happens to be playing some of his best hockey of the season.
"He's a really fun player to have back there," Mazur said. "We know he can score. For him to have his confidence up like that is massive for us because he's a player who will get you a goal in a big moment."
Should the Pios take care of business against Miami this weekend and their 4-0 record and 22-2 scoring advantage suggests they will, a showdown with St. Cloud State could await in the NCHC semifinals next week in St. Paul.
That just so happens to be where last year's team had its final slip up before winning it all in Boston a few weeks later and Carle isn't sure if his team wins the national title without that loss.
Sure, this team would love to win the NCHC Frozen Faceoff and add a fourth trophy to the case for this year's team, but they know what the end goal is every year for this program.
"We view the NCHC (as) a very prestigious league and trophy, but at the end of the day it's four games you've gotta win to get that trophy and it's a bit of a dry run for what the NCAA Tournament will be," Carle said. "That's how we look at it."
---
Denver's 2022-23 NCHC All-Conference Awards
All-NCHC First Team
Massimo Rizzo, forward, sophomore (46 points — 17 goals, 29 assists)
Mike Benning, defenseman, junior (33 points — 13 goals, 20 assists)
Magnus Chrona, goalie, senior (22-8, 4 shutouts, 2.22 goals allowed per game, .914 save percentage)
All-NCHC Second Team
Carter Mazur, forward, sophomore (35 points — 22 goals, 13 assists)
All-NCHC Honorable Mention
Sean Behrens, defenseman, sophomore (21 points — 3 goals, 18 assists)
Player of the Year Finalist
Magnus Chrona, goalie, senior (22-8, 4 shutouts, 2.22 goals allowed per game, .914 save percentage)
Herb Brooks Coach of the Year Finalist
David Carle
Goaltender of the Year Finalist
Magnus Chrona
Forward of the Year Finalist
Massimo Rizzo
Offensive Defenseman of the Year Finalist
Mike Benning
Defensive Defenseman of the Year Finalist
Justin Lee, senior
Defensive Forward of the Year Finalist
Carter Mazur