Palpable sadness permeated the Hotel Elegante Ballroom on Monday as racers, family and team members gathered for an awards banquet for the 97th running of the Pikes Peak International Hill Climb.
Less than 24 hours earlier, one of their own crashed on his way to breaking a Hill Climb record, succumbing to his injuries, as announced by Ducati and the Pikes Peak Hill Climb.
The awards ceremony, held to celebrate the Kings of the Mountain, was not about times or records this year.
It was about Carlin Dunne.
Dunne was the favorite to break the Pikes Peak motorcycle record on his 2019 Ducati Streetfighter V4 Prototype when he hit a bump about 20 yards from the finish line, flew from the bike and down an embankment. He died later Sunday.
Lucy Glockner, the only female motorcycle racer, won the Exhibition Powersport division, the one in which Dunne was competing, with a time of 9:58.878. But she apologized as she stepped to the podium to accept her award.
"I'm sorry, but I don't feel like a winner," Glockner said. "Carlin was a winner. Yeah, I beat my goal yesterday, but that's not important today. Rest in peace, Carlin."
Rennie Scaysbrook won the 2019 motorcycle Pikes Peak crown with a time of 9:44.963, breaking a heavyweight and course record. But Scaysbrook approached the start line Sunday knowing he was racing for second.
"I wasn't the fastest guy at Pikes Peak this year; Carlin Dunne was," Scaysbrook said. "Carlin was on another level."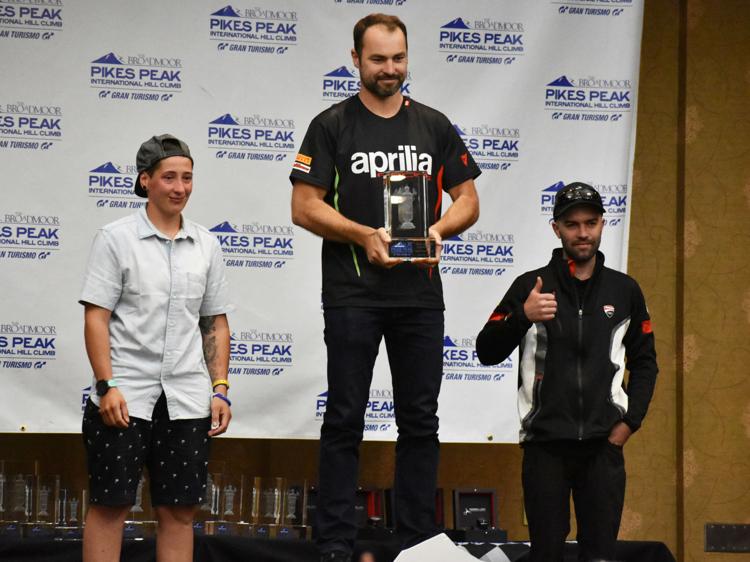 Dunne's qualifying time was more than five seconds faster than Scaysbrook's, the second-fastest qualifier who rode a 2018 Aprilia Tuono V4 1100.
"This win goes to Carlin," Scaysbrook said. "Mate, I know you're looking down on us, and I hope wherever you're going, you have a great racetrack, and a movie that needs some stunt riders in, and you're having a good time."
Ducati announced Sunday that Dunne had "dominated the first three sessions of the race" and was on the way to the record.
"He would have annihilated that course record on Sunday. It's pretty damn awesome," said Chris Fillmore, who broke his third Hill Climb record, winning the lightweight division in 10:20.89 on a 2019 KTM 450 SX-F Factory Edition.
Fillmore spoke about enjoying the unique elements of the Hill Climb and how fun it is to "put on your helmet and race up a mountain road."
"Sunday, my ride was my third consecutive course record, and it was fun," he said. "But the circumstances that left us without Carlin yesterday, that's a pretty big shadow over all of that.
"I really didn't want to be here today, I didn't want to be here," he added. "I just came to honor him. If you didn't know him, he was a fierce competitor and a really kindhearted person."
Even winners who did not know Dunne personally spoke about his legacy on Pikes Peak, and the room erupted in a 35-second standing ovation in Dunne's honor to start the ceremony.