Chuck Swisher knows his career could end at a moment's notice. After all, he is a rodeo bullfighter, meaning he's the last and only line of defense between a bull rider and an angry bull.
Swisher puts his body and his life at risk every time he steps onto an arena floor. He's been doing that at this week's Pikes Peak or Bust Rodeo at the Norris Penrose Event Center.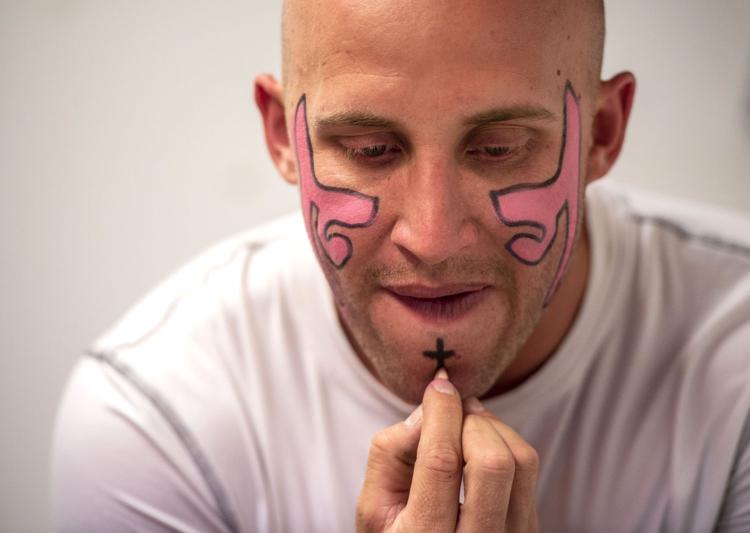 "Tonight could be my last night to ever rodeo," Swisher said Thursday, well before he had to perform.
In other words, the rodeo bullfighters understand the dangers of their profession. Once a bull rider is thrown off the animal, they need to step in. They try to distract the bull until the rider is up on his feet and finds safety.
Everything can change in a millisecond. Serious injuries can happen.
Swisher and other rodeo bullfighters prepare the same way a football player does for a game. They stretch, they warm up, they get mentally prepared.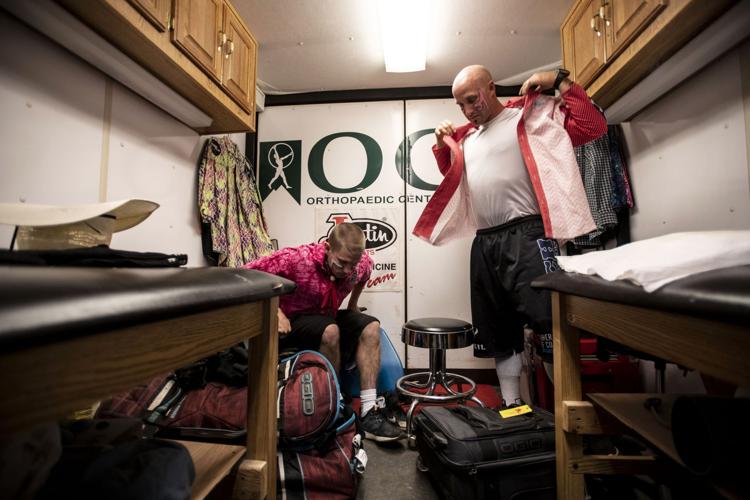 As part of his job, he plays some dress up, too. He wears makeup and clothes he can quickly move around in, considering he'll be going up against a 2,000-pound animal. To honor his strong Christian faith, he draws a cross on his chin.
He's not afraid to get hurt. After all, it is a part of his job description.
"Driving your car is dangerous," he said. "Waking up in the morning and getting out of bed is dangerous. If you sit around and dwell about how dangerous life is, you're not going to be able to do anything because you're going to be paralyzed by fear."
Swisher grew up in Dover, Oklahoma. He wanted to ride skateboards for a living. But one day as a teenager, he switched dreams. His dad rode bulls, but Swisher said he was too afraid to do that and decided on the next best thing.
His parents enrolled him in bullfighting school.
Swisher started bullfighting as a professional at age 21. Seven years later, he can't see himself doing anything else. And so far, his resume is impressive. His career highlight is perhaps winning a 2015 championship in freestyle bullfighting.
There's a difference between a rodeo bullfighter and a freestyle bullfighter.
The first professional is a form of cowboy protection, while the latter is a competition in which a cowboy is judged for the way they maneuver around a bull. Swisher is happy to do both.
And not everyone can do this job.
Trevor Kastner is a bull rider at the Pikes Peak or Bust rodeo, and he's grateful for Swisher and other bullfighters. Asked if he could ever do their job, he quickly shook his head and laughed.
"Them guys are crazy," he said. "If it wasn't for them guys, we couldn't stay healthy and keep going. It means so much to us (for them to) protect us from bulls."