George Paton's frequent flyer miles are probably at an all-time high.
The Broncos' new general manager has emphasized attending several pro days this offseason, leading up to the NFL draft. A scout at heart, Paton has always been a draft guru. But with the No. 9 pick in his first year as Denver's GM, a lot is riding on who Paton takes April 29.
Will he move into the top five to take a quarterback? Will he stay at No. 9 and take this year's top linebacker? Will he move back in the draft and target a player to add to an already impressive secondary?
The picture of who the Broncos might take has become a bit clearer.
LB Micah Parsons, Penn State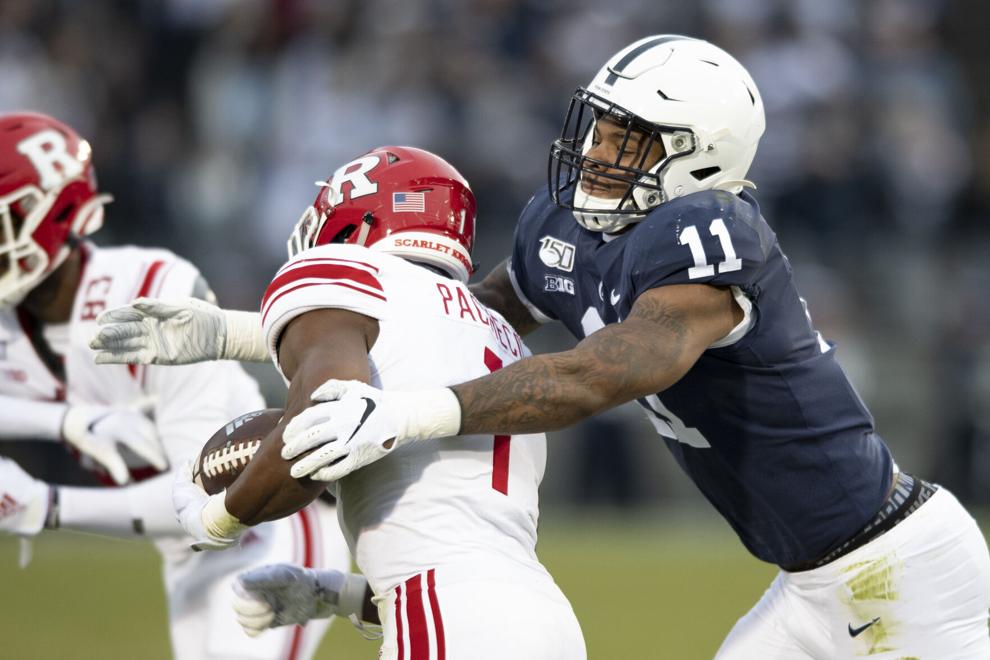 Parsons might be the safest bet at No. 9. Parsons put on a show at his pro day, running a 4.39 second 40-yard dash at 246 pounds.
He could easily play outside or inside, which he played most of his career at Penn State. Parsons would likely thrive in coach Vic Fangio's defensive scheme and linebacker is certainly a position of need for Denver.
Parsons said he's met with nearly every team during the process, but did not specifically mention the Broncos, who were at his pro day.
"It's all been good and they've all pretty much have me as a 'backer at the next level," Parsons said. "My versatility is going to come in handy. … I feel I'm the most versatile player in this class — I can play middle linebacker. I can play outside. I can pass rush. There's no place I can't play and utilize my skills. I'm going to make plays at the next level, just like I did at Penn State."
The only thing that is maybe having teams hesitate on Parsons is off-the-field issues, after opting out last year because of coronavirus and having allegedly gotten into a fight with a teammate in 2018. Parsons addressed those concerns.
"We all made mistakes when we were 17, 18," Parsons said. "... If someone is going to judge me over that, then I would rather not be in their program. I know the type of person I'm becoming. I know the type of father I'm becoming. That's all that matters to me."
CB Caleb Farley, Virginia Tech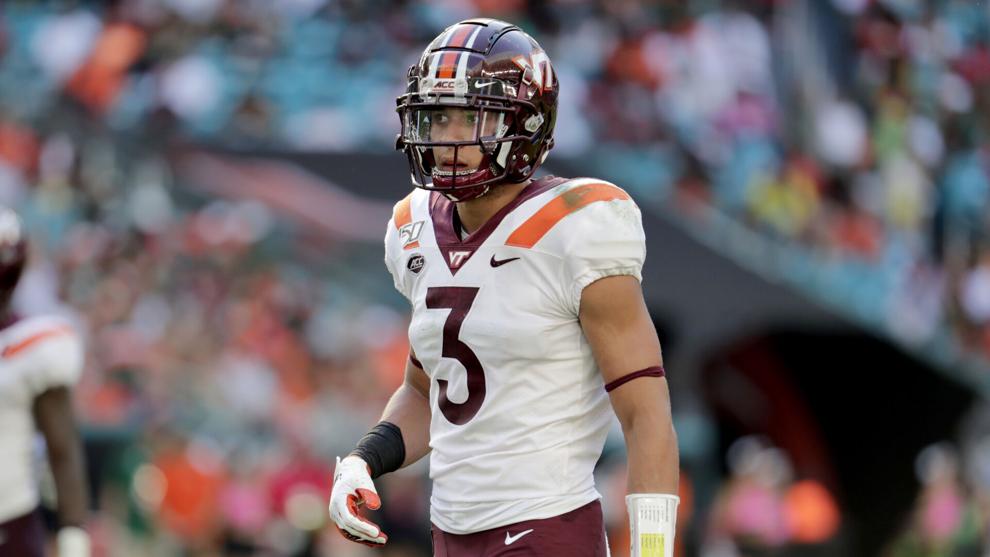 Farley, by a large margin, has been the player most linked to the Broncos. And for good reason.
For a while, he's been considered the top cornerback in the class. Unfortunately for him, though, his stock has fallen because of not playing the 2020 season and not partaking in his pro day because of injury. Still, Farley put out a video of him running the 40 on March 5, which he was clocked at 4.28 — that would have been the fastest time by a corner at the 2020 NFL combine.
Farley said he has spoken with the Broncos, saying the meeting was with nearly the entire staff and that he "enjoyed" their talk. But Farley, and any of the other top three corners expected to go in the first round, may no longer be what Denver is looking for, after signing free agents Kyle Fuller and Ronald Darby.
"I know Kyle Fuller is a fellow Hokie so I think that's a great move by Denver," Farley said. "And if I were to get selected to Denver, it would be great to come in and be around those guys and just pick everybody's brains and develop to be the best person I can be. But I feel like Day 1 I'm a starter. And I feel like Day 1 I'm a guy that can match up against a team's No. 1."
QB Justin Fields, Ohio State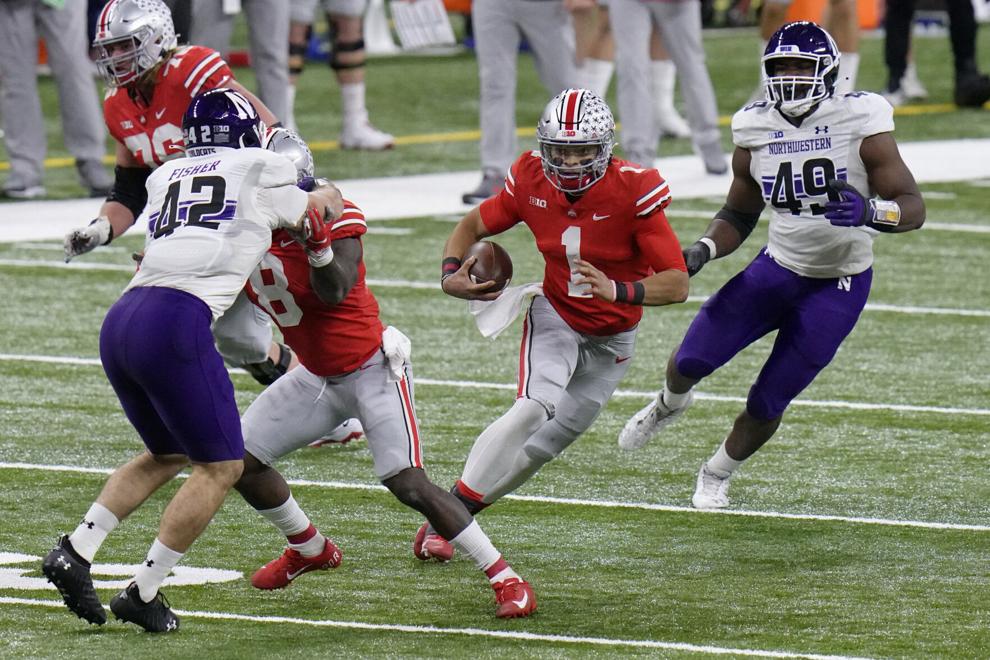 According to some, Fields is the clear-cut No. 2 QB in this class behind only Clemson's Trevor Lawrence. But others say he's No. 5. The reality is that he'll probably fall somewhere in the middle, with the Jaguars taking Lawrence at No. 1 and the Jets possibly taking BYU's Zach Wilson at No. 2.
But what could shake everything up is what San Francisco does at No. 3. Some analysts believe they'll take Alabama's Mac Jones, others say North Dakota State's Trey Lance and a few have said it'll be Fields, considering his connection to 49ers coach Kyle Shanahan who coached Fields at a quarterback camp years ago.
To get him, Denver may have to trade up to No. 4, which is owned by Atlanta, and hope the 49ers go with Jones or Lance. And if he doesn't go at No. 4, the Panthers, who at pick No. 8, aren't going to let him get to No. 9.
Fields didn't specify which teams he's met with, but Paton attended his pro day over Jones' on March 30. He showcased his ability to not only throw the deep ball but also showed his speed with a 4.44 40.
CB Jaycee Horn, South Carolina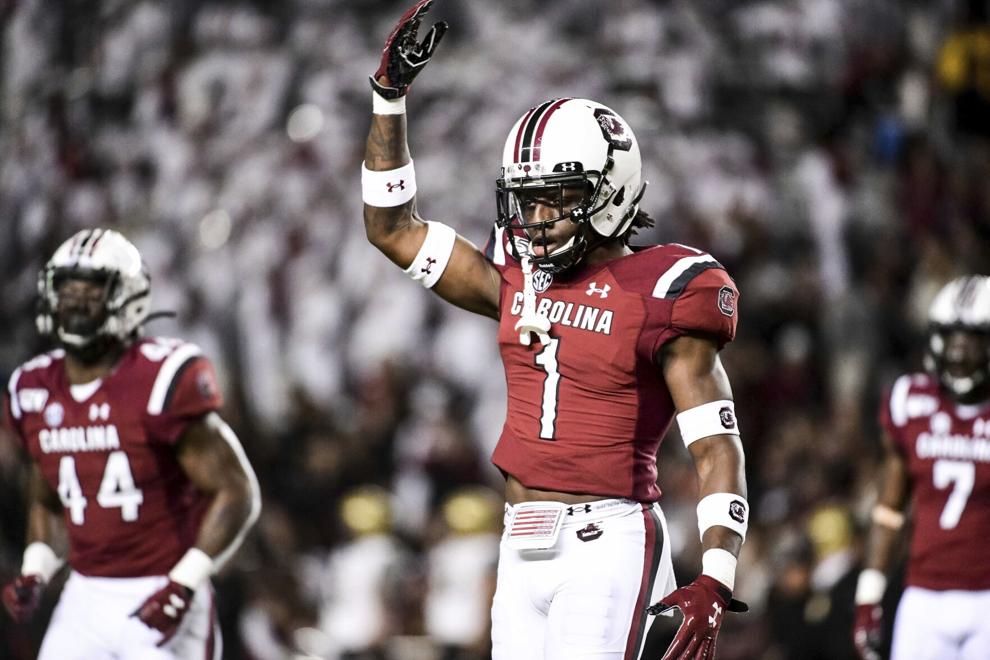 Horn has shot up draft boards since his pro day March 24, which Paton attended. The 6-foot, 205-pound cornerback recorded a 4.39 40-yard dash, a 41.5-inch vertical leap and an 11-foot broad jump. His impressive day has him being considered the top corner in the draft by some, above Farley and Patrick Surtain II.
Like Farley and Surtain, Horn wouldn't be a bad pick at No. 9. But the Broncos might be able to move back, pick up another draft pick and get Horn later. Though, the Cowboys, who pick No. 10, have shown interest in Horn.
"People don't realize it's just a draft. You still got to go play football after this," Horn said. "It doesn't bother me too much, man. When I say I'm the best defensive player in the draft, that's not a statement to get teams — 'Oh he's confident.' So no matter if I'm first round or seventh round or undrafted, when I step on the field, I'm going to show that. In a couple years we'll all get to see. 'Experts' are wrong all the time."
QB Trey Lance, North Dakota State
Lance's pro day March 12 was the first Paton attended as the Broncos' GM.
Like Fields, Lance is widely considered anywhere from the second or fifth best quarterback in the draft — he could also go third to the 49ers or drop a few picks, but likely won't drop out of the top 10. His ability to make plays with his feet — he didn't run a 40 at his pro day — makes him one of the most versatile quarterbacks in this draft.
"One of my strengths is to move the pocket, scramble and make plays with my legs," Lance said. "I wanted to show I could throw the ball a little bit more from the pocket — rhythm stuff and things like that, which I thought I did."
If the Broncos were to land Lance, or any of the rookie quarterbacks, he would likely face Drew Lock in a quarterback battle, which he said he isn't afraid of, no matter the team.
"Whatever organization I go to, they know what they're going to get with me and I'm going to be absolutely as ready as I can be Week 1 to go," Lance said. "And I'm a competitor first and foremost, so I'm going to compete for that spot regardless of where I'm at or what the situation is."
QB Mac Jones, Alabama
Jones' stock has skyrocketed to third overall, with analysts such as NFL Network's Daniel Jeremiah saying the 49ers are targeting him.
Others, though, believe he's clearly the fifth-best quarterback in the draft.
The Broncos might have interest in Jones, who has a connection to Denver's roster already in former Alabama wide receiver Jerry Jeudy. Jones added that he and the Broncos are set to meet soon.
"Jerry is a close friend of mine, he was my roommate my freshman year and he's a great player," Jones said. "But they do a bunch of good stuff, in watching them, with tight ends and receivers. I'm kind of looking forward to going into the meetings and just talking to the coaches and seeing what they have to offer and then kind of watching our tape."
CB Patrick Surtain II, Alabama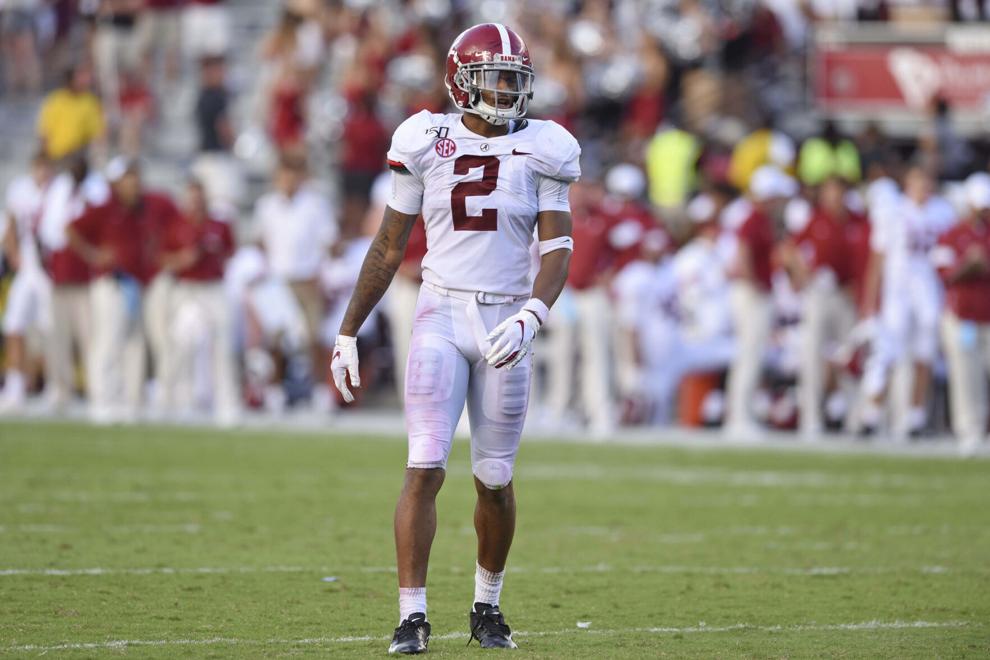 Among the top three corners in the draft, Surtain might be the most proven, having started three seasons at Alabama as one of the Crimson Tide's top shut-down corners, totaling 24 passes defensed and four interceptions at 6-2, 208 pounds. He ran a 4.42 40-yard dash and had a vertical jump of 39 inches.
Surtain, like Farley and Horn, could be the first, second or third cornerback taken and is someone the Broncos might consider taking in the top 10. Though, of the three, Surtain is the only one who has yet to speak with Broncos as of Tuesday.
Still, Surtain said he feels like he could play in Fangio's defense.
"I haven't gotten into the particulars with their defense," Surtain said of the Broncos, "but I just think whatever scheme they want to put me in or whatever scheme they've got going on, I believe I'll fit well into."
OT Rashawn Slater, Northwestern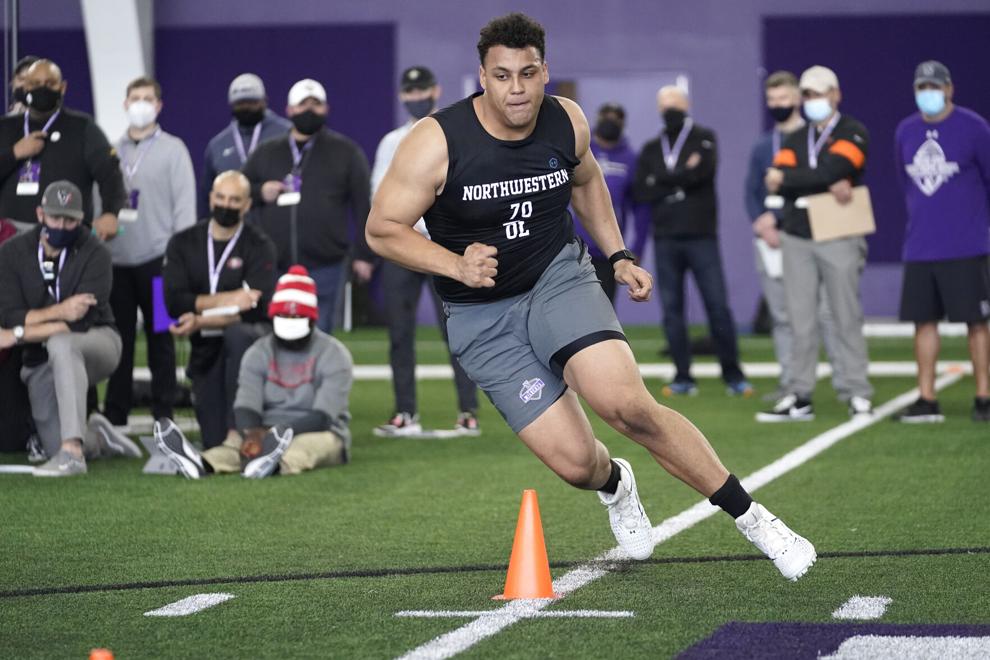 Slater might be the most unlikely pick out of the 10 players listed, but he's one to keep an eye on at No. 9 if all the quarterbacks are taken and the Broncos decide not to go on defense.
The Broncos return four starters up front, along with several key backups. But you can never have too many offensive linemen and with right tackle Ja'Wuan James coming back after opting out last season, Denver will likely seek a backup at tackle. Not to mention, Slater could slide inside at guard if needed.
"I'm the best tackle in the draft," Slater said. "At the same time, I'm a team player, so if a team wants to play me at guard, so be it, I'm all for it, as long as that's what's best for the team."
Slater had one of the more impressive pro days among offensive lineman, clocking a 4.88 40 and getting 33 reps on the bench press. He's considered by many as the second-best offensive tackle behind Oregon's Penei Sewell, who is expected to go in the top 10.
LB Jeremiah Owusu-Koramoah, Notre Dame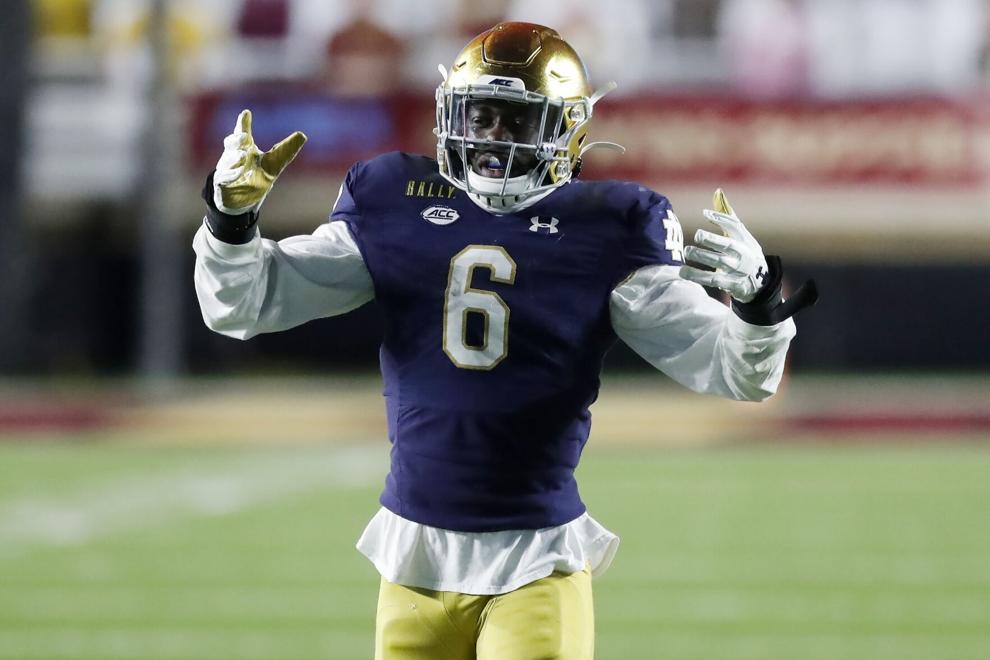 Owusu-Koramoah isn't a player many have linked to the Broncos but is someone Paton went to see at his pro day March 31. The 6-1, 221-pound linebacker is not likely someone the Broncos would take ninth, but if they were to trade back between 15-25, he's someone to watch.
Owusu-Koramoah would likely play at inside linebacker in the NFL but has shown the versatility to play outside as well.
But other than his athletic ability, Owusu-Koramoah's character has been something coaches and scouts have raved about.
"I need to work on tackling," said Owusu-Koramoah, who totaled 142 tackles, 24.5 tackles for loss and seven sacks in two seasons at Notre Dame. "Every defensive person needs to work on tackling. I need to work on my angles. Those are two things that I don't think are my weaknesses, but those are things that I sure need to work on to become the player that I want to become."
S Trevon Moehrig, TCU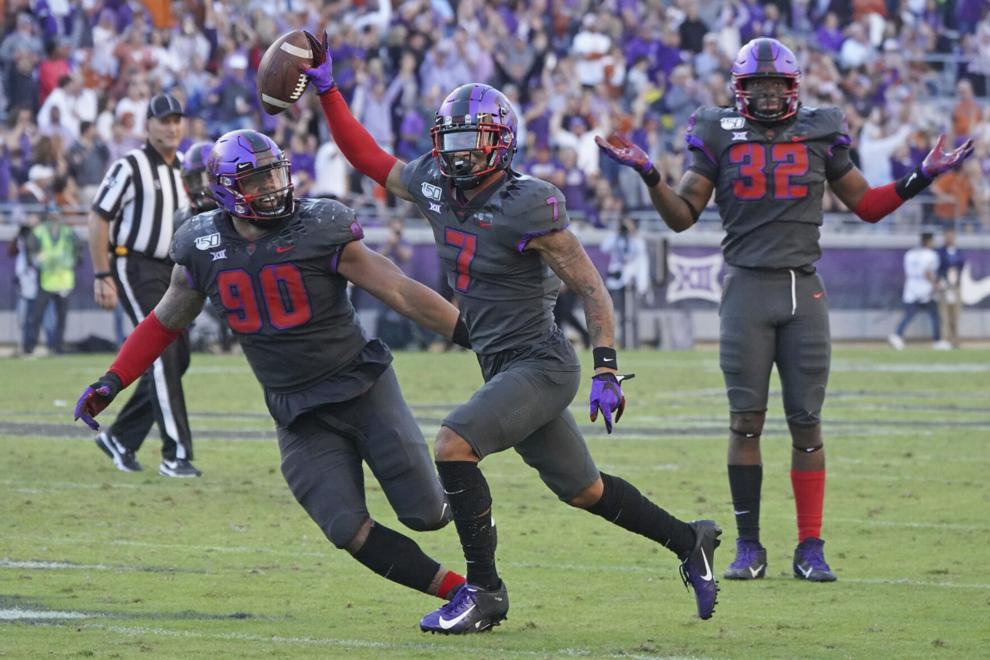 Moehrig is another player to watch if Denver trades down. While rated as the top safety in the draft, Moehrig will likely be available in the 20s. This means Denver could trade back for relief to a 33-year-old Kareem Jackson, who is on a one-year deal.
In three years at TCU, Moehrig combined for 21 passes defensed and seven interceptions. At his pro day, he recorded a 4.5 40-yard dash and 33-inch vertical. He said he can play free or strong safety in the NFL.
He's met with the Broncos and plans to meet with them again.
"I did see Justin Simmons' deal. It was a pretty big deal," Moehrig said. "I don't know much about them, but I think if they pick me up, I'll be able to go in there and learn the scheme of the defense and be able to show up."