For Mike Kurowski's family, picking sides in the Broncos' quarterback battle isn't an option. 
While most of Broncos Country have a personal favorite between Drew Lock and Teddy Bridgewater as they compete for Denver's starting job, Kurowski has stayed neutral. And for good reason, serving as both Lock's and Bridgewater's equipment manager in college at Missouri and Louisville. 
"I don't think I've worked with too many people better than those two," said Kurowski, who is currently Missouri's director of equipment. "To have both of them on the same team is awesome."
Over the years, Lock and Bridgewater have shared a special bond with Kurowski, who considers the two quarterbacks more like family than former players. His two sons, Garyt and Madden, have a close relationship with both, looking up to Lock and Bridgewater like older brothers. The family has gone as far as naming its family dog — a golden doodle puppy — "Teddy Lock."
So it's probably safe to say there are few people more invested in the Broncos' quarterback battle this fall than the Kurowskis. 
"We obviously think a lot of both of them," Kurowski said. "And I would tell Broncos fans, whichever one makes it, you've definitely got a winner and a person, or people, that are definitely going to represent Denver the city and the Broncos' organization with class and integrity. They're going to do everything you want as a quarterback on and off the field." 
Kurowski first met Bridgewater in 2011 when the latter was on his official visit to Louisville. Since then, the two have become extremely close. Bridgewater has built a special relationship with 13-year-old Garyt, who dons No. 5 and regularly texts with Bridgewater.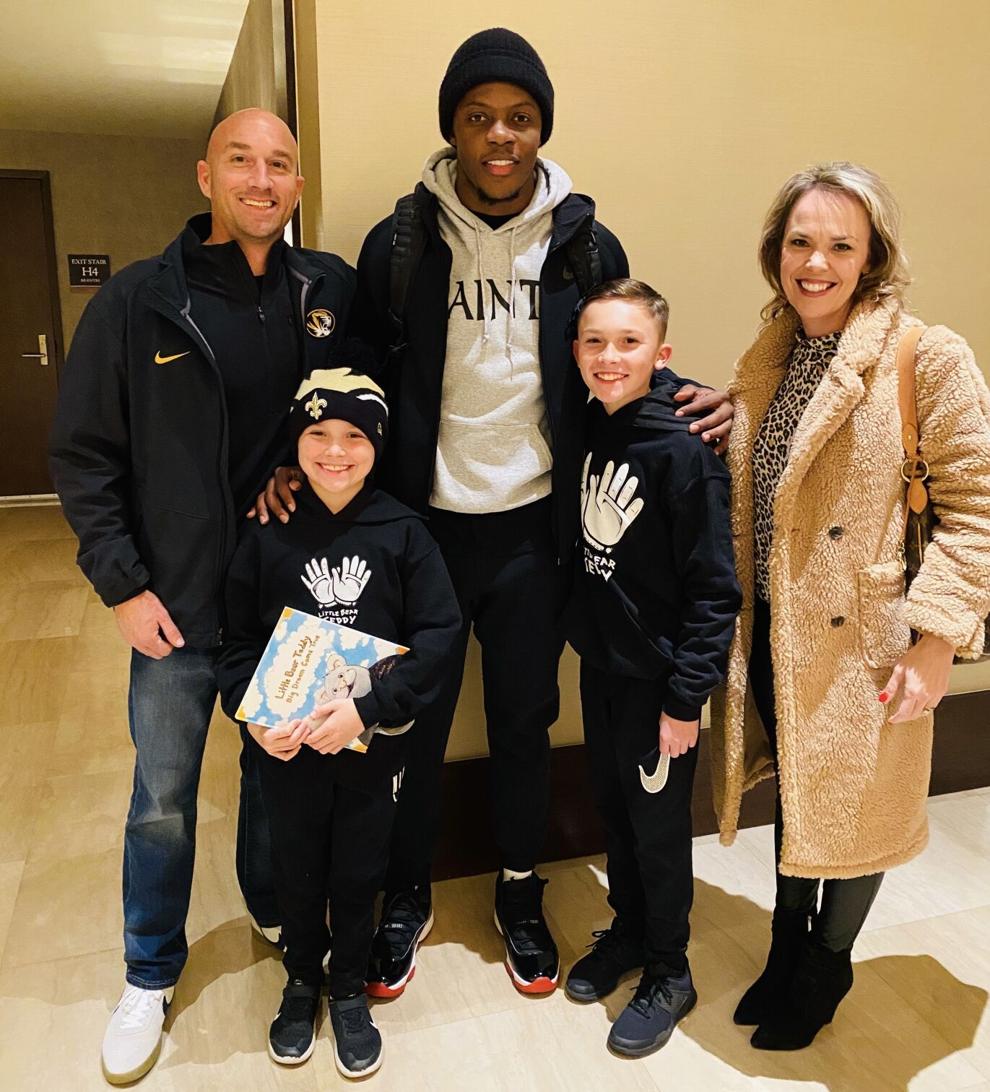 "He was as humble then as he is now. What you see of Teddy now after being in Minnesota, New York, New Orleans, Carolina and now Denver, he's the same Teddy he was when he came on his recruiting visit in 2011," said Kurowski, who was Louisville's director of equipment from 2009-17. "Always has a smile on his face, high character, positive — not a rah, rah guy, but knows how to lead without yelling. His personality is infectious. That smile is just something everyone gravitates toward. And my oldest son and Teddy really have a unique bond to the point that Teddy still reaches out. That's kind of where it really hits home with us."
Kurowski joined Missouri's staff in 2017 and, like Bridgewater, immediately hit it off with Lock, who was a junior at Missouri at the time. What he recalled most about Lock was leadership abilities, helping make everyone in the program feel important. 
"Drew's very close to us as well," Kurowski said. "We kind of gravitated to each other pretty quick when I got here. He's very much the same as Teddy, but he leads in a little bit different way. Drew has a little stink to him — he's got a gunslinger mentality to him. He gets a little fiery when he needs to and he'll let you know. But he also has the side of being a teacher. And the one thing I'll never forget with Drew was his relationship with the offensive line, and I know every quarterback is supposed to have that relationship, but he had a special relationship with that group his junior and senior year." 
When Bridgewater was traded to the Broncos in April, Kurowski texted both about how excited he was to see them on the same team. Little did he know the two had met two years prior at Super Bowl LIV media days and spoke briefly about their personal connection to the Kurowski family. 
Now both on the Broncos, Kurowski believes Lock and Bridgewater will be good for each other, as both try to prove themselves as the franchise's future quarterback. 
"I thought this could be the best for both of them," Kurowski said. "They're both very similar in their demeanor and everything. And both want to win, but both do help each other. And I thought both played really well last week. I wouldn't want to be in the shoes of (coach Vic Fangio) with which one to go with."
A decision between the two appears to be imminent, with the preseason game against Seattle likely to be the final deciding factor. But no matter who wins, Lock or Bridgewater, the Kurowskis will be rocking plenty of orange and blue this season. 
"The Kurowski family is in a win-win situation," Kurowski said. "The hardest decision will be which jersey to wear."