Broncos President of Football Operations John Elway announced Monday he will be moving to an elevated role within the organization, remaining as president of football operations, but hiring a general manager who will have "full authority to oversee the personnel and football departments." 
Elway spoke with the media about his decision Monday afternoon, saying he feels like this is the best plan both for himself and the future of the organization. He added this had nothing to do with his health, after having contracted COVID-19 in 2020. 
"I thought it was the right time," Elway said. "With the opportunity Joe gave me to move up and looking at the last 10 years, I knew there was going to be a time this was a position I could hopefully move to. I think it's the right time for me with everything that's gone on this year, being 60 years old, there are some other things in life I would like to do and still be involved in football.
"I had my seventh grandchild born this morning. It's time to spend time with them too. It's time to have flexibility."
RELATED:
Elway and the Broncos | Key numbers through the years
This monumental decision comes a day after the Broncos lost the season finale to the Raiders. The Broncos enter a critical offseason having missed the playoffs the last five seasons. Elway said that the disappointing season — and last five years  — didn't play a role in his thought process.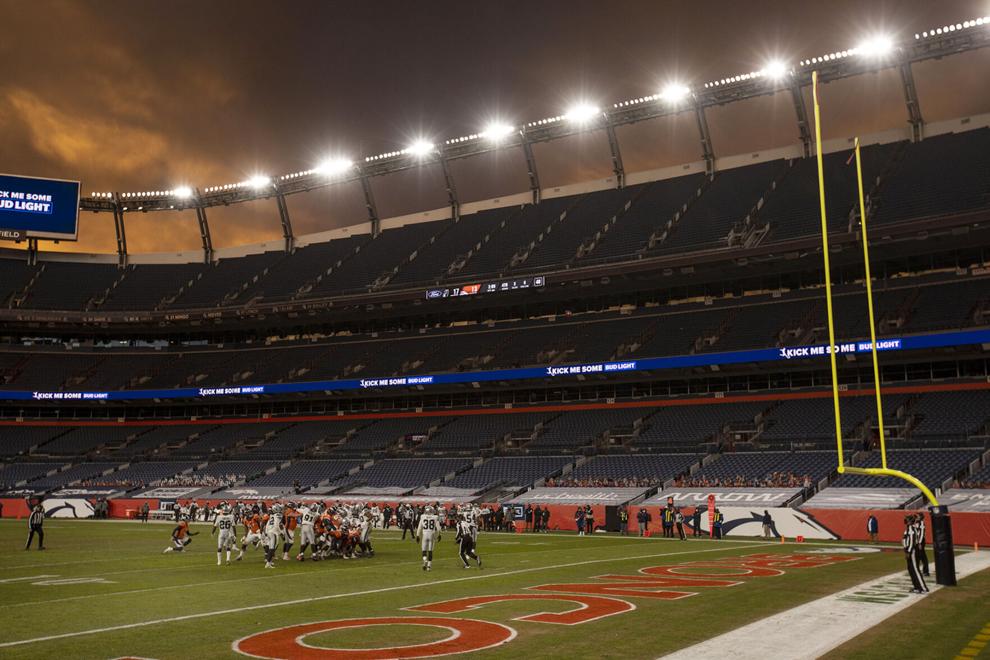 When asked if he would have come to the same conclusion if the Broncos were 13-3 and in the playoffs, Elway said, "Probably. I can't say that for sure. I have been thinking about it for a couple years and when the transition would be right. Hypotheticals are always tough. If we were 13-3 we would feel better about ourselves. ... But on top of that, above that, I started thinking about what I want to do with my life."
Elway added that the Broncos' ownership dilemma, with late owner Pat Bowlen's kids fighting over who should own the team, had nothing to do with the decision and doesn't "see the ownership situation being a part of this" transition. 
"The way ownership is — and I understand there are questions out there — the thing is on the football side, we had every opportunity we've had when Mr. Bowlen was here," Elway said. "That had not changed because we still had the resources we ever had to try and put a successful football team on the field."
Since Bowlen hired Elway as the GM in 2011, he's helped the Broncos to six winning seasons, accumulating a 96-74 record and a winning percentage of .565. The Broncos won five AFC West titles, two AFC Championships, and made two Super Bowls appearances and won one in 2015-16. He made 80 draft picks in his tenure and made several key free agency signings, including future Hall of Fame quarterback Peyton Manning in 2012. He also had four coaches in his 10 years, from John Fox, Gary Kubiak, Vance Joseph to Vic Fangio. 
As a GM, Elway will most famously be known for taking a team that finished 4-12 the season prior and turning it into a Super Bowl contender in less than three years. Elway and the Broncos are hoping the next GM can find similar success with a relatively young roster. 
"John Elway is the most important and impactful person in the history of the Denver Broncos," President and CEO Joe Ellis said in a statement. "I have nothing but gratitude for how he accepted this challenge 10 years ago and helped us accomplish great things as an organization. In recent weeks, he and I have had a number of very positive — and honest — conversations about improving the team as well as his own future.
"John arrived at this decision, and I am fully in support of him and this new structure. With all of his experience and competitive fire, I know John will be a tremendous resource for the Broncos in this role."
The Broncos are one of seven teams in need of a GM, joining the Lions, Panthers, Falcons, Texans, Jaguars and Washington. 
Elway said himself, Ellis, coach Vic Fangio and now former Director of Player Personnel Matt Russell will be in charge of the search for the new GM. Russell was considered for the position, but declined to interview and instead announced his retirement. 
"Matt could have stayed here and stayed on and had an opportunity to interview for the job," Elway said of Russell, who's spent the last 12 years as an executive for the Broncos. "Matt's always going to have the opportunity to come back in this league."
Candidates for the position will likely include San Francisco vice president of player personnel Adam Peters, Chicago assistant director of player personnel Champ Kelly and Tampa Bay director of player personnel John Spytek, each of whom worked for the Broncos at some point. Elway gave no specific names of who they'll be interviewing, but did say they will "cast a wide net." 
Whoever is next GM will enter a pivotal offseason for the Broncos, which Elway said they will have full reign over — from draft to free agency to picking the 53-man roster. 
"My idea is to give my opinion and let him know what I think is right and wrong, use my experience of where I've been and hopefully that can help him," Elway said. "He's still going to be in charge of that, but I would hope someone would want to come into this role and bounce things off me with my experience as player as well as GM."
Fangio will enter his third season with high expectations, quarterback Drew Lock will face a make-or-break situation in his third year as well and several key players' futures are up in the air, including outside linebacker Von Miller, who was Elway's first draft pick. 
Elway said he still strongly believes in Fangio going forward and has "high hopes" for Lock, saying he has the potential to be "a pretty darn good football player." As for Miller, Elway said he will be a part of the discussion of whether or not they will pick up his club option for 2021, but that will still be decided by the GM. 
"Obviously, we'd love to have Von finish his career here," Elway said. "Our goal is to get Von back and have him end his career here."
While Elway won't be making the same day-to-day decisions he did for 10 years, he hopes to have his hand in the Broncos' long-term goals. He understands the Broncos are not where they need to be and has accepted that by bringing in a fresh perspective, he could help the franchise move in the right direction, just as he did 10 years ago. 
"I'm proud of what I did," Elway said. "I'm not proud of what happened the last four years and how things have gone. But this league is getting tougher and tougher. It's competitive. There is so much work that goes into it. I've worried about my competitive side. I thought it'd get easier the older I got but it doesn't. It hasn't gone away. I am excited to move into this position. It was the right time. 
"We've got to get better. Expectations are still the same. I think if we hire the right guy, it will give us a good perspective on where we are and we will get better."