George Paton showed up at Thomas Bonds' Chicago doorstep with only an hour's notice.
Paton, 28 at the time, had just accepted a low-level scouting job with the Bears and had flown in from Los Angeles looking for a couch to crash on. Bonds' brother, Jimmy, was a friend of Paton's going back to their days of playing football in Los Angeles County and Jimmy and Paton being roommates at UCLA, where they both played football.
"My brother, Jimmy, called and said George needed a place to stay for a couple of days while he tried to find a place and I of course said yes," Bonds said. "But a couple days turned into two years."
Paton lived on Bonds' basement couch from 1997 to 1999 while working for the Bears as a scout. He worked from 5 a.m. to midnight most days and in the offseason was the designated babysitter for Bonds' two daughters, while he and his wife had date nights. When Bonds' family decided to move, after having their third child, Paton eventually found his own place.
RELATED:
George Paton on the Broncos: I feel like this team is a sleeping giant'
"It worked out for all of us, I'd say," Bonds said. "He was such a hard worker. He was gone before the family woke up and he got back after the family had all gone to sleep. That's just who he is — he's an absolute grinder. He's determined and I think you see that in his results."
On Wednesday, Paton was named the Denver Broncos' general manager.
Not long after moving out of Bonds' basement, Paton was named the Chicago Bears' assistant director of pro personnel in 2000. In 2001, he became the Miami Dolphins' director of pro personnel. In 2007, he became the Minnesota Vikings' director of player personnel and was promoted as assistant general manager in 2012, which he's served as for the past eight seasons.
"He's come a long way from my couch," Bonds said. "He's built a heck of a career from there, taking advantage of all his opportunities."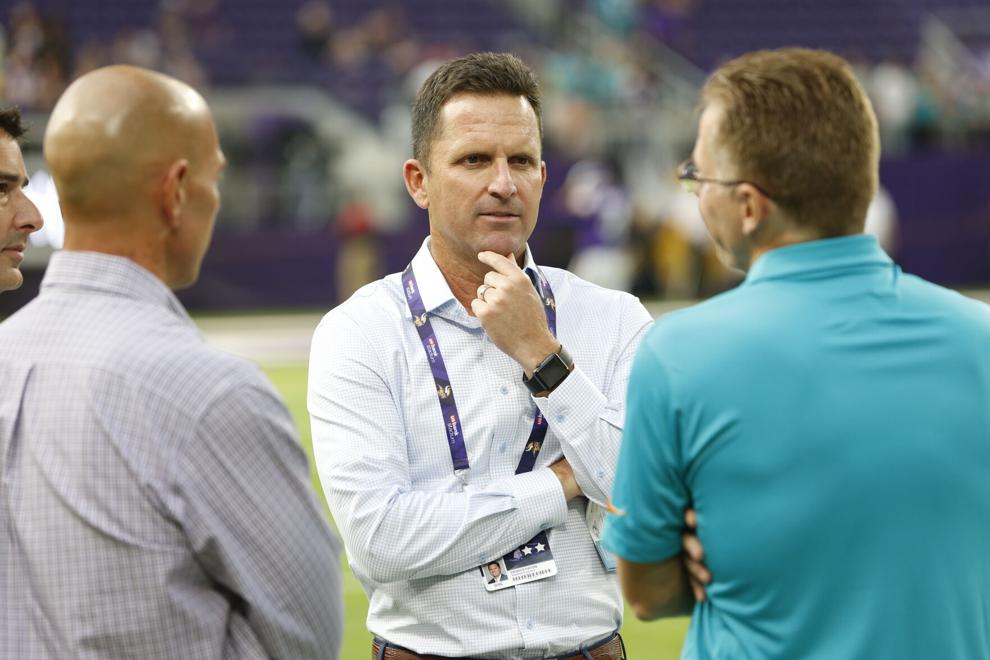 Paton's next opportunity won't be easy, as he steps into a situation in Denver where just about everything is in question, from ownership to starting quarterback.
But what's gotten Paton this far and why those closest to him believe he will succeed, is that same drive he had 24 years ago sleeping on Bonds' couch. Sure, Paton is considered a salary cap wiz and a draft expert — tools that will certainly help him as Denver's GM. But it's his never-ending hunger to succeed that will make him fit right in at an organization that's starving to win again.
That's how he's been all his life, from playing quarterback at Loyola, to walking on at UCLA, to coaching high school football, to sleeping on a friend's couch in Chicago to work for the Bears. He has always done what it takes to be successful and those who know him say that'll be no different in Denver.
"George is going to surround himself with people he believes in and if you're in that circle with him, he's going to battle until it works," Bonds said. "He's going to make sure the results are good. And nobody's going to outwork him. I think there is this very deep determination that runs strong in his blood."
***
The son of a high school football coach, Paton was born with football DNA.
But it wasn't until he transferred from La Canada Flintridge High School to Loyola High School his sophomore year that he really blossomed. Loyola is an all-boy Catholic school known for  its athletics.
"The school is full of alpha males," said John Winnek, Paton's high school teammate and college roommate. "It's 1,200 students and 1,000 of them are alpha males and George was as alpha as anyone else."
Paton was a standout on the football field, playing defensive back until his senior year when he moved to quarterback to run the veer option offense. The only other sport he played was track, as he considered all others a distraction from football.
Paton's coach, Steve Grady, said he was "one of the most intense" players he ever coached during his 34 years at Loyola. He was also one of the most athletic.
"I coached some pretty good quarterbacks in my day, including Matt Ware who obviously played in the NFL," said Grady, who's retired and in the Loyola Athletics Hall of Fame. "But George was up there, too. He was a fierce competitor."
"Competitor" is the word most used when describing Paton's persona, saying he was always the hardest worker on the team.
"You can't play pingpong with the guy," said Chris Rising, who competed with Paton for the starting QB job their senior year. "When we were young and played basketball together, if he thought you fouled him, you were probably getting an elbow to the chin. I'm pretty competitive, but he's probably the most competitive guy I've ever met. And he's competitive with himself, too. He's got like zero percent body fat. He's the type of guy that there could be a polar vortex and he's still going to get his five-mile run in around the lake. That's just how he is."
His friends have the stories to back it up, too.
"I remember doing wind sprints at the end of a practice one day and it's dark and I finish the 40 and all of the sudden I turn around and no one's next to me and it's because there's a pile of guys," Winnek said. "And George basically, when the whistle was blown, instead of running the 40, he bee-lined right to one of the juniors who hadn't been giving a good look in practice and tackled him. He was on top of him and basically said, 'Screw you, we're here to work.'"
Paton led Loyola to the quarterfinals his senior year and soon after walked on at UCLA as a defensive back. He quickly earned the respect of his teammates, starting on every special team and eventually being awarded a scholarship by his senior year.
"Those were the Terry Donahue years and we were loaded," said Winnek, who was UCLA's deep snapper. The 1991 UCLA roster boasted players like Tommy Maddox, Kevin Williams and Matt Darby. "He earned his stripes. It's hard enough when you're an undersized walk-on, but he got the respect of the team real quick just by his work ethic."
After graduating from UCLA with a bachelor's degree in history, Paton played and coached professional football in Austria and Italy, before returning to Los Angeles. Grady called his former quarterback to see if he was interested in being a part-time coach on his staff. Paton joined Grady's staff in 1995 and was promoted to head coach — of sophomores — in 1996.
Paton took the job seriously, bringing on his former teammates to help him. In practice, he ran scout team quarterback. And after practice he ran sprints with the team.
"Our sophomore team was the most prepared group of 15-year-olds you've ever seen," said Rising, who helped coach the team. "I was doing it for fun and he was like, 'I'm going to do whatever it takes to win.' He just doesn't know how to do anything halfway."
In Paton's lone year as the sophomore coach, the team went undefeated.
"That sophomore team he coached was nails," said Mike Gilhooly, one of Paton's high school teammates who helped him coach. "Those guys respected George. And I don't care what level it is — I went and visited him in Minnesota last year — those guys respect George. He has a way with people that lets them understand what he wants."
Paton's high school friends weren't sure what he would wind up doing in his life, but knew he was destined to do something in football. And it's been no surprise to them how successful he's been.
"I think a lot of those traits he had at Loyola — his competitiveness, his organization, his effort — it transferred over to the NFL," said Drew Casani, who helped coach alongside Paton in 1996 and is the coach at Loyola today. "You ask how he ended up here as a GM, honestly, it's hard work. The guy just works hard. He commits himself to what he's doing and here he is a number of years later and it's his turn to have an opportunity."
***
It was that next summer, in 1997, Paton got a call from Jimmy asking if he wanted to be his offensive coordinator at Bishop Alemany High School in Los Angeles. Paton agreed.
But not long after that, Paton got a call from Bill Rees, who was an assistant coach at UCLA during Paton's time there and had since joined the Chicago Bears staff as a scout. Rees wanted to know if Paton was interested in being a scouting assistant for the Bears, a job that did not pay much and was halfway across the country.
Paton, with Jimmy's blessing, jumped at the opportunity.
"When I knew that George was different than I was, he was sleeping on somebody's couch and working 20 hours a day for the Bears," Rising said. "And that's all that mattered. I think he would have slept at the facility if they would have let him. It wasn't about making money, it was about how much he loved football."
From there, Paton's career has been well-documented as he made friends with a young Rick Spielman, whom he then followed to Miami and eventually Minnesota. And it's in Minneapolis that Paton has really left his mark, serving as Spielman's right-hand man all these years. Since 2012, he's interviewed for GM jobs with the Jets, 49ers, Panthers, Lions and several others, often withdrawing or becoming a finalist.
"I think when he found that niche in Chicago that he was good at this, he was hooked," Gilhooly said. "I think he got hooked in with scouting and evaluating guys and it was just something he loved. I think he was always going to do something in football. I know it's cliche to say God gives us certain gifts, but I think George is so gifted in football that I don't want to say it comes easy, but he makes it appear easy because he's so good at it."
Paton still talks with Bonds, Rising, Winnek, Casani, Gilhooly and Grady, who have each made it out to a Vikings game or two over the past several years and who are all still involved with the school in some capacity. He makes sure to visit them any time he's in Los Angeles and has spoken to Loyola's leadership class. Some of them have even seen him in action, as he's scouted a few UCLA games, for which most of them are season ticket holders.
Then and now, Paton is still that same 28-year-old crashing on Bonds' couch, determined to be the best at what he does.
"He's a football guy. Sitting in the film room watching tape is what he loves doing, watching guys play, evaluating those players," said Casani, who's been an NFL scout for several teams. "He was just always working. Some of us were going to get a beer — and he would do that, but there was always another film to watch, there's another person to interview."
In October, Paton got a call from Bonds saying his brother, one of Paton's closest friends, was going into hospice. While Paton had risen in the NFL, Jimmy had become one of the most-respected high school coaches in California, amassing 133 victories. He and Paton stayed close over the years, which is why Paton didn't hesitate to fly home despite being in the middle of the Vikings' season, making sure to see Jimmy one final time before his death.
"He's an unbelievably intentional friend," Bonds said, "and just one of those guys that — if you have George Paton in your corner, you're a very fortunate person."
Bonds was one of the first people Paton called Wednesday morning to share the big news. The two talked about Paton's contract and working with John Elway, their favorite quarterback growing up as Elway played high school ball at Granada Hills in Los Angeles.
And they reflected on his journey, from basement couch to Mile High GM, something that may have never happened if not for a call from Jimmy Bonds years ago.
"Boy," Paton told Bonds over the phone, "I sure wish we could call Jimmy."