Three and a half years ago, Rick Spielman made a promise to Barbara Kleine, the mother of the Broncos' newest front office executive and former Vikings manager of player personnel, Kelly Kleine.
In the fall of 2017, four weeks into the NFL season, the Vikings' GM and several other front-office executives, including now-Broncos GM George Paton, made the five-hour trip from Minneapolis to Sheboygan, Wis., on a charter bus to attend the funeral of Kleine's father, Arthur.
"The Vikings were so supportive," Barbara told The Gazette. "It meant so much to our family that they would show up for that."
Fast forward to last week. Kleine sat in Spielman's office, seeking his blessing to leave Minnesota and join Paton's staff in Denver. It was then that Spielman recalled the promise he had made with Kleine's mom.
RELATED:
Broncos sign senior personnel executive; Pat Surtain II update
"At your dad's funeral, I promised your momma that I would take care of you," Spielman told Kleine. "So, if this is what you really want, you may go."
And seven days later, on Monday, Kleine officially became the Broncos' executive director of football operations/special adviser to the general manager. Kleine has yet to speak to the media, but it's clear the Broncos believe they've landed a home-run hire.
"Kelly is a rising star in the NFL," Paton said in a statement, "and we're fortunate to add someone of her caliber to the Denver Broncos."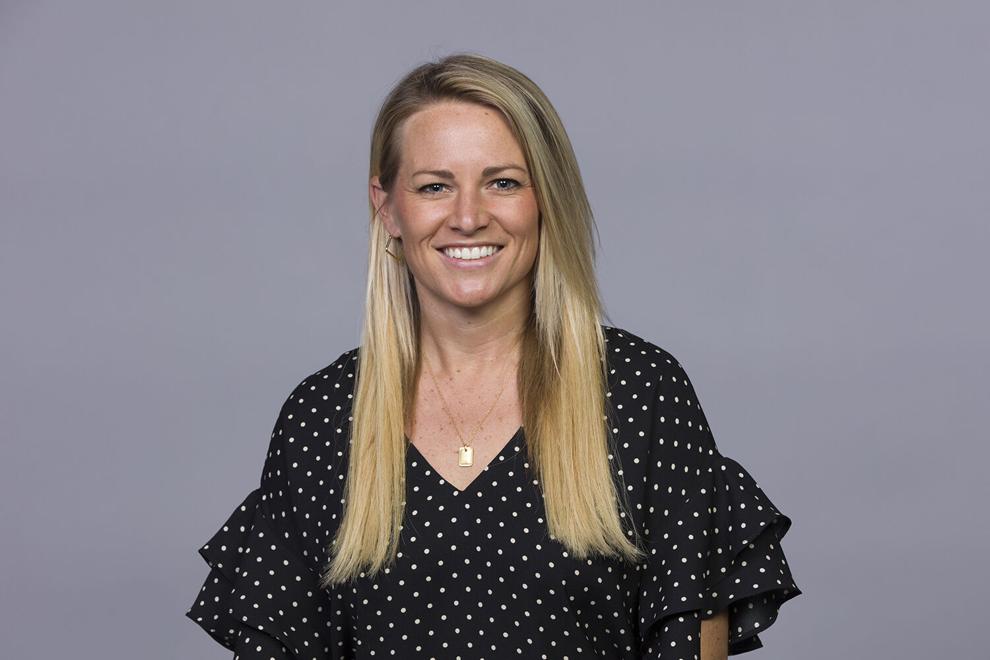 Kleine's ascent in the NFL has been a transcending one, paving the way for women in a male-dominated profession. At 30 years old, she's believed to be the highest-ranking female scouting executive in NFL history, starting as a public relations intern for the Vikings in 2012 and working her way up the player personnel department the past 10 seasons. Coming from an athletic family and growing up an avid Green Bay Packers fan, sports have always been in her blood.
But few who knew her as a kid in Sheboygan could have predicted she'd be the right-hand-woman of an NFL GM and possibly on track to be the first female GM in league history.
RELATED:
Broncos rookie minicamp observations
"It's just a combination of everybody who had an influence on her life," Barbara said. "Everybody just loved and supported her along the way. Family, friends, coaches, teachers — each of them had a piece in this that kept her going. It's just been a support system since Day 1."
At the center of that support system was her dad. He encouraged her to follow her dreams, no matter how big, while teaching her life lessons along the way. But Arthur died of a stroke Sept. 30, 2017, at 58, before he could see what she's become.
He used to say "this one's going to strike it rich, she's going to make it big someday." And he wasn't wrong, knowing long before he passed, she was going places.
"She's got him on her shoulder," Barbara said. "He instilled some very strong values — 'Why can't you do it? Be the trailblazer. The sky's the limit. You can do anything you want, Kelly.'
"I know he's looking down from heaven and is so proud of her."
'Nothing came free'
Having met at Sheboygan North High School in the '70s, Barbara and Arthur were childhood sweethearts. They married in 1982 and soon had three kids, Eric in 1987, Aimee in 1988 and Kelly in 1991.
From a young age, Arthur taught his kids discipline and responsibility.
"He was very strict with them growing up and, boy, the other kids were all afraid of my husband," Barbara said. "He was just all about work ethic. He used to say, 'you have to work hard to get the things that you want.' Nothing came free. He was fun, too, but his message was that if you work hard, you can do anything you want. And you could see that mindset developing in Kelly as she grew up."
Being the youngest of three, Kelly pushed her parents to the limit at times. She rarely disobeyed, but always toed the line. She was outspoken and never shied from competition.
"Kelly was a little bit of a wild child growing up," said Barbara, who taught health at Sheboygan North for over 20 years before retiring. "She was always the one we had to keep an extra eye on."
That charismatic personality carried into high school where she was well-liked by peers, teachers and coaches. Like her parents and siblings, she was a three-sport athlete playing basketball, softball and golf at Sheboygan North. Her dad was especially a standout, playing basketball and baseball at Wisconsin-Whitewater. But she was the only one to go into sports after school, with Eric becoming a teacher like his mom and Aimee following her father's footsteps at Kohler Co., a manufacturing company in Wisconsin.  
Kleine graduated from Sheboygan North as one of the top students in her class, academically and athletically. She excelled in golf, earning all-state honors her senior year and working several summers at the Sheboygan Town & Country Club before interning for the PGA one summer in college.
"I knew she was bound to do something sports," said Craig Walters, Kleine's high school golf coach and a close family friend. "Her dad was the most active 50-something-year-old guy I knew and her mom is like a fireball."
She was never the best player on the basketball or softball teams, but was a leader for both, possessing a high sports IQ and an innate ability to connect with her teammates.
"That's one of the reasons I think she's so successful today, just breaking things down and being able to see the big picture," said Susie Runaas, Kleine's high school basketball coach. "I think one of the things people respected about her was she was a straight shooter. You always knew where she was coming from. If she had an opinion or a thought, she wasn't afraid to share it and didn't let others stray her away from what she thought or believed or knew. Again, carrying over to what she's doing now, I think that's another reason she is where she is."
Kleine went on to attend Minnesota where she interned in the athletic communications office from 2010-13, while also interning in the Vikings public relations department in 2012. Before graduating in 2013 with a bachelor's degree in sports management, she accepted a full-time internship with the Vikings in the scouting department.
From there, her story is well-documented, becoming a scouting assistant in 2014, to college scouting coordinator in 2015-18, to manager of player personnel/college scout in 2019-20. She had extensive responsibilities within the personnel department, including player evaluations, the draft, free agency planning, opponent advances and general football administration.
"The sky is the limit for Kelly," Spielman said in an April 23 story by the Pioneer Press. "She doesn't have a ceiling. She's nowhere near where she's probably going to end up down the road here in this business."
Those who knew her growing up knew she'd be successful in whatever she ended up doing.
But the NFL?
"Nothing is a surprise with Kelly," Walters said. "You never have to worry about a dull moment. She's always been a leader and someone who wasn't afraid to go against the norm."
Today, students and faculty at Sheboygan North still follow Kleine's career. They're excited for her opportunity in Denver, not only because it's great for her personal success, but also because they don't have to cheer for the Vikings anymore, with Sheboygan only an hour south of Lambeau Field.
But more than that, those in Sheboygan are just happy to be a small piece of her historic journey.
"I think I'll be internally celebrating her triumphs as someone who had opportunities to work with her," Runaas said. "As I look back on what she did at North and what she's doing now, I think some of those soft skills have definitely gotten her where she is today. And it doesn't surprise me. It just shows it's about what you know and how hard you work and that it doesn't matter if it's a male-dominated sport or not. I think it's great and kudos to the Broncos for recognizing talent and not anything else.
"We always preached to our girls that no goal was too high. And that's certainly been the case for Kelly."
'An inspiration'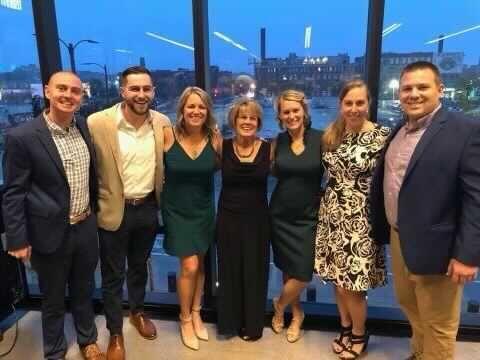 In September 2017, Arthur had a "one-in-a-million" stroke. He had just returned from a golfing trip when he suffered an unexpected basilar artery stroke and was rushed to the hospital. After being put on life support for several days to allow his family to say goodbye, Arthur died Sept. 30, Barbara's birthday.
"I wanted it that way," Barbara said. "Now every year we can celebrate the wonderful lives we've lived together."
A few days later, on Oct. 5, the Vikings front office showed up for the funeral to support Kleine and her family.
"It was tough on her. She lived in Minneapolis by herself and I thought 'how is she going to get through this?'" Barbara said of Kleine, who was 26 at the time. "But the Vikings put their arms around her and supported her. That's why part of it was so hard to leave a family like that when you've been through so much with them."
The Kleines are forever grateful for the Vikings. But they admit, it was time for her to begin a new journey. Denver made sense for several reasons, including her boyfriend having once lived in the area. And the other of course being Paton.
When Paton left for the Broncos in January, they knew Kleine wouldn't be far behind. The two formed a close mentor-mentee bond in Minnesota.
"The Vikings had prepared her for this and she was ready. Ten years was a long time, but she was ready," Barbara said. "She and George were such a great combination for the Vikings. As soon as he got hired out there, I think this was their plan. He helped mold her and helped train her and gave her opportunities. I think he saw the potential. We are so grateful for George."
Kleine will have a lot on her plate with the Broncos, reporting directly to Paton and overseeing all football operations, and holding significant responsibilities with both pro and college scouting. She'll also oversee the Broncos' video and equipment departments.
But it's nothing she can't handle.
"Having worked with her for nine years in Minnesota, Kelly has a strong understanding of all aspects of football operations and player evaluation along with outstanding leadership qualities," Paton said. "She will be a tremendous resource with her experience on the pro and college sides as well as her knowledge of our grading scale and football calendar."
As for Barbara, she's planning family trips to Empower Field at Mile High.
"We got rid of all our purple and gold and I already ordered all my grandkids the Broncos shirts yesterday online," Barbara said. "I bled purple and gold for her and now I'll bleed blue and orange."
Since her father's death, not a day goes by that Kleine doesn't call Barbara on her way home from work. Sometimes those calls will last hours, with tears being shed and the two of them reminiscing on Arthur's life. Other times, it's only a few minutes, as Kleine just wants to make sure her 62-year-old mom is doing all right.
As the years have gone by, living without Arthur has become easier for Kleine. Her faith, along with the support system around her, have gotten her this far and she knows she'll need them on the journey ahead.
"He's dearly missed, but I know he's been with her through this entire ride," Barbara said. "Life goes on. It really does. You just have to keep doing what you do and it's that simple. And that's been our plan since Day 1. We've always said 'God has a plan.' We didn't quite agree with the plan, but we just rallied around each other and we just support and love each other as much as we can and keep saying how proud dad is of her."
Today, Kleine has become the thing her father told her to be: a trailblazer.
"It's been so emotional. I laugh and then I cry and then I cry some more," Barbara said. "I cried happy tears because I am beyond proud of her and I just keep thinking about how proud her dad is from heaven. She's going to make a difference in the world. I hope her little nieces look up to her and they see that auntie Kelly made a difference for me by taking on and living her dream and continuing to want to make this a better world for everyone, for the women and girls in sports.
"To me, she's an inspiration."