John Elway clearly has a way of sizing up candidates when shopping for quarterbacks.
And, yes, to him size does matter.
CONSISTENTLY SEEKING HEIGHT
Since Elway seized full control of Denver Broncos' personnel in 2012, teams have selected 32 quarterbacks in the first two rounds NFL draft.
The other 29 have averaged 6-foot-2.8 inches. Elway's three picks in those rounds — Brock Osweiler, Paxton Lynch and Drew Lock — have averaged 6-6.
Among the other QBs he's signed are Peyton Manning (6-5) and Joe Flacco (6-6).
The quarterbacks to take snaps for the Broncos during the Elway era are Manning, Osweiler (6-7), Trevor Siemian (6-3), Lynch (6-7) and Case Keenum (6-1).
Perhaps it's telling that Keenum was given the shortest leash, jettisoned after one year. Siemian had to wait deep into camp for two straight years to be named the starter over Lynch despite clearly outplaying him.
Osweiler found a second chance under Elway after falling flat in Houston.
It took an 0-4 record and 55.8 completion percentage in that return to finally end the relationship.
Elway also brought in 6-2 Mark Sanchez, but he didn't make it out of training camp.
THE TALLER, THE BETTER?
Does height make the difference Elway's decision-making would indicate?
In short — no.
Of the 12 quarterbacks who started playoff games last year, none were taller than 6-5. Seven of the 12 were 6-3 or shorter.
One of those was 6-2 rookie Lamar Jackson, who started for Baltimore over the benched 6-6 Flacco (who promptly found an eager suitor in Elway, who gave up a fourth-round pick to trade for the veteran).
The top three quarterback ratings in 2018 belonged to quarterbacks short by the standards Elway has established — Drew Brees (6-0), Patrick Mahomes (6-2) and Russell Wilson (5-11).
In ESPN's fantasy football rankings for the 2019 season, 11 of the top 20 quarterbacks are 6-3 or shorter.
One of those lofty spots belongs to Kyler Murray, the 6-0 dynamo picked No. 1 by Arizona this season as it decided to move toward a new prototype at the position just a year after taking 6-4 Josh Rosen No. 10 overall during the previous year.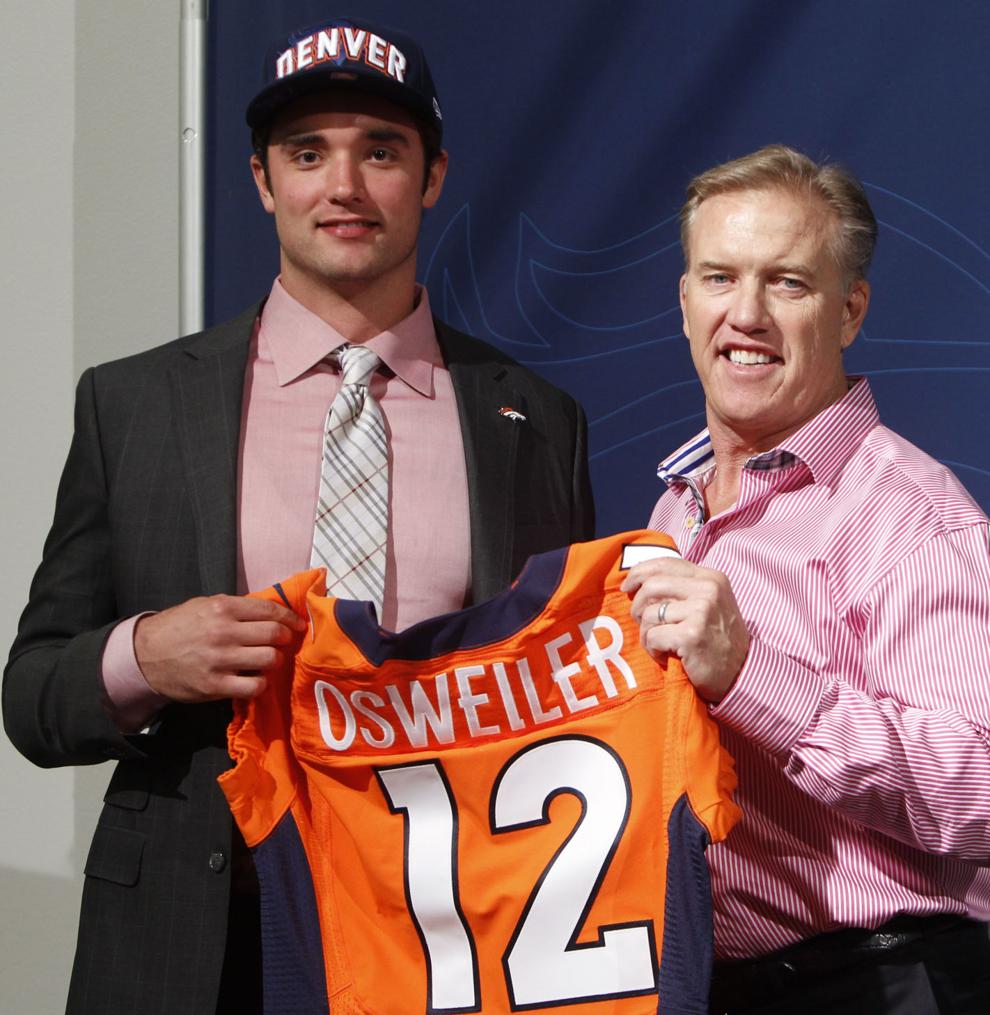 PERHAPS A BIT SHORT-SIGHTED
Elway, who quarterbacked the Broncos to two Super Bowl victories and three losses, played at 6-3.
As an executive, he's decided if he's going to misfire when picking a quarterback, he's going to miss high.
Only, it hasn't always worked that way. Elway has taken two of the three tallest quarterbacks in the draft over the seven years (Osweiler and Lynch).
Neither has started a playoff game, though Osweiler's midseason work in the run toward Super Bowl 50 can't be dismissed.
The other 6-7 quarterback taken in that time was Mike Glennon, who owns a 6-16 career record as a starter. The two 6-6 quarterbacks — Sean Mannion and Nate Sudfeld — drafted since 2012 have played sparingly.
The shortest taken in that span was Wilson.
And it was Wilson's Seahawks who defeated Elway and the Broncos in Super Bowl 48 in a turn not short on irony.
Mitch Tanney is helping Vic Fangio and the Denver Broncos use analytics to help the team on the field, in the draft and elsewhere.